On Friday, October 21, 2016, The Society of Memorial Sloan Kettering hosted the opening night of TEFAF (The European Fine Arts Fair) New York Fall, the U.S. debut of the highly regarded European art fair Top New York collectors, philanthropists, socials, and fashion and design media turned out for the event, which was co-sponsored by Elle Decor and Fendi.
"We are thrilled to have hosted the unveiling of such an exciting new show in New York," said Lavinia Branca Snyder, president of The Society of Memorial Sloan Kettering. "The Opening Night brought together the best from the worlds of art and philanthropy in support of the invaluable programs and initiatives at MSK."
Opening night saw close to 2000 guests stop by for a private preview of the fair, Among the attendees were: Caryn Zucker, Ronald Lauder, Daisy Soros, Hilary and Wilbur Ross, Irene Roosevelt Aitken, Emily T. Frick, Peter and Jamee Gregory, Emilia Fanjul Pfeifler, Veronica Swanson Beard, Claiborne Swanson Frank, Cynthia Frank, Roman and Helena Martinez, Carlos Souza, Michael Boodro, Gaetano Sciuto, Travis Acquavella, Antoinette Guerrini Maraldi, Andrew and Denise Saul, Melinda Blinken, Michael and Shelley Carr, Judy Gordon Cox, Jordan and Marcie Pantzer, Craig Thompson, MD and Tullia Lindsten, MD, PhD, Lavinia Branca Snyder, Timothy Haynes, Juan Pablo and Pilar Molyneux, Alex Papachristidis, Rachel Hovnanian.
The fair opened to the public on Saturday, October 22 and will run through October 26th. The TEFAF inaugural gala raised funds to benefit The Society of MSK's patient care, research and education programs at Memorial Sloan Kettering Cancer Center.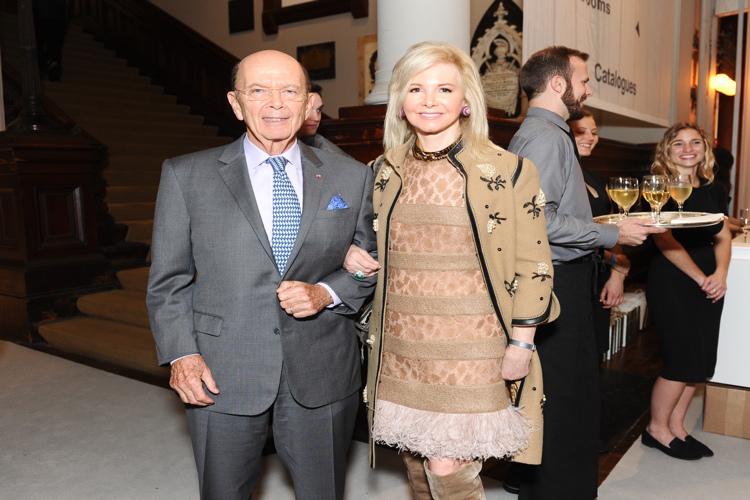 About TEFAF New York: A joint venture between TEFAF and Artvest Partners, TEFAF New York was founded in early 2016 to host two annual art fairs (fall and spring) in New York at the Park Avenue Armory, Each fair will host 90 leading exhibitors from the around the world. Tom Postma Design, known for its innovative work with leading museums, galleries, and art fairs, created the settings for the fair, staged in the Wade Thompson Drill Hall and on the first and second floors of the Armory's period rooms.