The Danish designer is known for his ultra-high-end work for the famous "Billionaire Building," One57, and his soon-to-open 50 West Street in the Financial District.
You famously designed the interiors for One57, perhaps the most elite building in the city. What does the very top end of the market want now that is different from when you did One57?
While we are still seeing a saturated market of uber-luxury inventory priced above $20 million, the steady increase in the cost of construction and land is encouraging developers to create more efficient floor plans at a higher price per square foot, allowing designers to maintain the integrity of layouts, finishes and amenities. The impeccable design we see at One57 is still apparent in many other developments, but as the market shifts, the parameters developers are operating within continues to shift as well.
Photo Credit: DBOX
Is there a New York look? Luxury buyers, regardless of the city they are investing in, all want the same primary features, such as top-of-the-line kitchens, well-appointed interior layouts and walk-in closets. However, New York design typically showcases clean lines and simple, functional floor plans.
Design rules you like to break: Many of the projects we spearhead are based on specific planning strategies, so we tend to stick with a specific standard of design rules, based on the aesthetic we're aiming to achieve.
Most interesting room to design: Bathrooms. I find that the more confined a space is, the more potential there is to create an innovative solution.
Photo Credit: Courtest of: Thomas Juul-Hansen; 50 West Street images by DBOX
Greatest influences for your design: Nature. A lot of our work involves the use of natural materials, resulting in a variety of textures, colors and experiences to draw from. Nature is never dated, so being inspired by it helps ensure a timeless design.
The room in your home you are happiest with: Definitely my living room. Because people typically spend most of their time in the living room, I always prioritize this space, whether for my own home or other residential projects I'm designing.
News for 2016: The design of several hotel projects, including Mr. C and the renovation of the Carlton Hotel in New York and condominium development projects in Miami, London and Dubai (spanning over 500,000 square feet). Our latest residential condominium tower, 50 West, in the Financial District, will be opening later this fall.
Multi-award-winning designer Jamie Drake, famous for developing a new luxurious modernism, as well as for designing Mayor Bloomberg's and Madonna's homes, recently partnered with Caleb Anderson, a much-watched young talent, to form a new fifim, Drake/Anderson.
You have an exciting new partnership. Describe how your design sensibilities complement and contrast with each other's work.
Jamie Drake: Combining my modernity and fearless approach to color with Caleb's polished sensibility and skillful juxtaposition of historical periods. It's invigorating to have another editor by my side.
You've been described as the go-to designer for the billionaire set. What's trending now for ultimate one-percenters? JD: They request things that are unique and intriguing but insist upon comfort and function. The interest in commissioned pieces by great contemporary artisans has grown and grown.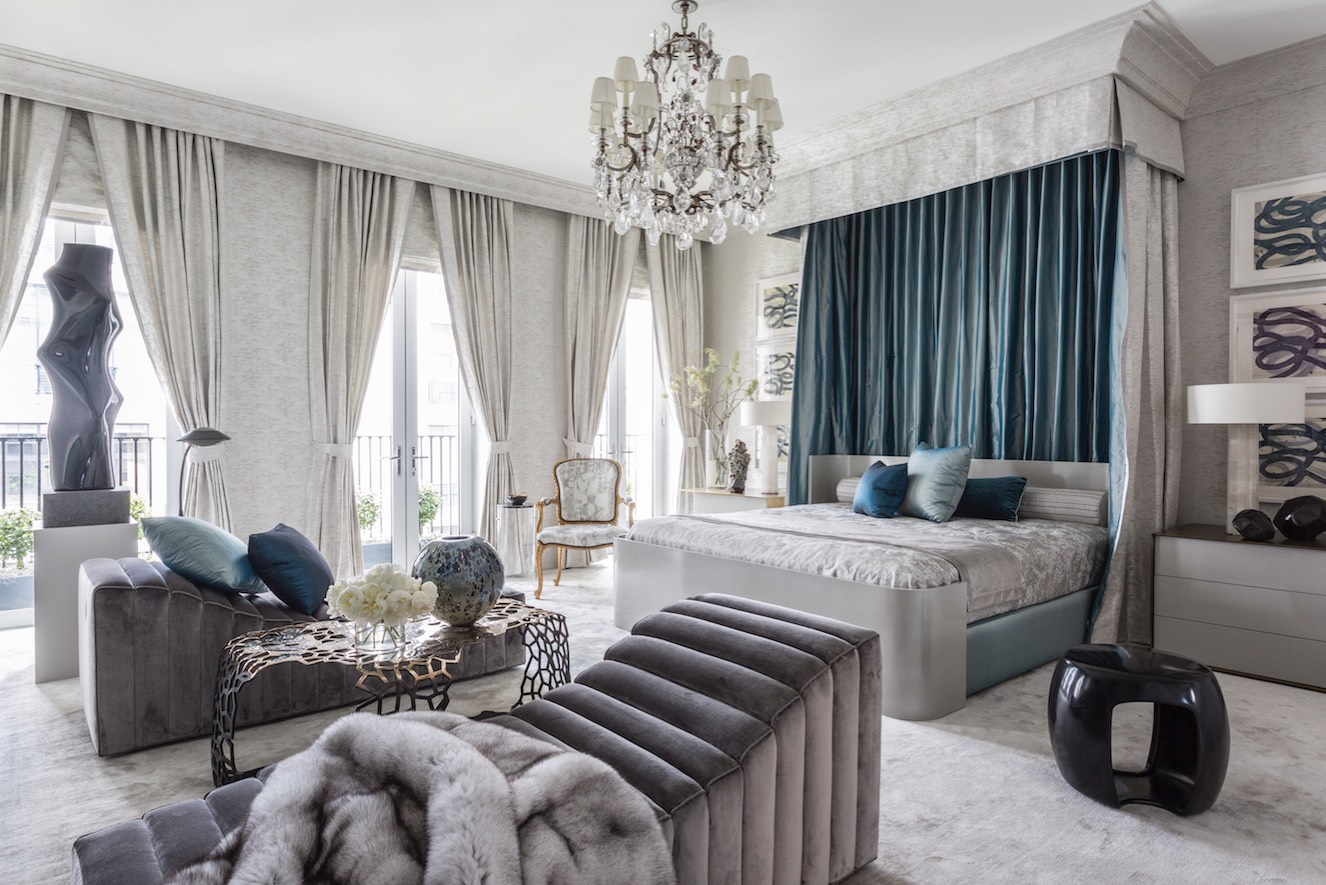 Photo Credit: Marco Ricca
Is there an Uptown versus Downtown style? JD and Caleb Anderson: No, not really. Stylistically, both parts of town demand a relaxed sense of luxe, with space that really function.
 Jamie, you are known for a vibrant use of color. What color palettes are you working with now? JD: Muted, cooler, steelier grays: charcoal, silver, gypsum, platinum and zinc accented with ethereal aquas, blues and lavenders.
Design rules you like to break. JD/CA: I believe there are no color combinations that won't work; it all depends on fine-tuning the shade, tone and quantity.
Favorite room to design: JD/CA: Living rooms are our favorite, as we always envision them filled with people, ready for a party!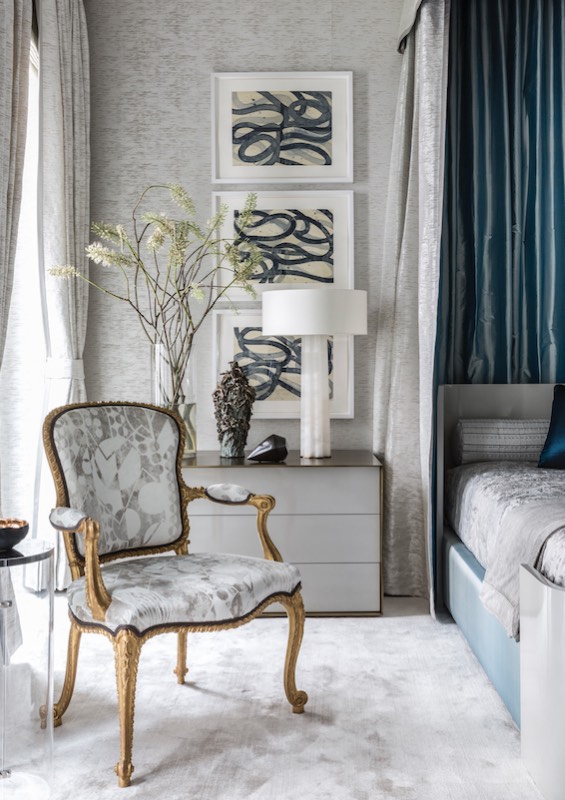 Photo Credit: Marco Ricca
The room in your home you are happiest with: JD: My bedroom. I find sleeping in a dark room to be sexy.
News for 2016: JD/CA: Three apartments on the Upper East Side, a London townhouse, a large house in Malibu and a full-floor apartment in the new Herzog and de Meuron building.
GEOFFREY BRADFIELD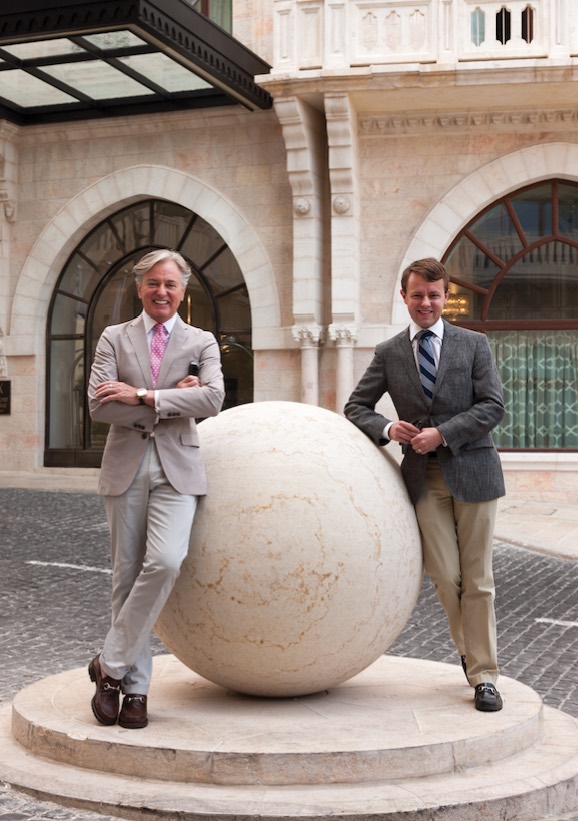 Photo Credit: Kim Sargent
Long known for a daring sense of luxe, Geoffrey Bradfield, joined by partner Rorie Tobin, is defining a new contemporary global style that resonates with an international roster of A-listers, mega-moguls and celebrities.
What's trending among your top New York and overseas clients?
There is an amusing quote by Karl Lagerfeld: "Trendy is the last stage before tacky." We don't deliberately follow trends. Rather, we like to think we are in the vanguard, influencing creative ideas. My work becomes increasingly reductive with a persistent desire to distill luxury. There is no question that contemporary rules at present. Asia, in particular China, is becoming more aware of its art and artists. It is gratifying to see the country embrace its modern cultural identity with more confidence.
Is there a New York style? The movie industry of the '40s established an indelible image of Manhattan style for all time, the ultimate statement in sophistication. But the city has never been kind to the past; there's a tireless hunger for the "new." Today's palaces might just as frequently take the form of sprawling, high-rise penthouses surrounded by a moat of security: The gatekeeper is the concierge; surveillance cameras are the new sentries.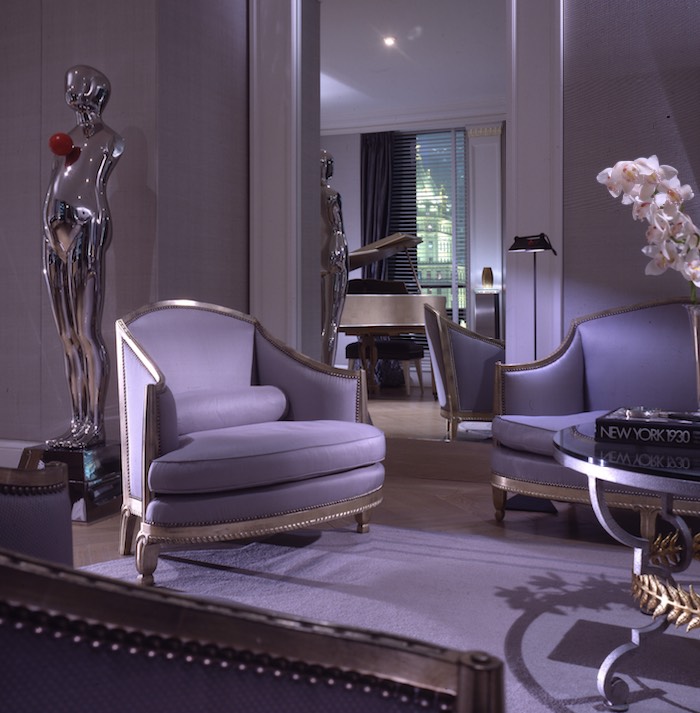 Photo Credit: Marco Ricca
What distinguishes your design? Our company shares a vision of what it means to design for the 21st century. I have a fondness for texture contrasts, rich exotic woods, burnished metals and lush textiles. We exploit these contrasts as a foil, highlighting the elements of fine design from many centuries. As much of our portfolio is predicated on the use of contemporary art, our clients tend to be major art collectors and seek our professional hand in this regard.
Do your international clients want to decorate their properties in New York differently from their residences abroad? We find our international clients, with few exceptions, want to adopt a Western lifestyle while in New York. They are inclined to opt for a contemporary interior that embraces the skyline.
The design rules you like to break: I am not slavish about scale. I love the drama of over-scaled elements in a room, particularly art.
Favorite color palettes: We are drawn to the cool or neutral palettes, which serve as great backdrops. However, we are not afraid of vibrant colors—a brilliant orange, a punchy red or a deep blue—but more often than not, as accents.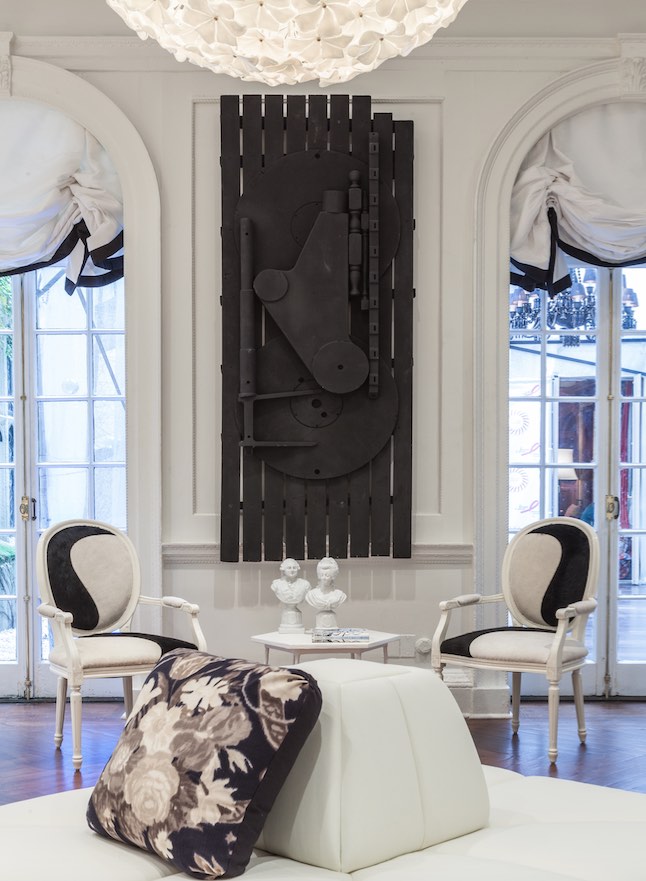 Photo Credit: H. Durston Saylor
Favorite room to design: Nothing stimulates my creative instincts more than designing a room around great art. Art can introduce pure theater.
Favorite room in your New York home: I have always loved a library.
News for 2016: Apart from our ongoing expansion into the Asian market, we recently formed B&T Global, a partnership with company vice president Roric Tobin, to focus on our international projects.
VICENTE WOLF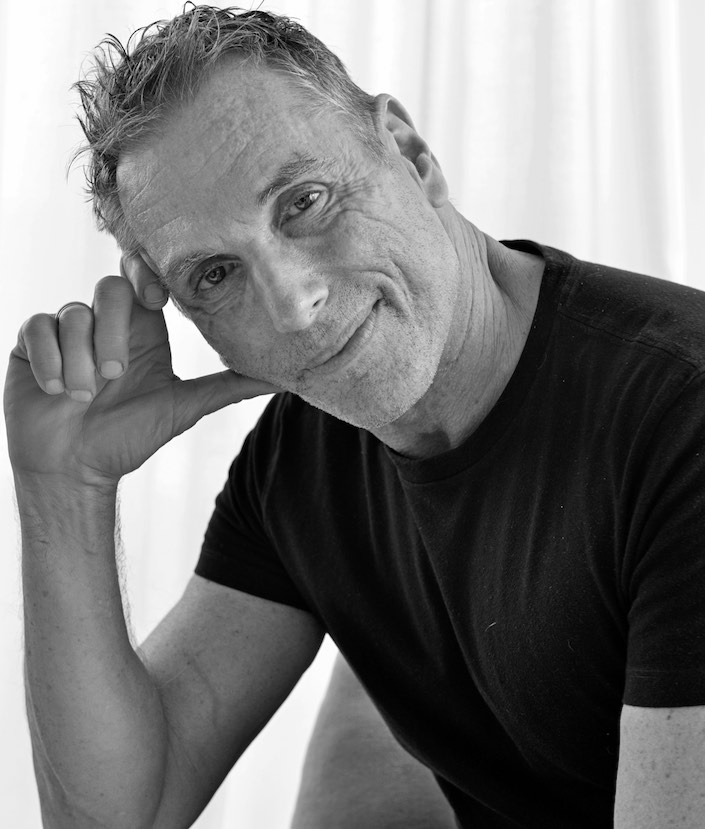 Photo Credit: Julien Capmeil
A design star for more than three decades, Vincente Wolf creates more sumptuous modern rooms for private dwellings, hotels and restaurants, and brings his refined aesthetic to collaborations with luxury brands like Ralph Pucci and Baccarat.
You have described your style as modern with references to the past. Has that changed in recent years? I'm always evolving and trying to give my work a sense of the present, adjusted to client needs. My style has a lighter point of reference to the past.
Is there a New York look? No. New York has an international sense (of style) that can be elegant, modern, traditional or luxurious with a global, shabby-chic appeal.
Uptown versus Downtown style: I think both ends are starting to come together—more so with Uptown seeking a more Downtown look.
White is a "color" you use in key elements of a room. Why? I think white creates a canvas that allows forms, styles and color to play against one another.
Color palettes: Currently, I have a collection of beautiful colors with PPG Pittsburgh Paints inspired by my travels and designs.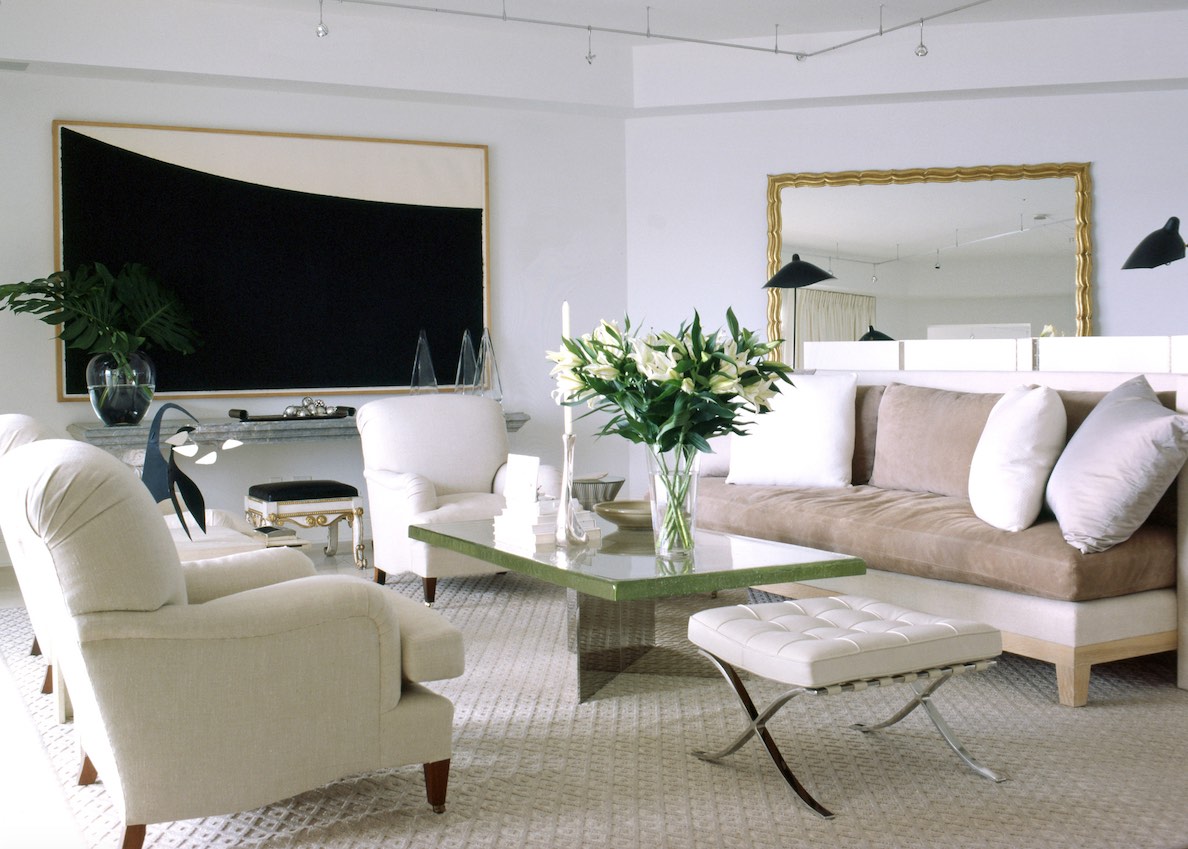 Photo Credit: Vincente Wolf
Design rules you like to break: Sometimes designers feel that white is boring, but white can actually make a room pop. For example, painting a ceiling in a high gloss white can make the room feel bigger in size. My VW White by PPG is the perfect white because it has no tint.
The room you find most interesting to design: One that has good architectural details, a sense of light and good scale.
The room in your own apartment you are happiest with: My living room because it's where I keep my plants and it has great natural light. It's also the room from which I experience the most.
You just published a book, The Four Elements of Design. Which of the four elements inspires you most? Water.
News for 2016: I am working on a Fifth Avenue apartment, on two restaurants in Macau and a jewelry collection.
MARK ZEFF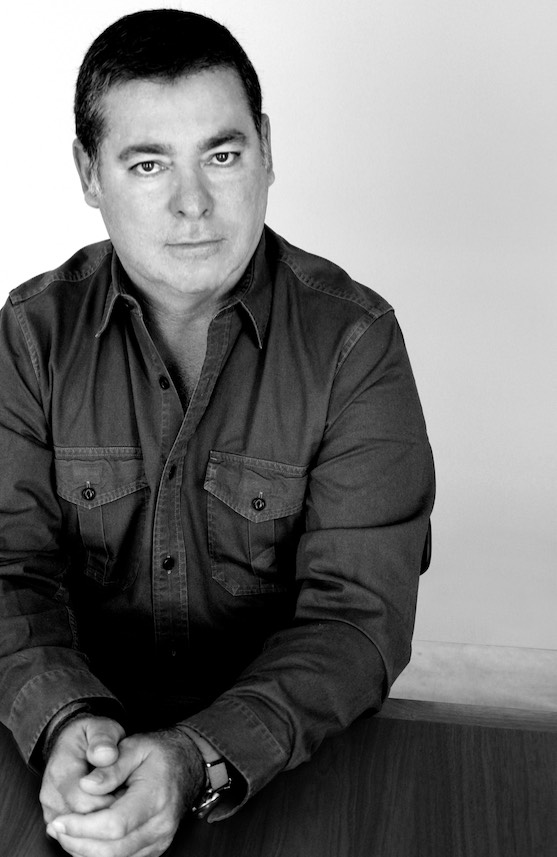 Photo Credit: Kristen Zeff
The designer heads up his international multi-disciplinary agency, MARKZEFF, known for its innovative ability to fuse interior and environmental design in everything from high-end residential properties (clients have included Hillary Swank and Annie Leibovitz) to luxury yachts.
What's trending in high-end city design? New materials in the home, for example, using bronze instead of silver or nickel, or using painted brick in kitchen areas instead of painted sheet-rock or tile, which provides a so er look. Also, kitchens are becoming larger and more eclectic in terms of style. Currently, there is a trend of mixing a modern vernacular with classic designs.
Uptown versus Downtown style? The variation stems from a difference in building style, as downtown lo s are able to accommodate larger art and therefore lead to more forward design. Downtown has a cool, zany, chic and modern vibe, which results in more eclectic and curated interiors. Uptown, the requests for interiors skew very glamorous and rather old-fashioned in terms of look and feel. The apartment buildings often dictate this aesthetic.
How has your interior design has evolved? In the last ve years, drastically. My work has grown in terms of scale and responsibility, giving the firm more involvement from the start of a project. The hospitality sector of our business has become a major part of our workload, too.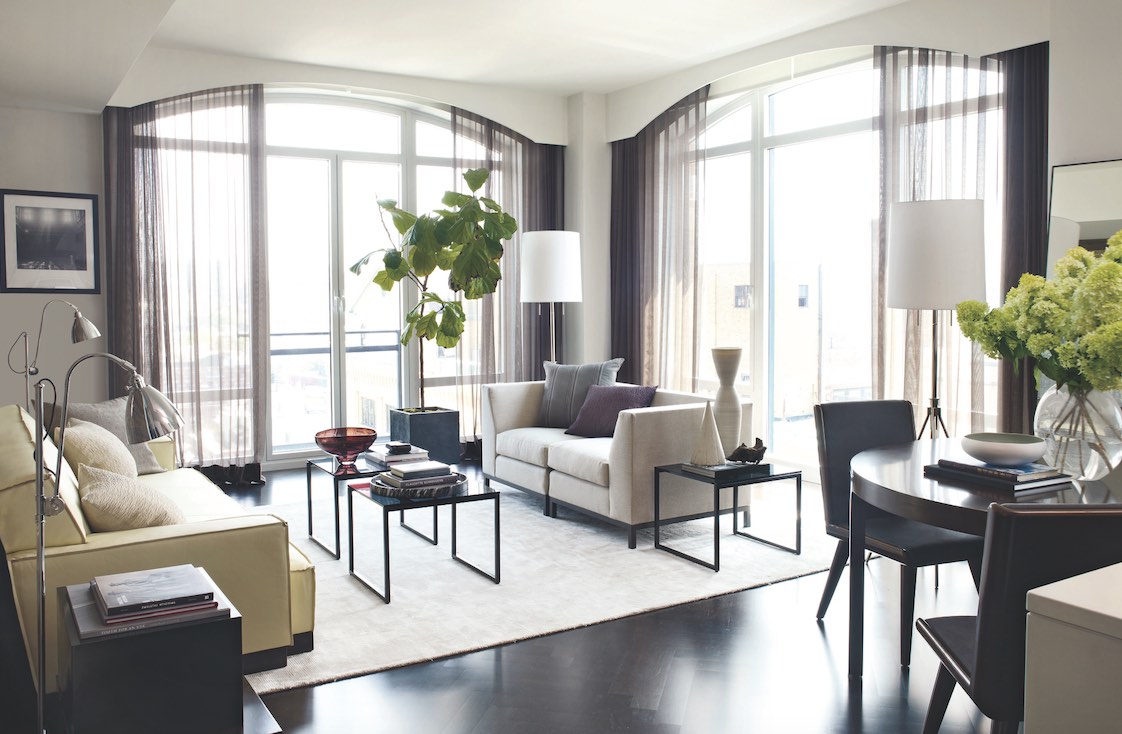 Photo Credit: William Waldron
Favorite room to design: Kitchens, pool cabanas, off-the-charts technology-driven media rooms and outdoor living spaces, where I get to create environments that have a real "wow" factor by integrating landscaping and outdoor lighting with the design of the room.
Design rules you like to break: I have been breaking design rules for over 30 years. In the '80s I used rusted iron for furniture and concrete floors in interiors; in the '90s and early 2000s by designing dark, sexy rooms, and now building Blackbarn structures in the Hamptons.
What distinguishes your interior design: I take chances on all fronts: in my choice of materials, furniture concepts and the proprietary designs for almost every aspect of the project. Inventing new ideas is how I enjoy this profession.
News for 2016: I am working with my wife on developing a new brand: Blackbarn. It began with building our own home, and from there we started building other Blackbarn-style homes in the Hamptons. This was followed by the Black Barn restaurant in Manhattan. Our new home design and product shop opened in Dumbo in July of this year.
Subscribe to discover the best kept secrets in your city