San Antonio, the seventh most populated city in America, has its own special brand of magic. It's an unexpected oasis in the heart of Texas, a place of beauty thanks to the old world charm of its River Walk, luxury hotels and amazing culinary experiences. Here, we share the very best that this stunning city has to offer.
1.LUXURY HOTELS There are more luxe hotels in San Antonio than you might actually be aware of. Our favorite historical hotel is the St. Anthony, a Luxury Collection Hotel located in the heart of the city. three blocks away from both The Alamo and The River Walk. The St. Anthony was the very first luxury hotel in San Antonio, opened in 1909, and is considered to be a national historic landmark, but thanks to a 2013-2015 remodel, has been completely modernized. It's a perfect mix of historical and modern: expect to find old-world interiors of Italian marble and Corinthian capitals; a lounge chock-full of chandeliers and stucco, modernized with jewel-green carpets and velvet furniture; original Venetian-tile mosaics that have been polished to perfection; museum-quality sculptures, tapestries and murals that have all been carefully restored; an original 1927 Steinway was repurchased, rehabilitated and returned to her rightful place in Peacock Alley. We recommend staying in one of the Superior Suites, which are enormous and absolutely gorgeous. You'll have your own living room (a great spot for a fabulous, concierge-arranged in-room massage to take place), a dining room with seating for six, a gigantic bathroom where Frette towels are on hand, Gilchrest and Soames amenities, robes, and slippers, and your own luxurious soaking tub as well as double vanities, walk-in showers and lighted mirrors with built-in TVs. The bedroom of this 830-square-foot behemoth and the king size pillow top mattress with 300 thread count Fili D'oro linens might have you staying in bed much longer than you should. Make sure to check out the awesome gym overlooking the city (where you may or may not encounter a ghost or two—this hotel has some seriously haunted history), as well as the rooftop pool that looks like something out of a movie at this favored haunt of politicos, princesses and A-list celebrities ranging from President Dwight B. Eisenhower to George Clooney. Meanwhile, a completely modern option is Hotel Contessa, a stunning property located right on San Antonio's famous River Walk. This gorgeous property can best be describe as Mexican Modernism: neutral tones of taupe, brown, grey and cream lend the hotel's brick-walled rooms and suites elegance, as do the leather chaises and settees. Those who want the best of the best should book the 1,000 sq. ft. Contessa Suite, which offers modern furnishings, a, double vanity bathroom with a garden tub, a walk-in closet, comfortable living room featuring a dining table and wet bar, a second powder room and two 42″ LCD HDTVs. The hotel has a heated rooftop outdoor pool and a hot tub.It also has epic views of the San Antonio skyline so beautiful that you really need to take a moment, pause, and soak in the city from above.
Also make sure to check out the Hotel Valencia Riverwalk, a stylish 213-room hotel that's dark, sexy and gothic—a young, hip place with a cool lounge, secret alcoves and a beautiful eatery in its modern-American meets Texan Citrus. This hotel features sleek lines and sophisticated style courtesy of LA-based designer Dodd Los Angeles, designed with an 18-foot ebony sold wood credenza, leather down-wrapped club chair with ottoman; Egyptian cotton linens and modern Californian apothecary products from LATHER. We love the plantation-like shutters and balconies—some of which overlook River Walk—which give this hotel a timeless, almost New Orleans-like feel. Make sure to check out the citrus wall outside the restaurant, which showcases one-of-a-kind hand-blown oranges, signed by visiting guests such as Garth Brooks and Miranda Lambert. Unbelievably, very few San Antonio hotels actually feature spas, but you're in good hands if you book a treatment or a coif at the Mokara Spa, located inside the boutique Mokara San Antonio. The spa features 18 private treatment rooms, separate men's and ladies' private relaxation lounges, whirlpools, steam rooms and saunas, plus an outdoor café with rooftop views of the city. The salon is on point: if you're an Angelno looking for a blowout and think your stylist is going overboard on the producdts, keep the Texas humidity in mind. Trust us, your style will keep up for days despite the hot, hot, hot weather. In terms of treatments, we suggest utilizing the Vichy shower and indulging in a body treamtnet: the re-balancing thermald mud wrap is great for detoxifying thanks to a sea-salt exfoliation followed by a rich mud from the Eifel region which eliminates toxins from the body and re-mineralizes your skin, or the summer rain massage—a ful-body Swedish massage under a cascade of water. Bliss.
2. CULTURE For a city so rich in history, as expected, there are plenty of ways to enjoy it. Head to "Battle For Texas: The Experience" for a real-life taste of the battle at The Alamo. This 22,000-square-foot attraction in downtown San Antonio's Shops at Rivercenter features some of the world's most important Alamo artifacts as well as multimedia re-enactments of the 13-day battle. San Antonio's former Municipal Auditorium, an event venue built as a WWI memorial, is now the Tobin Center for the Performing Arts, a historical spot that showcases world-class acts, exceptional sound, acoustics and seating arrangements. Plus, its location on the esteemed Museum Reach of the San Antonio River Walk makes it a gateway to the cultural heart of San Antonio. Through September 5, The Witte Museum will display "Maya: Hidden Worlds Revealed," the largest exhibition about the ancient Maya ever to be displayed in the United States. There's also the Blue Star Contemporary Art Museum, the San Antonio Museum of Art, which offers a mix of European, American, Islamic, Latin Amerian, Oceanic and contemporary art, as well as an abundance of local galleries and art schools. Meanwhile, the Majestic & Empire Theatre offers everything from Broadway-based shows to musical acts.
3. SHOPPING There's definitely luxury shopping in San Antonio. Expect to find your favorite department stores like Neiman Marcus and Saks Fifth Avenue with some far more interesting, local shopping. You'll loveLa Villita, a charming "little village" of art galleries, shops and boutiques chock-full of hand-crafted items such as copperware, jewelry, pottery and paintings. Foodies should check out Central Market, which offers unique local, regional and international foods as well seemingly endless amounts of beer and wine. There are cooking demos, free samples and friendly food experts who can help you find what you need. A sumptuous ready-made-gourmet-food-bar is perfect for picnic makings. Art aficonados looking to buy a local piece should head to J.R. Mooney Galleries of Fine Art, which offers fine art, oils on canvas and limited edition giclee. It also handles limited edition bronze sculptures and picture framing. As a side note, the North Star Mall is home to a Guinness Book of World Records holder: created by artist Bob Wade, two 35-foot, 3-inches-tall cowboy boots is the largest cowboy boot sculpture in the world.
4. GOURMET FARE & CRAFT COCKTAILS Truly, one of the best gourmet experiences we've had to date has been at Rebelle, located within the historical St. Anthony hotel. Chef Stefan Bowers' sexy eatery is a finely tuned experience: the space is gorgeous and splashy thanks to multi-colored glass beakers, opulent chandeliers, larger than life Dali replicas and ambient lighting. The cocktail menu is on point thanks to its "Seven Deadly Sins" concept (the Envy–Tito's Texas vodka, St. Germain and pear puree comes with a bottle of rosewater that you add to taste), while every dish truly tops itself." Standouts include an exquisite chicken dish with Palestinian couscous, saffron, almonds, honey, prunes and tomato confites; melt-in-your-mouth char-broiled Gulf oysters dripping in garlic confit butter; and charred beets with creme fraiche, malted peanuts, cilantro, endive and lemon. At Hotel Contessa, enjoy prime views of the River Walk, delightful cocktails and southern favorites at Las Ramblas, including Texas sirloin and gulf shrimp. New to town is Botika a fusion restaurant of "Chifa" (Chinese-Peruvian) and "Nikkei" (Japanese-Peruvian) cuisines, as well as inventive takes on traditional dishes from across Asia and Latin America. Botika's bar will offer classic cocktails and a wide variety of rums, piscos and cachaças. Bella on the River and Gwendolyn. At Pharm Table,Chef Elizabeth Johnson offers anti-inflammatory foods through a series of pop-ups, meal delivery programs and Cooking For Your Body Type interactive classes. Johnson has also turned Pharm Table into a brick-and-mortar restaurant, all about bringing the body back into balance and nourishing it. Paramour, atop the Phipps building, has a stellar rooftop patio overlooking the San Antonio skyline and River Walk with an awesome view and a champagne program that makes us all bubbly. We also dig the literary vibe of The Last Word, which will make you feel smarter with every craft cocktail you imbibe.
5. A SENSE OF HISTORY & BEAUTY  San Antonio's five Spanish colonial missions (including The Alamo, a pivotal event in the Texas Revolution) represent the largest concentration of Spanish colonial missions in North America and have been named a World Heritage site by the United Nations Educational, Scientific and Cultural Organization (UNESCO). The World Heritage Site List recognizes the most significant cultural and natural sites in the world such as Stonehenge and the Great Wall of China. This rare honor has been bestowed upon only 23 sites in the United States. It is also home to the River Walk, a network of walkways along the banks of the San Antonio River that is home to a plethora of restaurants, shops, bars and hotels. A $358.3 million project was just completed that lengthened the River Walk from three to 15 miles. The expansion began with the Museum Reach, connecting downtown with museums, cultural districts and the historic Pearl Brewery to the north. The Mission Reach (noted as the largest ecosystem restoration in an urban area) completed the expansion and joins the original River Walk to four of the city's Spanish colonial missions in south San Antonio.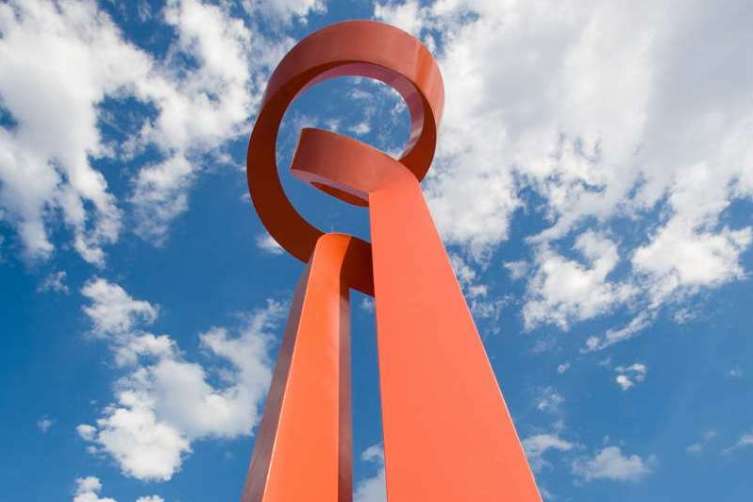 San Antonio 1
Torch of Friendship
Photo Credit: SACVB
San Antonio 3
Downtown San Antonio at night
San Antonio 4
Hotel Contessa
San Antonio 5
Hotel Contessa atrium
San Antonio 7
Hotel Contessa on the Riverwalk
San Antonio 8
St. Anthony Club
San Antonio 9
The St. Anthony
San Antonio 10
St. Anthony exterior
San Antonio 11
St. Anthony suite
San Antonio 13
St. Anthony fitness center
San Antonio 14
St. Anthony Executive Suite parlor
San Antonio 15
Peacock Alley
San Antonio 17
St. Anthony pool cabanas
San Antonio 18
St. Anthony pool
San Antonio 19
Las Ramblas Cavender Martini
San Antonio 20
Las Ramblas Prickly Pear Margarita
San Antonio 21
Restaurant Gwendolyn
San Antonio 22
Bella on the River
San Antonio 23
Rebelle at The St. Anthony
Photo Credit: Ryu Carrasco
San Antonio 25
Rebelle Private Dining
San Antonio 26
Mokara Hotel & Spa
San Antonio 27
Mokara Hotel & Spa
San Antonio 28
Hotel Valencia exterior
San Antonio 29
Hotel Valencia courtyard
Subscribe to discover the best kept secrets in your city