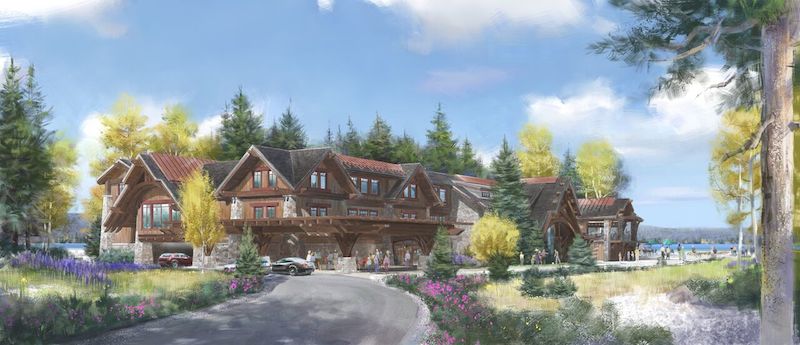 It's been 30 years since a new property has opened along the shores of Lake Tahoe, but next fall a new luxury condominium residence will unlock its doors. On Monday afternoon, Nevada Governor Brian Sandoval presided over the groundbreaking for the Tahoe Beach Club. The first phase of the 143 unit building will debut next fall on the east shore of Lake Tahoe in Nevada. It includes 48 two-to-five bedroom homes that meet LEED certification standards. It's taken 14 years to get the project up and running, but it's finally underway. The club will sit on 20 acres of lakefront land that is surrounded by the U.S. National Forest and Edgewood Tahoe Golf Course.
Improving environmental standards is a crucial component to the development. A mobile home park used to inhabit the land and its removal will result in 60 percent less greenhouse gas emissions thanks to the elimination of inefficient wood burning stoves, heaters, and poorly insulated structures. "There are so many improvements in environmental standards compared to 10, 15, or 20 years ago that you can build into a new project that benefit not only the people living there, but the lake and the environment," the CEO of Beach Club Development Bob Mecay explained. Preserving the quality of the lake water is important to the Beach Club team as well. It will restore two acres of stream environment zone and reduce sediment run-off into Lake Tahoe by 11,000 pounds per year. "This project will complement what the state of Nevada and all of Lake Tahoe is doing to protect this national treasure," Governor Sandoval said. "This project is going to prevent thousands of tons of sediment from coming into Lake Tahoe. It's going to help keep the lake clean. We know this one of the greatest destinations in the country, and in the world, and we want to preserve and protect it." Decreasing the amount of pollutants into Lake Tahoe will also reduce the risk of flood.
The Beach Club will be a lifestyle development with upscale amenities and plenty of recreational activities for homeowners to partake in. There will be a private sand beach, restaurant, beach bar and grill, a fitness facility, business center, a pavilion for yoga and pilates, concierge services, and a full-service spa. The beach will have cabanas and fire pits, a 160-foot floating pier with boat valet service, and an indoor outdoor infinity pool that overlooks the crystal waters of Lake Tahoe.