The summer is about to make an exit for the year, with the frantic pace of social and cultural obligations waning for a week or so. Relax, revitalize and rejuvenate at one of these haute hotels in the MENA Region before the fall season arrives.
Al Baleed Resort Salalah by Anantara
Beachfront luxury arrived in Salalah, Oman this Summer when Al Baleed Resort Salalah by Anantara opened their doors.
The collection's second resort in the Sultanate of Oman, Al Baleed Resort Salalah by Anantara, famed for the riches of its frankincense groves and a profusion of tropical greenery that conjures up new images of Arabia, Salalah offers travelers an emerging destination of breathtaking natural beauty.
The new resort makes the most of an immaculate site, placing guests between a long, scenic beach and freshwater lagoon. Drawing from centuries of coastal heritage and embracing the desires of modern travelers, Anantara delivers its indigenous inspired-hospitality to Salalah.
Conveniently located just 15 km from the airport, the resort sits within easy reach of Salalah city centre and the unique charms of South Oman transforms it into a spectacular oasis of greenery. As the oldest independent state in the Arab world, the region is defined by a rich history, with an abundance of archeological sites, imposing forts, frankincense trees and vibrant souqs for those looking to tune into the spirit of old Arabia.
Al Baleed Resort Salalah by Anantara has been designed with the simple grandeur of the region's iconic coastal fortresses in mind. Striking and authentic architecture are framed by lush tropical gardens, walkways surrounded by towering palms and eye-catching water features to create an air of tranquillity and serenity. The resort comprises 136 rooms and villas, offering indulgent luxury with handcrafted furnishings and rich textures throughout to enhance the contemporary Middle Eastern ambience. Overlooking the Arabian Sea, lagoon or picturesque gardens, each guest room is equipped with contemporary comforts including interactive LED TVs, luxurious bath products, mini bar and spacious walk-in dressing rooms.
With 40 Premier and Deluxe Rooms and 96 Villas, guests will be aCatering to a variety of palates, the resort's three exquisite dining venues include Sakalan, an all-day restaurant showcasing world flavours; speciality South East Asian restaurant Mekong, featuring cuisine from countries bordering the Mekong River; and Almina, a relaxed Mediterranean beach bar and restaurant serving refreshments and barbecue delights.
Catering to a variety of palates, the resort's offers three exquisite dining venues. Guests desiring romance and seclusion can indulge in Dining by Design and enjoy a bespoke menu served by a private chef and waiter in an idyllic beach location, whilst an extensive in-room and in-villa dining menu will also be available.
Rooted in Thai philosophy with influences from Arabia, Anantara Spa will take guests on a holistic journey. Featuring five treatment rooms, a female salon and nail spa, separate male and female wet facilities, Razul treatment rooms and the only hammam in Salalah, it will offer relaxing and rejuvenating treatments using indigenous ingredients for an outstanding wellness experience.
For more information or to make a reservation, please go to:http://salalah.anantara.com/
Waldorf Astoria Jeddah
There are good hotels and great hotels, and then there is the Waldorf Astoria Jeddah – Qasr Al Sharq, where you enter a world of palatial opulence and experience the legendary personal service for which the Waldorf Astoria is globally renowned.
Nowhere are the Waldorf Astoria standards of excellence better upheld than in the luxurious magnificence of the Qasr Al Sharq, which translates as Palace of the East, and which has the distinction of being the first Waldorf Astoria Hotel in the world to open since 1931 when the flagship Waldorf Astoria was established in New York.
Only 15 minutes from King Abdulaziz International Airport, the Waldorf Astoria Jeddah – Qasr Al Sharq is set against a background of breathtaking views of the Red Sea in the most fashionable area of the port city that is the dynamic commercial center of western Saudi Arabia and the gateway to Makkah.
The hotel gives visitors their first indication of the opulence to come when they enter the lobby where the floor is made of the finest marble, the walls are adorned with beautiful artwork and the magnificent three tier chandelier sparkles with 600,000 Swarovski crystals.
The premier choice of royalty, presidents, diplomats and other highly important guests, the Qasr Al Sharq has eight sumptuous Royal suites, two opulent Qasr suites and 40 luxurious guest rooms, each designed and decorated to surpass the expectations of the most discerning guests.
On arrival, guests are welcomed by their personal concierge who guarantees every request is met, from culinary preferences to organizing a special occasion. Solely dedicated to ensuring guests enjoy a flawless experience, their personal concierge is at work on their behalf even before they arrive, taking care of special requirements ordered at the time of reservation. In addition, a personal butler service is available on request.
The luxurious facilities of the Waldorf Astoria Jeddah – Qasr Al Sharq include a spacious cigar lounge and access to the men only Hilton Fitness Club at the adjacent Jeddah Hilton, including pools and sports facilities, while for ladies there is the famous 'Waldorf Astoria Spa' including an indoor pool, sauna, steam room and whirlpool.
Gourmet Dining with Panoramic Views of the Red Sea
At the Waldorf Astoria Jeddah – Qasr Al Sharq guests and visitors have a choice of two restaurants: Aromi, where guests enjoy the finest authentic Italian cuisine with a Venetian twist while admiring the panoramic Red Sea vistas, and Mataam Al Sharq which offers premium modern Lebanese dishes in an exquisite setting of discreet luxury.
As a casual alternative, Al Shurfa Lounge offers a refreshing variety of teas and coffees served in a tranquil informal setting. Both the Aromi and Mataam Al Sharq are popular with Jeddah residents who come to enjoy gourmet dining and admire the magnificence of the Waldorf Astoria – Qasr Asharq, while Al Shurfa Lounge is a favourite meeting place for guests and visitors.
Experience Waldorf Astoria by booking at www.waldorfastoria.com or www.waldorfastoria.com/offers.
The Middle East's Highest Five-Star Resort: Anantara Al Jabal Al Akhdar Resort
Perched 2,000 metres above sea level on the curving rim of a great canyon, Anantara Al Jabal Al Akhdar Resort welcomes the world's most discerning luxury travelers. Guests hover over an extreme landscape of rugged beauty while they discover a cultured treasury of authentic indulgences and immersions in the destination's rich heritage. The resort is the highest luxury hotel in the Middle East and amongst the highest in the world.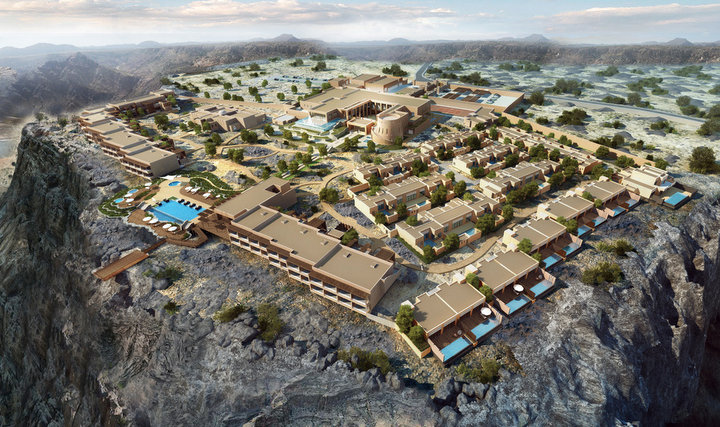 Long inaccessible, Al Jabal Al Akhdar (Arabic for "The Green Mountain") is a towering massif on the Sultanate of Oman's vast Saiq Plateau. Dramatic peaks ring the setting. Prince Charles and the late Princess Diana once sought out its breathtaking heights by helicopter, alighting to revel in the scenic views. Today, the arrival journey takes guests on an adventurous drive – two hours from Muscat International Airport or four and half hours from Dubai – past date plantations, valleys known locally as wadis, and historical forts. The Anantara echoes this fortified architecture, placing guests in modern ramparts inspired the commanding indigenous citadels and re-imagined with sophisticated contemporary interiors.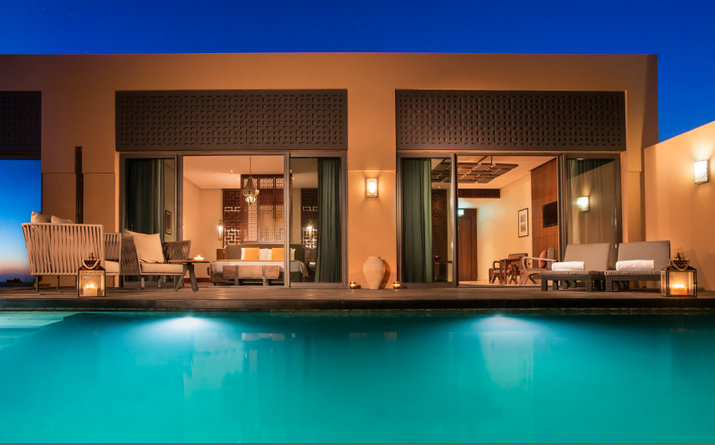 A total of 115 rooms and villas overlook the drama of the canyon or tranquil gardens. Each features its own indigenous luxuries from custom-made Omani furniture to Amouage bath products evoking the region's priceless fragrances. The resort's 82 Premier and Deluxe Rooms boast a spacious bedroom, amongst the largest in the country, and a spa-like bathroom carved out of sustainable material from the local area, complete with a rain shower and separate bath alongside a terrace or balcony. Meanwhile, 33 villas grant guests an intimate escape each with personal butler services and its own private swimming pool stretching infinity-edge over the cliffs or hidden in an exotic garden. Guests have the choice of either one or two bedrooms, including the exclusive Royal Mountain Villa. Each villa will include state-of-the-art interactive LED TVs and spacious walk-in dressing areas, all adding to a sense of sublime luxury.
Culinary desires are catered to in a collection of six restaurants and lounges. Surrounded by majestic mountains and enjoying cool temperatures year round, Anantara Al Jabal Al Akhdar presents a range of inspiring moments in a perfectly chilled clime – a respite from the heat faced by the Gulf region for much of the year.
At the resort itself, a wealth of highlights awaits, from the cliff-edge infinity pool to a state-of-the-art fitness centre, tennis court and world-acclaimed Anantara Spa. Adding extra atmosphere to the already amazing setting, a blazing courtyard fire pit lights the Anantara's own Friday night market, illuminating one-of-a-kind artworks by local village artisans and craftsmen.
To reserve the elevated experience at Anantara Al Jabal Al Akhdar Resort, visithttp://www.anantara.com/al-jabal-al-akhdar/.
The St. Regis Istanbul
With Istanbul ranked as one of the world's fastest growing destinations for international tourism, hoteliers in the city at the crossroads of two continents know full-well the glamorous lifestyles that their guests expect and accommodate them above and beyond those expectations.
Rui Reis, General Manager of The St. Regis Istanbul, part of Starwood Hotels & Resorts, Inc. says visitors from the GCC states are particularly significant in the market. In the months after opening in April 2015, GCC holiday-makers accounted for almost 28 percent of guests at the St. Regis Istanbul, with Saudi Arabia alone accounting for more than 15 percent of the hotel's business. By comparison, fewer than 12 percent came from the major EU member states.
"From our brand's origins as one of the most famous hotels in New York, The St. Regis Istanbul has proved very popular among discerning guests from the United States, but the GCC collectively is our most important market," said Mr. Reis. "Istanbul is well established as a popular destination among Middle East travellers, while St. Regis itself is also a recognized name in the region, with captivating addresses in the GCC in both Abu Dhabi and Dubai in the UAE, and in Qatar. Guests from the Gulf instantly recognize the name St. Regis as a byword for the bespoke luxury experience."
Istanbul is now a first choice for luxury travelers. Steeped in history, culture, and the architectural legacy from more than 1,500 years as an imperial capital from Roman to Ottoman times, the vibrant metropolis has firmly reclaimed its position as one of the world's great cities, both for business and pleasure.
The St. Regis group opened in Istanbul in April 2015, entering a booming market for luxury accommodation in the city. Located in the sophisticated Nişantaşı neighborhood, known as the "5th Avenue" of Istanbul, the address is set within a popular shopping and residential district, and is one of Istanbul's most exclusive neighborhoods. The area features high-end fashion boutiques, popular European-style cafés, bars restaurants and nightclubs, as well as narrow streets lined with Art Nouveau and Art Deco architecture.
Designed by award-winning Turkish architect Emre Arolat, the alluring address offers a modern interpretation of Istanbul's glamourous Art Deco era, with breath-taking, floor-to- ceiling views of the Bosphorus from each of the 118 guestrooms and suites.
Following in the tradition of the St. Regis brand's legendary New York hotel, The St. Regis Istanbul features the famed hallmarks of St. Regis hotels including the signature St. Regis Butler Service, bespoke guest experiences and luxury accommodations tailored to global travelers.
Trained in British tradition, the butlers provide ever present, yet unobtrusive service while anticipating guest needs and customizing each guest's stay according to his or her specific tastes and preferences. For more information on The St. Regis Istanbul, please visit http://www.stregis.com/istanbul.
Le Gray, Beirut
Offering some of the best accommodation in Lebanon, Hotel Le Gray is a landmark five-star hotel in the heart of Beirut Central District overlooking Martrys' Square. From 1975 to 1990, the area was razed by civil war. Now restored, the neighbourhood (known as Solidere) is the energetic soul of the city's new identity. These days Beirut is considered the most liberated city in the Arab world, sitting as it does on the edge of the Occidental Mediterranean.
Le Gray, one of the finest five-star hotels in Beirut, is made up of 87 contemporary rooms and suites spread out over four floors. Many of the rooms can be interconnected for those travelling together.
The architecture by Australian Kevin Dash ensures all rooms and suites are soaked in Mediterranean sun, while the central floor-to-ceiling, glass-topped atrium means the building is filled with light from the inside out.
The contemporary, clutter-free interior design is by Mary Fox Linton in close collaboration with creator, Gordon Campbell Gray. The palette includes pastel shades of blue, sage green or lilac, with dark grey tile and mosaic bathrooms.
Solidere is the downtown neighbourhood where everything happens, and with Hotel Le Gray at its core, you are within a two-minute walk of the city's shoreline, downtown luxury stores and the gastronomic lures of Gemmayze neighbourhood.
Here the dazzling glamour, glitz and joie de vivre of modern Beirut plays out against a richly historic backdrop, from Roman to Phoenician to traditional Levantine.
While at Le Gray, Beirut get pampered and truly unwind and relax with quality treatments available to guests at PureGray Health Club & Spa.
The dining outlets and bars at the hotel have amazing views of the Mediterranean, Mount Lebanon and Martyrs' Square, ideal for an evening breeze, tea, cocktails or dinner.
For more information on Le Gray, Beirut, please visit www.legray.com.
Subscribe to discover the best kept secrets in your city