When you picture Orange County, most likely think of sun, fun and killer water views. If that's what you have in mind, you're not wrong. In fact, the second you step into Newport Beach's tony Balboa Bay Resort, you'll feel like your dreams have just become a reality.
Balboa Bay Resort is, in fact, the only waterfront hotel in Newport Beach. Think: sparkling views of the bay and epic sunsets over the Pacific. When you add in its eateries—the high-end, seafood-centric Waterline and the more casual yet always packed A&O Kitchen+Bar and Blend, an Italian-inspired coffee shop; a 10,000 square-foot, full-service spa with ocean-inspired treatments; a year-round, heated swimming pool and whirpool; as well as your pick of water activities to enjoy from a private dock (electric boats, stand-up paddleboards and kayaks included), well, let's just say paradise has been found. 
Recently, Balboa Bay, which has been open since 2003, completed a full-scale renovation with a refreshed look and a plethora of modern amenities. Oh, and did we mention that this haute hotel has its very own yacht? Yep, that's right.
Without further ado, here are five new ways to feel like a billionaire at the chic Balboa Bay Resort.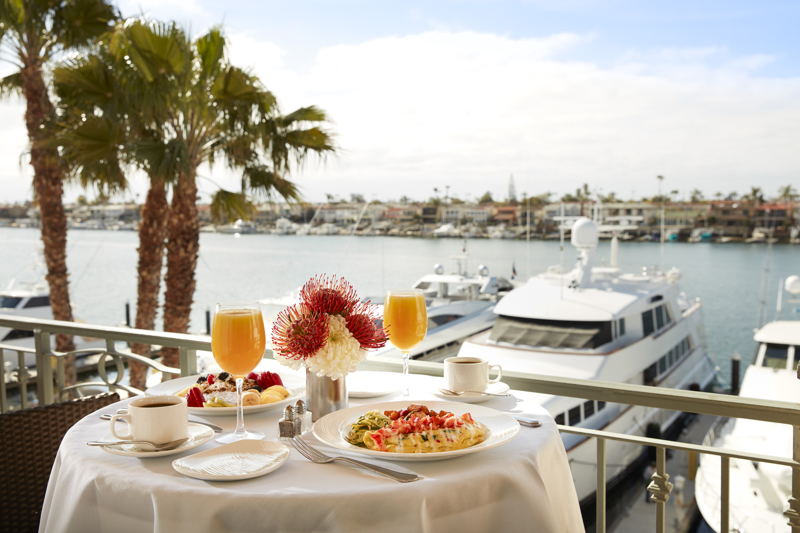 A BRAND (NEW) LOOK. Each of the resort's 159 rooms—of which inlcude 10 suites with a private patio or balcony or a courtyard/mountain view—have been given a chic new look. The resort has been updated with elegant Crema Marfil marble bathroom; Fresh amenities, Frette robes, bedding and towels; Keurigs; platform beds in rich espresso wood tones with individual reading lights; pillow top mattresses and luxury bedding by Frette. There are 50 shades of blue to enhance the "life by the sea" experience.
2. TECH UPGRADES. Guests will experience ultra-high-speed Internet access that requires no login or password, and will also find that the new 48 inch LED Samsung TVs that grace each room are equipped with Guest
Tek, a new TV system which offers not only HD programming (just like at home) but also the ability to pair a smartphone or tablet to control the TV. Once paired with the TV, guests can control the interactive guide or stream content from their tablet or smartphone, including their own Netflix, Hulu or Amazon Prime account to bring their favorite content from home. In terms of tech, there are several new on-site features to note:
The Meritage Collection App–a downloadable fully interactive app available on property grounds that will allow you to download and read your favorite publications via Press Reader, view events, order room service or make reservations at Waterline—is available.
The resort offers Stay N Touch, a mobile check in service that notifies a guest via email when their reservation is approaching and provides the ability for pre check-in, change to a reservation, upgrade of a
room category, or even make a special request. Guests will also be able to request their room key be sent to their smartphone once onsite. And at the end of their stay, guests will have the convenience of checking out through their mobile device and receive an email with their folio from the stay.
Guest Texting, a guest texting service (numbers provided on a table tent in each guest room), allows guests to text the front desk for anything they need without even picking up the phone, such as making a request for turn-down service while having dinner at Waterline or A&O, or ordering a night cap upon their return from a night on the town.
3. MOOD LIGHTING.  Each room and suite includes Evolve lighting, operated by a scene controller at the entrance of the room that allows guests to turn all the lights on at once or just a few at a time, including a standard lowlight setting. As of June, there's also a downloadable Evolve app available, which will allow guest to control the room technology through their mobile device, including the room temperature and room lighting. Haute! 
4. EVENT SPACE GALORE. The resort's 6,000 square foot Grand Ballroom and pre-function space also received a refresh. In addition to new custom carpet, wallcoverings, lighting, furnishings and art, the updated look also includes newly installed bi-fold doors that open the ballroom to an expanded interior pre-function area. The new design, courtesy of Kay Lang + associates, flows nicely with the resort's coastal setting, using the colors of the sea, sand and sky, along with natural materials and rich espresso wood tones.
5. THAT YACHT THOUGH. Guests, meet The Ambassador, a custom-built 128-foot luxury yacht, where you can now take meetings or host a special event while staying at the resort. The yacht is comprised of three decks and can accommodate up to 150 passengers; it includes a large fully appointed bar and entertainment lounge with rich custom leather seating and a grand piano, a second deck with complete arrangement for dinner seating, as well as an elegant Bridal/VIP suite with a private closet and bathroom; and a top observation deck comes equipped with casual tables and chairs. But can we talk about the fact that this resort has its own yacht in the first place? Really, it doesn't get any better.