When you think of The Beverly Center, high-end shopping comes to mind. But thanks to an impending $500 million makeover and some serious imagination, the La Cienega retail destination is turning into so much more, including creating a bright, contemporary and highly accessible exterior and interior, a more curated retail lineup, superior destination dining and, yes, an art gallery. 
The Beverly Center will incorporate temporary art installations exclusively from well-known Los Angeles artists such as Geoff McFetridge, Catherine Opie, Karen Kimmel and Dave Muller during the center's ongoing reimagination. Curated by Jenelle Porter, in association with the Hammer Museum, the artworks reflect the progressive, multi-cultural fabric of Los Angeles and the city's vibrant creative community.
"Beverly Center's renovation will afford Los Angeles artists an absolutely unique opportunity to make large-scale, temporary and experimental artworks," said Porter. "The invited artists' contributions respond to the richness of Los Angeles, giving the neighboring communities and tourists a starting point from which to explore our city's thriving cultural scene."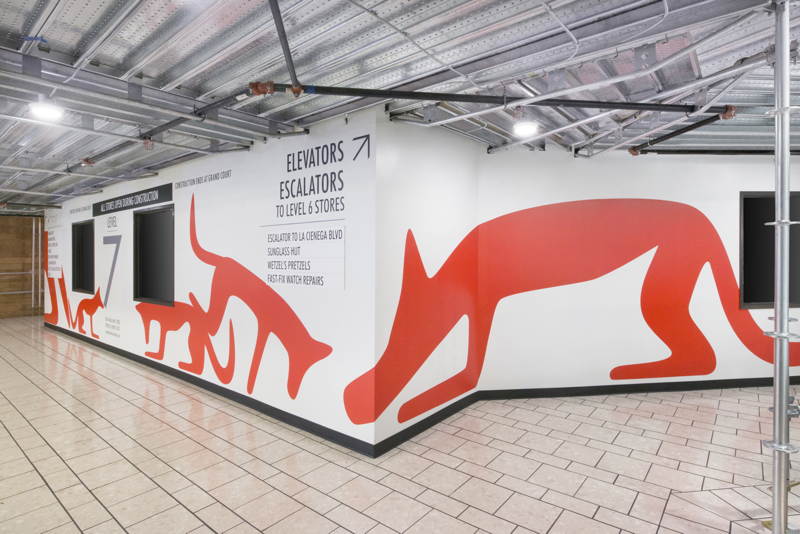 Debuting in July 2016 are the following works:
Geoff McFetridge: Small Gap Between Here and Nowhere. McFetridge, a graphic designer and artist who has created works for international brands, Hollywood films and local shops, McFetridge's Small Gap Between Here and Nowhere is commissioned expressly for Beverly Center and features Los Angeles' mythical and mystical native coyote. McFetridge's red pack is composed of large and small animals, magically shape-shifting to populate the indoor environment.
Dave Muller: California Daydreaming, w/Perks. Known for his acrylic-on-paper paintings and multimedia installations, Muller's new work for Beverly Center includes a monumental depiction of local flora and fauna mixed with details of the Watts Towers, the Hollywood sign and other iconic landmarks, all backdropped by the celebrated blue skies of the Southland.
Catherine Opie: Untitled (Beach Day #2). Known for her evocative photographs of contemporary America, Opie's exterior work brings the beach to the center. At street level, along the pedestrian walkway, Opie premieres new photographs of hands on surfboards, all of which were recently shot at local beaches.
Karen Kimmel: Stay. An artist and designer, Karen Kimmel will create a temporary sculptural installation, exclusive to Beverly Center, that incorporates usable seating for customers in the form of benches, platforms and stools, derived from her artistic vocabulary of abstracted, biomorphic forms. It will serve both form and function, cleverly allowing shoppers to rest and relax.
Subscribe to discover the best kept secrets in your city