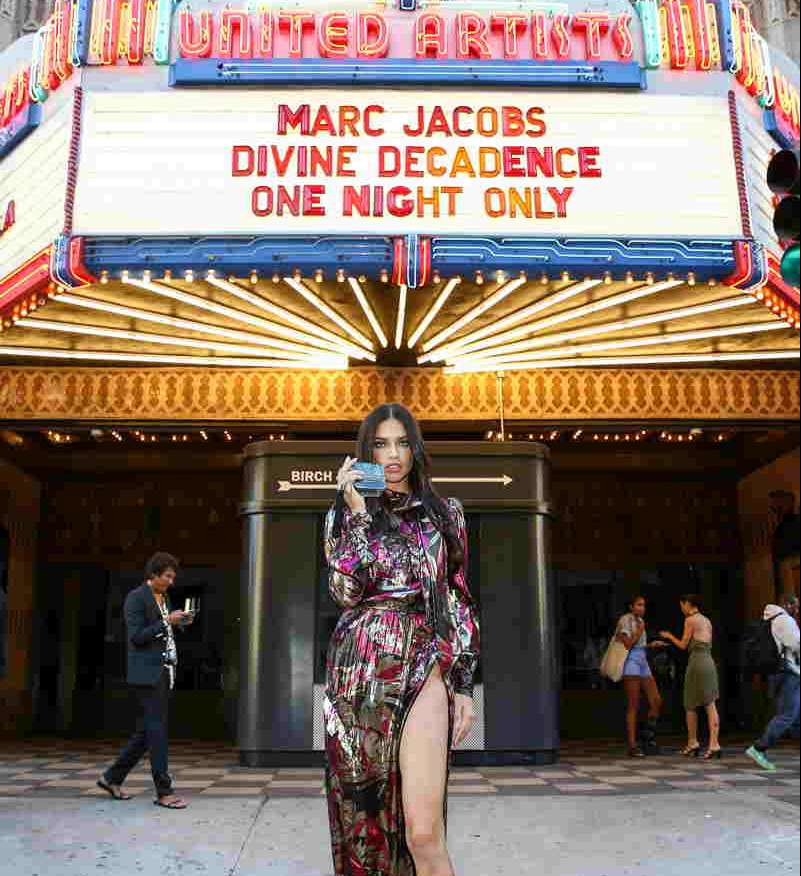 Marc Jacobs Fragrances celebrated its new fragrance, Divine Decadence, with an intimate dinner hosted by brand ambassador Adriana Lima at the United Artists Theatre in Los Angeles late this month.
The latest fragrance, which retails in an adorable purse-shaped bottle, is a luxurious floral. The new, lighter version of his first "mature" fragrance, Decadence, will hit shelves in September. Expect to encounter top notes of sparkling champagne, bergamot and creamy orange blossom. Rich florals, which include gardenia, hydrangea and honeysuckle, enhance the fragrance's femininity, while liquid amber, saffron and vanilla in the base add radiance. The fragrance was created by master perfumer Annie Buzantian of fragrance house Firmenich, in collaboration with renowned fragrance consultant Ann Gottlieb.
As per its press release, the fragrance is "a sparkling expression of glamour and luxury…that gives indulgence a touch of brightness. Decadence is a lifestyle, a way of living, transcending age and style. It's addictive, you can't get enough. A girl is not naturally decadent, she chooses to be."
The new scent was on full display at the event, as were Mr. Jacobs' fashions. Lima sported an MJ frock, as did guests such as Ellen Pompeo, Rashida Jones, Ashley Benson, Tracee Ellis Ross, Angie Harmon, Camilla Belle, Halston Sage, Imogen Poots, and Sasha Lane.
Other notable guests included influencer/bloggers Shea Marie (Peace Love Shea), Natalie Joos (Tales of Endearment), Chriselle Lim (The Chriselle Factor), and Caroline Vreeland.
Celebrating the irreverent glamour and opulence of Divine Decadence, guests enjoyed an indulgent multi-course dinner on the stage of the theatre atop floating tables that descended from the air.
Marc Jacobs is a global brand that produces womenswear, menswear, accessories, kidswear, jewelry, watches, and fragrances. Started in 1986 with business partner Robert Duffy, Jacobs now owns over 200 stores worldwide.
MARC JACOBS CELEBRATES DIVINE DECADENCE 1
Ellen Pompeo and Tracee Ellis Ross
Photo Credit: BFA
MARC JACOBS CELEBRATES DIVINE DECADENCE 2
Imogen Poots
Photo Credit: BFA
MARC JACOBS CELEBRATES DIVINE DECADENCE 3
Halston Sage and Ashley Benson
Photo Credit: BFA
MARC JACOBS CELEBRATES DIVINE DECADENCE 4
The scene
Photo Credit: BFA
MARC JACOBS CELEBRATES DIVINE DECADENCE 5
Divine Decadence
Photo Credit: BFA
MARC JACOBS CELEBRATES DIVINE DECADENCE 6
Divine Decadence
Photo Credit: BFA
MARC JACOBS CELEBRATES DIVINE DECADENCE 1
Ellen Pompeo and Tracee Ellis Ross
Photo Credit: BFA
MARC JACOBS CELEBRATES DIVINE DECADENCE 2
Imogen Poots
Photo Credit: BFA
MARC JACOBS CELEBRATES DIVINE DECADENCE 3
Halston Sage and Ashley Benson
Photo Credit: BFA
MARC JACOBS CELEBRATES DIVINE DECADENCE 4
The scene
Photo Credit: BFA
MARC JACOBS CELEBRATES DIVINE DECADENCE 5
Divine Decadence
Photo Credit: BFA