Photo Credit: Donnelly Marks
Leaving his footprint with a record-breaking, multimillion-dollar condominium development, Steven Dubb has paved the way for a new market in luxury home development in the Hamptons.
As a principal at The Beechwood Organization leading projects for the Hamptons and the North Fork of Long Island, Dubb, at 30, is working with his father, Michael Dubb, 60, Beechwood's founder and CEO, to build up a portfolio of more than 6,000 homes in communities across the New York metro area. Their efforts will cement Beechwood's reputation as the largest and perhaps most innovative developer of Long Island residential housing, which in 2015 won multiple awards for the group's ground- breaking luxury condominiums in Southampton.
Growing up in Brookville, Long Island, Steven Dubb spent weekends as a boy with his father on job sites and in sales centers; it was only a matter of time before he joined the firm, which he did in 2008. "There wasn't a question in my mind that that's what I was going to do," he says. After graduating in 2007 from New York University with a degree in studio art and real estate, Dubb, who manages the sourcing and structuring of acquisition, development and construction loans for Beechwood's assets, worked for two years as an analyst in real estate lending at Credit Suisse in its real estate finance and securitization group, a position he credits for his understanding of the financial components of a real estate transaction.
"My approach to the business has always been to figure out where I could add value, where I can help grow the business and make us better at what we do," says Dubb, who lives in Manhattan and Amagansett.
That approach has paid off. Bishops Pond, the first project that Dubb led for Beechwood, has attracted more than $90 million in sales, with more than half of its 69 luxury villas and townhomes spoken for within the first 10 weeks on the market in 2013— breaking a record in Hamptons and Long Island home sales. It was also the first Hamptons development in more than 20 years that would comprise the construction of condos. Surpassing the quality of projects built in the '70s, '80s and '90s, these homes in Southampton Village would be luxurious, even stately.
During Bishops Pond's early stages of development in 2010, others in the business were doubtful that the market would be right for this type of project. "Because it hadn't really been done, there was a lot of skepticism about whether people would want condos in the Hamptons since everybody thought of it as the land of estate homes," Dubb says. With Bishops Pond, he proved that there's a market among the Hamptons crowd—whether they be empty nesters, city dwellers who summer in the Hamptons or locals transitioning from large estates— of potential homebuyers who want the quality of a Hamptons home with luxury amenities, without the burden of maintenance. "I remember somebody saying to me, 'Well, you'll do OK if you don't sell over $800,000,' because anybody who's going to spend $800,000 could buy a house somewhere," Dubb says. The original prices for the homes were raised six times during the initial six months they were offered. "I sort of smirked and said, 'OK, well, we'll see what happens.'"
They're now priced from $2.1 million. To meet the overwhelming demand for Bishops Pond properties, in 2015 another 10 townhomes were added to the original 69 villas and townhomes. These 10 were in what Beechwood called The Enclave on an adjacent 2.78 acres, bringing the total Bishops Pond land area to 15.78 acres. All but one of The Enclave homes are sold to date.
"What we did wasn't to bring condos to the Hamptons; what we did was to bring luxury condos to the Hamptons," Dubb says. For this, the Bishops Pond development received three 2015 Silver Awards (aka The Nationals) from the National Association of Home Builders in the categories of Best Attached Community of the year, Best Architectural Design of an Attached Community and Best Direct Mail Program.
For buyers who want the same quality as Bishops Pond but prefer a traditional Hamptons estate, Beechwood is now building Bishops Grant in Southampton Village. This is a collection of four classic, single-family residences priced from $4 million; each 6,500-square-foot home boasts seven bedrooms and seven and a half bathrooms.
With each residential development, the firm says it is committed to thoughtful planning and design, taking into consideration how construction would affect the surrounding environment and serve the community. "I think the pieces of land that are prime for development are the ones that have a use that's past its prime, where it's not being utilized for its highest and best use anymore," Dubb suggests.
Before it was acquired by Beechwood, the parcel of land where Bishops Pond is situated was an industrial site for recycling, composting and soil transfer. Its redevelopment as a residential complex was avidly supported by the local community. "In some cases," he notes, "the best pieces [of land] are the ones where the community wants to see something done there, and that's what we look for when we identify development opportunities because we want to work with the community, not against them, to get projects approved and built."
Not far from Bishops Pond, Beechwood along with partner George Benedict (also a Bishops Pond developer) recently purchased a 25,121-square-foot, 67-room former boutique hotel for $23 million. Built in 1909 and now too rundown to be used as a hotel, The Village Latch Inn in Southampton is currently being evaluated by Beechwood for its best use—potentially a redevelopment of its five acres for luxury condominiums. The project will be Dubb's third in the Hamptons, following the success of Bishops Pond and Bishops Grant.
Beechwood is not exclusively a developer of luxury projects. As Dubb says, Beechwood developments are intended to improve the community, whether that's building more economical housing or high-end condos. "We don't like to be pigeonholed as a luxury developer or an affordable-housing developer. We really cover all parts of the spectrum, and we do it well because we're good at analyzing a piece of property and figuring out what kind of development would complement the community and would have demand from buyers."
For Beechwood, constructing houses is essentially about the satisfaction of building that ideal home for someone. To accomplish this, Dubb says he feels fortunate to be working with his father on a daily basis: "I think he's been moved by the buyers who come to him with tears in their eyes because they're so happy to have their own home. You know, it's been their dream to own a home for the longest time, and they finally have it."
Other developers have built similar condominium developments in the Hamptons, but none so far have been able to match the success of Bishops Pond. "We're not only in a business," Dubb says, "but we're doing something that really improves people's lives, and that translates into everything we do."
UNDER CONSTRUCTION: NON-HAMPTONS LUXURY RESIDENTIAL DEVELOPMENTS BY THE BEECHWOOD ORGANIZATION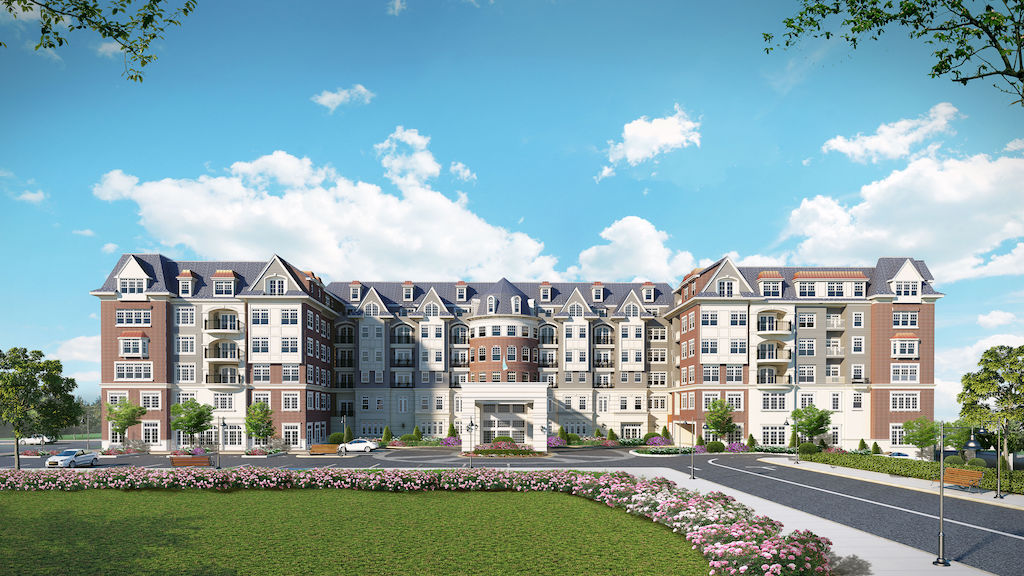 Photo Credit: Courtesy of The Beechwood Organization
The Vanderbilt, Westbury, NY
Long Island's first combined luxury apartment and hotel project on a 5.5-acre plot, The Vanderbilt, located adjacent to Beechwood's Meadowbrook Pointe, is slated to offer 178 rental apartments and 17 extended-stay hotel suites in an $85-million development project.
Currently under construction
Projected 2017 leasing for late 2018 occupancy
Country Pointe Estates at Ridge, Ridge, NY
To be positioned on a wooded preserve on Long Island's North Shore, this will be a community of 94 luxury, single-family ranch and two-story estate homes, with three to ve bedrooms, plus two-car garages and full basements.
Currently under construction with pre-construction sales underway for projected late 2016 occupancy
Country Pointe at Plainview, Plainview, NY
Situated on 144 acres in the Town of Oyster Bay, Long Island, Country Pointe will host 750 homes, with 528 homes designed for the 55+ market, and will be complemented by luxury leisure-time amenities, including a 25,000-square-foot clubhouse, two outdoor swimming pools, tennis and bocce ball courts, retail facilities and recreational open space.
Beechwood is finishing final approvals and expects to begin construction in 2016.
Subscribe to discover the best kept secrets in your city