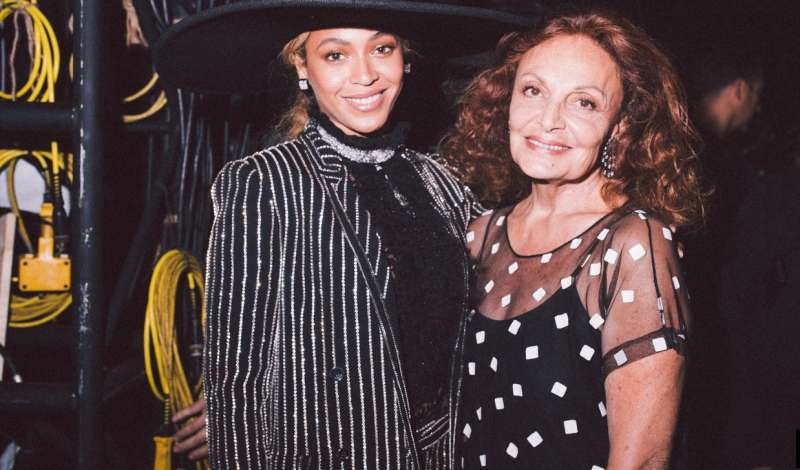 Beyoncé is having an amazing year! Congratulations are in order for the mother-of-one for receiving the 2016 Fashion Icon award. Joined by husband Jay-Z and daughter Blue Ivy, the Haute 100 lister and Texas native accepted her award from fellow Haute 100 lister Diane Von Furstenberg.
Furstenberg praised the 34-year-old before introducing her. She said, "What really matters is talent. Talent is the solution and talent is what we celebrate tonight."
While the award came as a shock, as it wasn't announced until later in the night, Beyoncé's newest accolade is especially fitting following her powerful and fashionable visual album. In her acceptance speech, Beyoncé acknowledged her humble beginnings. She recalled, "As long as I can remember, fashion has always been a part of my life. It's effect on me actually started before I was born. Most of you guys don't know this, but my grandmother was a seamstress. My grandparents did not have enough money; they could not afford my mother's Catholic school tuition. So my grandmother sewed clothes for the priests and the nuns and made the uniform for the students in exchange for my mother's education."
The music mogul's grandmother passed on the talent of dressmaking to Beyoncé's mother, Tina Knowles, who was in the audience as her daughter accepted her award. Beyoncé continued, "When we were starting out in Destiny's Child, high-end labels, they didn't want to dress four black, country, curvy girls and we couldn't afford designer dresses and couture. My mother was rejected from every showroom in New York. But like my grandmother, she used her talent and her creativity to give her children their dreams."
After praising her mother, Beyoncé concluded, "I want to say thank you to every designer who works tirelessly to make people feel like they can write their own stories. Y'all are fairy godmothers, magicians, sculptors, and sometimes even therapists. I encourage you to not forget this power you have or take it lightly. We have an opportunity to contribute to a society where any girl can look at a billboard or magazine cover and see her own reflection."
The Formation singer accepted her award in a pinstriped, crystal-embellished Givenchy suit and a wide-brim hat.
Featured photo via Beyoncé.com