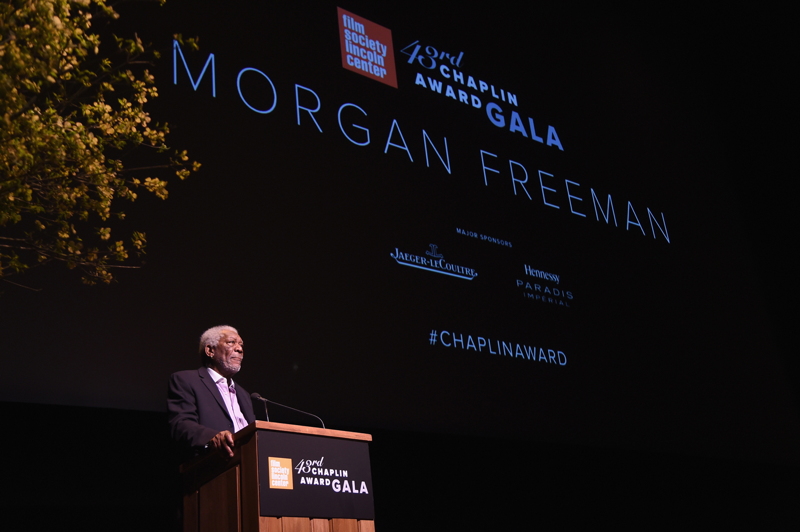 "Most actors strive for authenticity and dignity. Morgan doesn't have to strive, he has it." Helen Mirren said when presenting Academy Award winner Morgan Freeman with the prestigious Chaplin Award at The Film Society of Lincoln Center's annual gala.
After receiving the award, Freeman said, "Knowing my name is now on a list that includes so many legends of cinema that I admire, is something I will always cherish." Freeman was referring to past recipients, who included Alfred Hitchcock, Billy Wilder, Laurence Olivier, Federico Fellini, Elizabeth Taylor, Bette Davis, James Stewart, Robert Altman, Martin Scorsese, Diane Keaton, Meryl Streep, Tom Hanks, Michael Douglas, Sidney Poitier, Catherine Deneuve, Barbra Streisand, and last year Robert Redford.
In addition to Mirren, presenters who honored Freeman included Robert De Niro, Matthew Broderick, Danny Glover, and Jerry Schatzberg. 
"Morgan Freeman is one of most highly regarded and beloved actors of his generation and we are excited to honor all of his achievements with the Chaplin Award, " said the Film Society of Lincoln Center's Executive Director Lesli Klainberg. "Whether in a leading or supporting role, he brings a quiet gravitas to each of his memorable performances in such films as Lean on Me and Driving Miss Daisy to Street Smart, The Shawshank Redemption, Seven, Million Dollar Baby, and Invictus."
Jaeger-LeCoultre, the evening's primary sponsor, has been partnering  with the Film Society on a range of initiatives in addition to the annual gala for the last three years,notably the Filmmaker in Residence project. (This program allows artists to focus on developing or refining new works from a New York City base.) The partnership also includes the New York Film Festival, a 17-day program featuring the year's top films from around the world.
The Film Society's Annual Gala began in 1972. The first recipient was Charlie Chaplin, who returned to the U.S. from exile to accept the honor. The award was then named after him. The Chaplin Award Gala is the Film Society's most significant fundraising event,