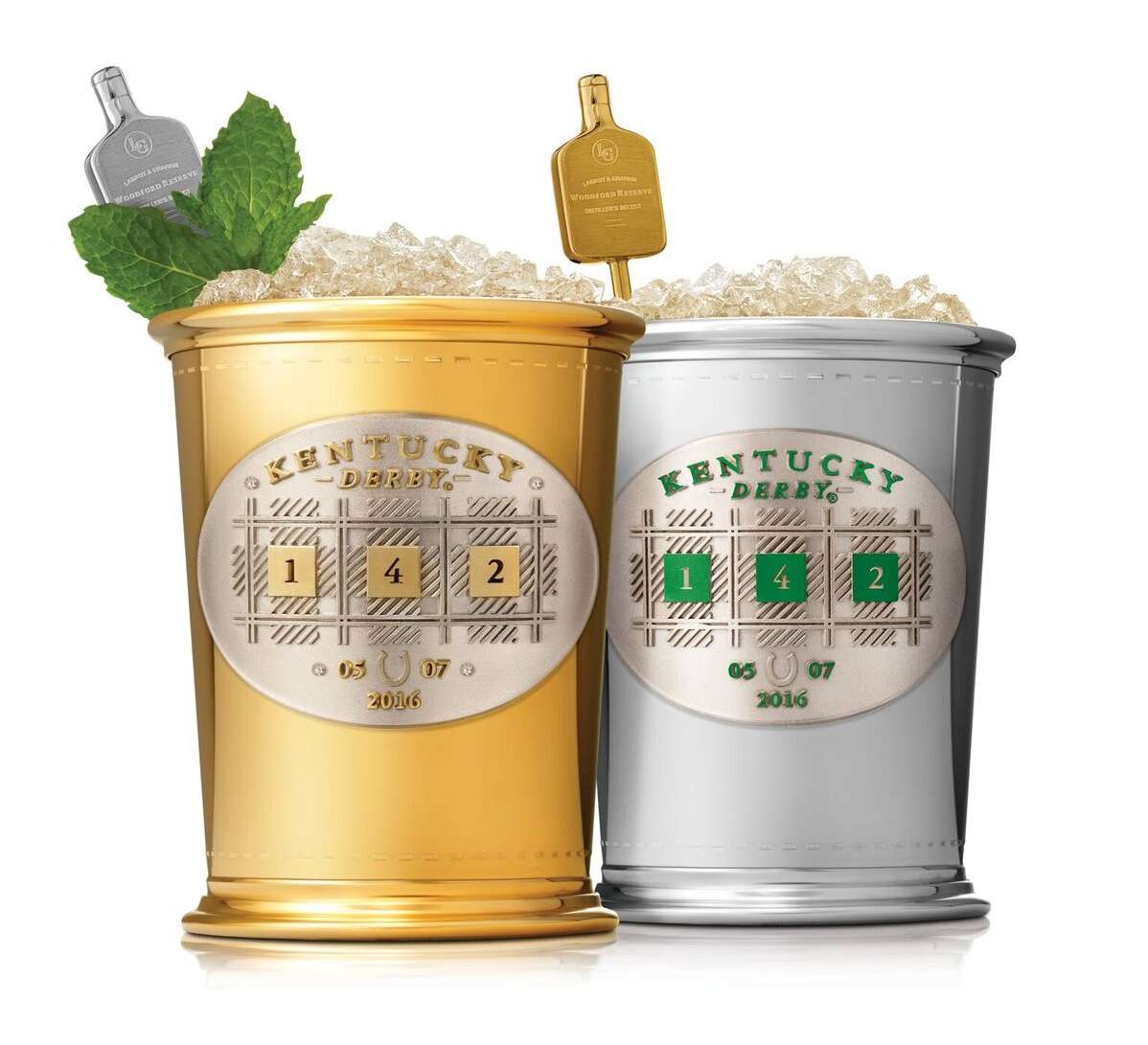 America's chicest equestrian affair is right around the corner. Every year people from across the country and around the world gather for the Kentucky Derby. Churchill Downs, the world's most legendary racetrack, has conducted thoroughbred racing and held the Kentucky Derby every year since 1875. And while the event is certainly focused on the race, it also lends a beautiful backdrop for the other haute happenings taking place inside. Our favorite Kentucky Derby tradition is the $1,000 Mint Julep Cup.
You've probably had a mint julep before, but if you haven't had this one, it's as if you haven't had one at all. The base to this beautiful creation is bourbon, and for $1,000 you can rest assured you'll be getting the best bourbon around. Woodford Reserve has had a longstanding history with the Derby and is now in its 11th year of offering $1,000 Mint Julep Cups at the race. The cocktail ingredients are definitely delicious, but the price point can be credited to the cup in which they're held.
This year, Houston-based men's shirt designer Hamilton Shirts was recruited to design both the $1,000 Mint Julep Cup and a complementing custom fabric to line the cup boxes. There are 90 pewter "Crafter's Cups" that will go on sale for $1,000. The cups feature Hamilton's classic plaid pattern, along with the 2016 Kentucky Derby date and Woodford Reserve logo, and is accompanied by a gold-plated sipping straw. Additionally, there are 15 gold-plated Master's Cups that will go on sale for $2,500 on a first come, first buy basis. These cups feature Hamilton's classic plaid pattern accented with diamonds, along with the 2016 Kentucky Derby date and Woodford Reserve logo, and is accompanied by a silver sipping straw.
If you're still wondering what warrants the hefty price tags, this might answer all of your questions. Each year, Woodford Reserve partners with a charitable organization to donate the net proceeds from the $1,000 Mint Julep Cups. Over the past 10 years, Woodford Reserve has contributed more than $425,000. This year, Woodford Reserve will donate net proceeds to the Permanently Disabled Jockeys Fund. The fund works to provide financial assistance to former jockeys who have suffered catastrophic on-track injuries.
While we certainly hope you won't be missing out on this haute affair, we definitely don't want you to miss out on this year's mint julep cocktail. If you're watching the Derby from home, here is the 2016 recipe for you to enjoy!
Woodford Reserve® 2016 Kentucky Derby® Mint Julep:
2oz Woodford Reserve Distiller's Select
.75oz Toasted Pecan Orgeat Syrup
Fresh Mint
Caramelized pecan crumbles and edible copper flakes for garnish
Rub fresh mint around julep cup. Combine ingredients with crushed ice and swizzle in glass. Add more crushed ice, garnish with mint bunch, caramelized pecan crumbles and copper flakes.
Toasted Pecan Orgeat: Toast pecans, mix or muddle into small pieces, simmer on low heat to create a nut milk, fine strain or use a nut milk bag to get pieces out, add equal parts sugar to liquid.