Photo Credit: Michael Simon/startraksphoto.com
Over the weekend, LA-based fashion designer Monique Lhuillier celebrated her collaboration with Pottery Barn Kids with a launch presentation soiree at Lombardi House in Hollywood.
Celebrity guests including actresses Busy Philipps, Tiffani Thiessen and Joanna Garcia Swisher, and additional notables such as actors Danny Masterson and wife Bijou Phillips, actress Elizabeth Mathis, celebrity stylist and Co-Founder of Au Fudge Restaurant Estee Stanley, interior designers Nathan Turner and Ross Cassidy, fashion designer Minnie Mortimer, home and accessory designer Alexandra von Furstenberg, celebrity stylists Ilaria Urbinati, Nicole Chavez, Jessica de Ruiter and Natalie Saidi and Baby2Baby Co-Founder Norah Weinstein were offered a first look at the collection while enjoying kid-friendly activities such as carriage rides from a miniature pony, face painting, paper airplane and fairy wand crafts, flower crowns, tutu dress-up and cotton candy.
The Monique Lhuillier for Pottery Barn Kids capsule collection, featuring over 120 ethereal, whimsical yet functional pieces for nursery, children's bedroom, and playroom, will become available for purchase online at potterybarnkids.com on Thursday, March 17th and in Pottery Barn Kids stores nationwide on Friday, March 18th.
The items includes fantastical pieces like tulle bedskirts, a butterfly pinboard, a tufted ottoman, a dollhouse (and dolls to go with it), a paper airplane mobile, beach-inspired bedding, a Jacquard panel and shade and even a cozy leather chair.
The collection was inspired by the nurseries and bedrooms for her two children and is
Lhuillier's first go into the world of children's home furnishings.  "I have always been inspired by the delightful fantasy of special occasions. The collection marries the functionality needed for baby and kids' spaces with contemporary, whimsical and magical design," she told WWD.In the past, the home furnishings brand has teamed up with other reputable designers like Jenni Kayne.
Photo Credit: Michael Simon/startraksphoto.com
Monique Lhuillier for Pottery Barn Kids Collection Launch 1
Monique Lhuillier
Photo Credit: Michael Simon/startraksphoto.com
Monique Lhuillier for Pottery Barn Kids Collection Launch 2
Tiffani Thiessen, Busy Phillips
Photo Credit: Michael Simon/startraksphoto.com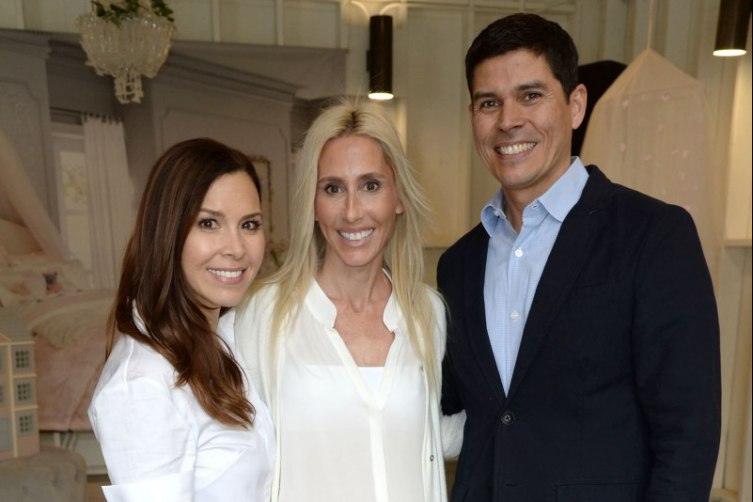 Monique Lhuillier for Pottery Barn Kids Collection Launch 3
Monique Lhuillier, Alexandra von Furstenberg and Tom Bugbee
Photo Credit: Michael Simon/startraksphoto.com
Monique Lhuillier for Pottery Barn Kids Collection Launch 4
Mandana Dayani and Norah Weinstein
Photo Credit: Michael Simon/startraksphoto.com
Monique Lhuillier for Pottery Barn Kids Collection Launch 5
Bijou Phillips with daughter Fianna Francis Masterson
Photo Credit: Michael Simon/startraksphoto.com
Monique Lhuillier for Pottery Barn Kids Collection Launch 6
Atmosphere
Photo Credit: Michael Simon/startraksphoto.com
Monique Lhuillier for Pottery Barn Kids Collection Launch 7
Ballerinas
Photo Credit: Michael Simon/startraksphoto.com