Like many couples, Eli and Edythe Broad finish one another's sentences, love to travel and appreciate nothing more than a quiet evening in. And that's where the similarities end. Together for more than 60 years, Eli and Edythe share a love of art, a belief in the healing possibilities of science, and philanthropic hearts. And the results of their generosity have made an enormous impact on the cultural environment of downtown L.A.
Unlike most other couples, when the Broads travel, they visit the likes of the (now-deceased) Maharaja of Jaipur in his Indian palace. 'Home' is a two-story, 13,000-square-foot Brentwood behemoth designed by Pritzker Prize-winning architect Frank Gehry; the three-acre estate is dotted with works by Jasper Johns, Jeff Koons, Andy Warhol and Cy Twombly. Their home away from home is The Broad, the $140 million free-for-all (general admission), 120,000 square-foot, downtown contemporary art museum that officially opened late last year. What the couple wanted, admits Eli, was something different. "Most museums are not welcoming frankly—they're sort of dark and so on. We wanted something that would attract people who never go to museums."
The Broad, which is located across the street from Frank Gehry's Walt Disney Concert Hall, is magnificent. It's a modern affair with a perforated, honeycomb-like façade by the architecture firm Diller Scofidio + Renfro. Built based on "the veil and the vault" concept: a porous envelope wraps around the building, filtering and transmitting daylight to the inside space, while its exterior is comprised of 2,500 rhomboidal panels made of fiberglass reinforced concrete supported by a 650-ton steel substructure. The vault is the building's core, storing artwork, curatorial spaces and offices. Ajacent is a plaza, filled with 100-year-old Barouni olive trees, lending the building a modern yet timeless ambiance.
The new museum contains nearly 2,000 pieces of postwar and contemporary art, the majority of which are owned by The Broad Art Foundation, which the Broads created to build a public collection of contemporary artworks that museums could borrow. They created the foundation when their walls were filled and they wanted to continue collecting, which they have done, lovingly together, for the past 50 years. After making 8,500 different loans to 500 different institutions over the years, they decided to build a beautiful home for the collection, which is comprised of works by over 200 artists including John Baldessari, Jean-Michael Basquiat, Doug Aitken, Mark Bradford, Cindy Sherman, Robert Mapplethorpe, Takashi Murakami and their close and personal friend, Jeff Koons.
Though they've amassed an amazing collection, make no mistake, it's carefully curated. "We look for quality, and for things that we think are going to be huge and historically important," Eli notes. "I'm interested in whether it has social commentary." His favorite pieces in the couple's personal collection are a testament to this fact, from Jasper Johns' Flag to works from Ed Ruscha and Roy Lichtenstein.
This statement is less true for Edythe (she prefers to be called "Edye") who simply loves to look at beautiful pieces—her favorite personal piece from their collection is Cy Twombly's The Rose because "it's the most beautiful thing to look at"— and has done so since she was a young girl taking her first school trip to an art museum.
"Edye was the first collector in our family, and I came along later—later being some fifty odd years ago," says Eli. "All of [our art] reminds me of Edye, because she was the first collector…and she was my inspiration to collect art," he adds.
"I would go off on business trips, and when I was overseas, she would buy prints, and then I would come home and look at them. One day, she bought a wonderful poster by Toulouse Lautrec, which I recognized. That got me curious." Curious enough that he soon after purchased their first original piece of art, a Van Gogh ink drawing. An addiction was born.
Broad is nothing if not practical, and he turned to longtime friend Taft Schreiber (now deceased), a director and executive at MCA Inc. and a Republican political activist who was also Ronald Reagan's Hollywood agent, for advice when he first began collecting. "Unlike other collectors, he was a real hunter," Broad says. "If he wanted something, it might take him ten years to acquire it, but he would eventually get it. It was all about quality. Every piece he had was a masterpiece."
After the deaths of Schreiber in 1976 and his widow, Rita, in 1989, a gift of 35 works worth in excess of $60 million was donated to MOCA in their memory, dubbed 'The Schreiber Collection.' "[Taft] would also study to see what was the best. He always said, 'Only buy the best, don't settle for second.' If you rated on a scale of one to ten, he would always go for a ten," says Edye, adding, "His collection was magnificent but not enormous. Our collection is a lot bigger, but only because we didn't want to stop buying!"
Eli Broad is a big picture kind of guy, as the only person in the world to build two Fortune 500 companies (KB Home and SunAmerica) in two starkly different industries (home building and life insurance) could be—and he wanted to make The Broad more than a mere museum: he decided to make its surrounding area on Grand Avenue the cultural epicenter of Los Angeles.
"I've always believed that the city lacked a vibrant center from the time we got here [in 1963], 50 some odd years ago. I saw Grand Avenue as being a civic and cultural district for a region of 15 million people," he says, noting, "We're off to a good start."
The beginning of downtown L.A. as it is today actually started in 1979, when Broad became the founding chairman of the Museum of Contemporary Art (MOCA). It continued with the birth of Walt Disney Concert Hall in 2003 and expanded yet again with The Broad's arrival. Grand's latest piece de resistance includes Otium, an eatery helmed by The French Laundry alum Timothy Hollingsworth, the aforementioned olive grove plaza, Grand Park and a $2 billion anticipated development from Related Companies that will include retail, restaurants, a hotel and 3,000 housing units.
In the past, he has likened Grand Avenue as it is today to Paris' Champs Elysées, which he now refers to as "an exaggeration," laughing that at present time, he would refer to the area as "a smaller Champs Elysées."
Regardless of what you call it, the street—under Broad's supervision—is unique. Within a three-block radius, a plethora of landmarks pepper Grand. In addition to the buildings he's personally curated, there is the Cathedral of Our Lady of the Angels, Los Angeles Music Center, the Wells Fargo Center and the Brockman Building.
Nowadays, Los Angeles in general is giving New York City, the cultural capital of America, a run for its money in both the Broads' eyes.
"Since we've come here, we look at all that's happened in both the visual and performing arts; it's very impressive," he notes. "The number of museum directors and creators from elsewhere—including New York—come here. [Los Angeles has] become the contemporary art capital of the world; not commercially, but otherwise."
But there's more. "The city is a great meritocracy," he adds. "No city has better universities than we have, between UCLA, USC and Cal Tech. We have great museums; great art schools."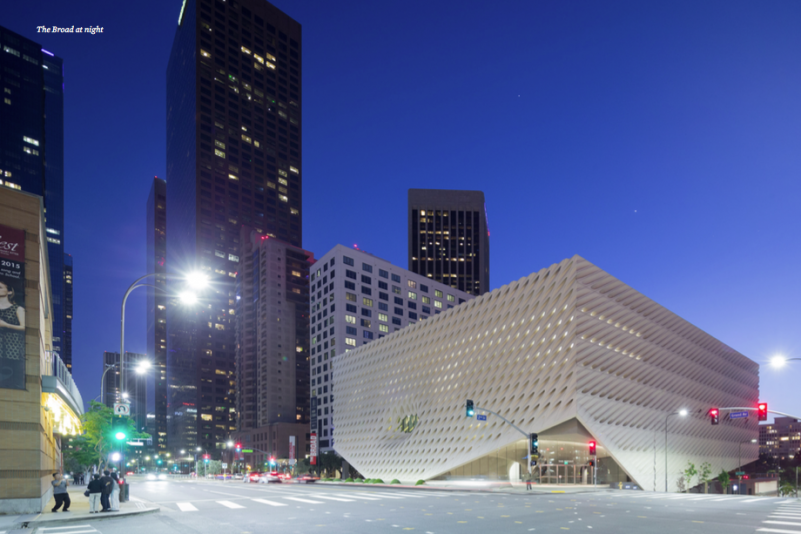 In Edye's opinion, L.A. has also become a culinary destination in recent years. "I think L.A. is a great place for young chefs," she says, naming downtown eateries like Otium, Bestia and Redbird, as well as Westside restaurants such as Voltaire, Valentino, Toscana, Il Piccolino and Capo as among their favorites.
What's not to love? Los Angeles has amazing art, haute cuisine and more.
"It has culture, climate and the people are curious," says Eli. Adds Edythe, "There's sunshine…and opportunity."
Eli Broad is a man who immediately knows what he wants when he sees it. Just ask his wife.
Back in 1954, the then-21-year-old Michigan State University student convinced a friend to give him 18-year-old Edye Lawson's phone number. She had no idea who he was, but said yes anyway—because her mother pressured her into it. Even in his youth he knew what he wanted, and after just a few dates, proposed, promising a future that included two kids, two cars, a home and maybe a vacation in Florida once a year. Sixty-two years later, Broad has more than made good on his word.
Edye hasn't made it to Bhutan, Syria or Iraq, but she's been able to sate just about every other desire she's had in life. "Being able to buy all the books I want, being able to always buy and have fresh flowers and being able to travel, for me, [are the greatest luxuries in life]," she says. Edye is a voracious reader and recalls, "Once a long time ago when Eli was out of town I read seven books."
The sun is setting, and both Eli and Edye are seated in their luxurious sitting room underneath a welded-steel ceiling. In the distance, there is a Richard Serra sculpture, comprised of four, 15-ton steel plates located near a pool on their Narnia-like grounds. It is, most definitely, a fantasy world.
For Eli, it is a world that he wishes he could fully enjoy more. Having time, to him, is the greatest extravagance, and what he has the least of. Reading his four papers a day and getting his eight hours of sleep a night are prerequisites.
The 82-year-old has been working his way to the top since college, when he worked selling women's shoes, selling garbage disposals door-to-door and working as a drill press operator at Packard Motor. He doggedly became the youngest Michigan resident to attain his Certified Public Accountant credentials (a record he held until 2010), and worked as an accountant and as an assistant professor of accounting until forming the homebuilding company Kaufman & Broad, which later became Kaufman and Broad Home Corporation. It went public in 1961. Ten years later, in 1971, Broad acquired Sun Life Insurance Company of America and transformed it into the retirement savings powerhouse SunAmerica. It sold to American International Group to the tune of $18 billion in 1999.
The couple moved from Detroit to Phoenix before landing in Los Angeles, always heading where the markets were vibrant. Edythe didn't mind. "I always wanted to live where it was warm; I would've moved any place that it was warm," she says with a smile.
Edye is easy, and we mean this in the best sense possible. She's quick to laugh, calm, courteous and frank. Though they've been married for most of their lifetimes, when he sees her, he lights up with the look of love as though she was the only woman in the world. We can imagine Eli pulling a Jerry Maguire and proclaiming, "You complete me." At least, he looks at her as if she does.
In his 2012 book release, "The Art of Being Unreasonable," Broad writes, 'I have made poor choices, in business, in my personal life, and in the way I balanced the two. But I made one brilliant choice that outshines everything else I've done: I asked Edye to marry me. Who you spend your life with—much more so than how you choose to spend it—is the most important decision you can make. Do it right. That's the best advice I can give you.' It would make any woman expel a gusty, old romance-filled sigh.
Edye, though, was baffled by it—but pleased. "I was surprised…but it was nice to read that. He's just not like that usually. It was very sweet," she says.
"It was overdue," Eli interjects.
The one constant he has had throughout his life and career, besides Edye herself, is a paperweight she gave him as a gift after their 1954 wedding. It is inscribed with a George Bernard Shaw quote that reads: 'The reasonable man adapts himself to the world. The unreasonable one persists in trying to adapt the world to himself. Therefore, all progress depends upon the unreasonable man.' This quote best conveys how Eli Broad has chosen to live his life.
He describes himself as "tenacious" and "driven," aware that these traits might not make him very "popular" among his peers. "I'm very direct, and I don't suffer fools, frankly, so if I want to get something done I just move ahead and do it, especially if I think it's the right thing to do," he states. "Other people would rather talk about it for many, many hours [instead of doing it themselves], and so they see me as very direct, driven."
He's forgetting to add very, very successful. From 2004 to 2009, he served as a Regent of the Smithsonian Institution by appointment of the U.S. Congress and the president. He is also a Fellow of the American Academy of Arts and Sciences, and in 1994 was named Chevalier in the National Order of the Legion of Honor by the Republic of France. He received the Carnegie Medal of Philanthropy in 2007 and the David Rockefeller Award from the Museum of Modern Art in March 2009.
Beyond that, he and Edye are two of the most instrumental and recognizable figures in the Los Angeles art world. After he became the founding chairman of MOCA in 1979, The Broad Foundation then gave an additional $30 million grant to rebuild the museum's endowment and provide exhibition support in 2008. They also donated $60 million to LACMA (Eli is a life trustee) through The Broad Foundation in 2003 as part of its renovation campaign to create the Broad Contemporary Art Museum as well as an art acquisition fund.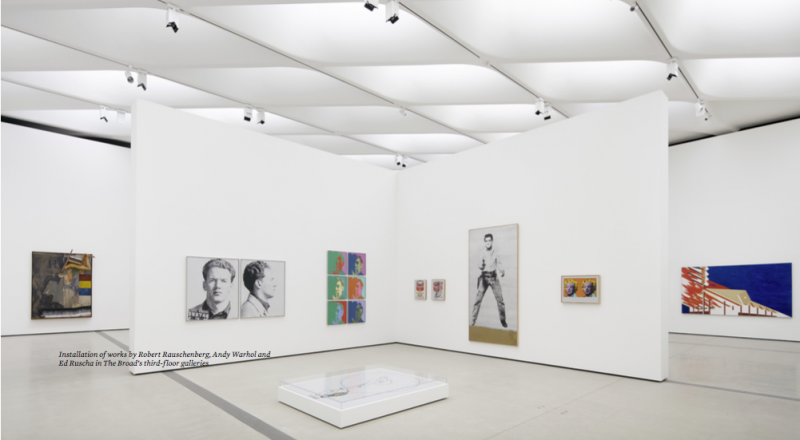 Additionally, the couple gifted the Los Angeles Opera with $6 million to bring Richard Wagner's "Der Ring des Nibelungen" to L.A. for the 2009-2010 season; they also donated $7 million to continue funding the Eli and Edye Broad general director at the L.A. opera (the position is currently occupied by the great Placido Domingo).
Feeling light-headed yet? No? We'll continue. The Broads also endowed Santa Monica College with $10 million for a state-of-the-art performing arts center, The Eli and Edythe Broad Stage, as well as an adjacent black box performance space called (lovingly) The Edye; a gift to the School of the Arts and Architecture at UCLA resulted in The Eli and Edythe Broad Art Center, designed by Richard Meier. In total, their financial gifts have totaled $800 million. On top of that, the two have donated billions of dollars to advocating public school reform as well as medical research in human genomics.
However much good the two have done and as much success as they've enjoyed, no one ever gets everything they want in life. For example, Eli once tried to bring the NFL to L.A., but was outbid by Robert McNair, owner of the Houston Texans. He isn't bitter though: he's pleased that Stan Kroenke is bringing the Rams to Los Angeles. "I don't have a team other than my alma mater, Michigan State, [though I do] enjoy watching football," he admits, adding that the move was "long overdue. About 20 years ago, I tried to get an NFL franchise
here and we almost got it, and then Houston came in with a lot more public money and got the franchise instead of Los Angeles."
He is also quick to dismiss the rumor that he was attempting to purchase the LA Times from current owner Rupert Murdoch. "I always thought that the paper should have local ownership and that the newspapers [should be] a public trust, not just a commercial property," he says, adding, "Also, the quality is hardly as good as The Wall Street Journal, The New York Times or The Washington Post, but it is better than San Francisco and a lot of other cities."
Bottom line: Eli Broad doesn't need a football team or a newspaper to leave a legacy. He already has that, in spades.
Edye, meanwhile, says that "the thing I'm proudest of is the Broad Institute in Cambridge, Mass., because it's already changed science, and long after we're gone, it will benefit mankind. We are not science background people, but we enabled Eric Lander [one of the principal leaders of the Human Genome Project and the founding director and a core member of the Broad Institute of MIT and Harvard] to do what he does, and that's special to me. I feel really good about that."
Eli wants to be seen as "someone who's made a difference. Someone that's left the world better than the way we found it." And most importantly, when reflecting on the collaborative efforts that he and Edye conceived and nurtured, he says, "We feel very good about all the things we've created."
Subscribe to discover the best kept secrets in your city