LOUIS XIII & JAEGER-LECOULTRE MASTER ULTRA-THIN PERPETUAL CALENDAR
SUBTLE COMPLEXITY:
Since 1724, the House of Rémy Martin has produced premium cognacs that consistently appeal to the world's most discerning connoisseurs. A profound love of the land, a continuity of family ownership and a passionate commitment to excellence has sustained Rémy Martin for nearly three centuries. Known as the King of Cognacs, LOUIS XIII is widely recognized as one of the world's finest cognacs. It represents an intricate alchemy blended from 1,200 eaux-de-vie, created from Ugni Blanc grapes born from the soft, chalky soils of Grande Champagne, the finest and most coveted growing area at the heart of France's cognac region. The storied journey of each bottle of LOUIS XIII takes up to 100 years to complete, as three different generations of Cellar Masters oversee each bottle's evolution from grapes to glass, functioning as servants of time who will never see the culmination of their work. The result is a delicate balance of savoir-faire and craftsmanship, as well as decades of careful attention and, quite simply, patience.
TASTING NOTES:
On the nose: You'll experience sweet notes of sherry, followed by licorice, vanilla, cinnamon and demerara sugar. After a couple of swirls in the glass, more notes are released in the forms of chocolate, tobacco, lavender, jasmine, plum, lychee, red apple, pineapple and marzipan. Rounding off the nose are notes of orange peel, maraschino cherry and a hint of oak.
On the palate: Complex notes of apricot, peach, plum and vanilla make the taste buds tingle, followed by notes of apple, cinnamon, light spices, licorice and almond. The finish: It is long, sweet, spicy and floral, with a lingering perfume note like Parma violets.
THE VERDICT:
LOUIS XIII is synonymous with excellence, and while this doesn't always ring true for other cognacs, this bottling of Grande Champagne Cognac is absolutely sublime. Whether you are a lover of fine cognac or not, LOUIS XIII simply has to be enjoyed to be understood. With its plethora of undulating notes available on both the nose and the palate, it has to be experienced on its own to be fully appreciated. With an ABV of 40 percent, this is more than achievable, without the need to add anything else. But, if I may add one suggestion, it is this: After pouring, leave it to breathe for some time before tasting.
INFO:
ABV 40 percent in a 70-centiliter bottle.
ELEGANT COMPLEXITY
Jaeger-LeCoultre is no stranger to creating complicated timepieces. But, what Jaeger-LeCoultre strives for is complexity and elegance, and these two traits are more than noticeable in the Master Ultra-Thin Perpetual Calendar wristwatch. Jaeger-LeCoultre has united its endeavors in creating an extremely slim mechanism equipped with a complete calendar, with an arrangement that is simplistic and elegant, yet still legible.
The Master Ultra-Thin Perpetual Calendar features the same pure design, which combines classical elements with the aesthetic inspiration of the Grande Maison. The clear and distinctive layout makes reading the new design easy, and avoids any confusion. In addition to the hour, minute and central seconds hands, it comprises three counters dedicated to the perpetual calendar displays: the first at 9 o'clock for the day of the week; the second at 3 o'clock for the date and the third at 6 o'clock for the month. Jaeger-LeCoultre's distinctive signature appears below the moon phase. In addition to this comprehensive range of information, a perpetual calendar function must also indicate the current year, and on the Master Ultra- Thin Perpetual Calendar, a full four-digit display appears through a small aperture at 7 o'clock.
Beating away at the heart of the Master Ultra-Thin Perpetual Calendar is the newly, in-house-designed caliber 868, which boasts 38 hours of power reserve, and measures a mere 4.72 millimeters in thickness, which enables the timepiece to be so thin. Measuring just 39 millimeters in diameter and 9.2 millimeters thick, the Master Ultra-Thin Perpetual Calendar comes in three variations distinguished by material. The first features an 18-karat pink gold case framing an eggshell-white dial, while the 18-karat white gold version comes with a grained silver-toned dial. Finally, the steel model available exclusively from Jaeger-LeCoultre boutiques is graced with a sunburst, silver- toned dial. Whatever metal the Master Ultra-Thin Perpetual Calendar comes in, one thing is for sure—its elegance and complexity are simply unmatched.
ROYAL BRACKLA & OMEGA GLOBEMASTER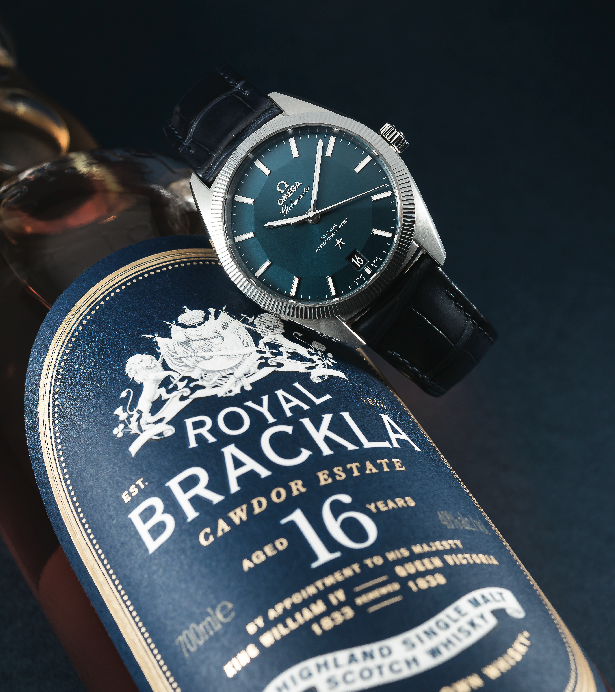 HERITAGE:
Standing on the fertile farmland of the Cawdor Estate, the Royal Brackla Distillery was established in 1812 by the fiery Captain William Fraser, who returned to the family farm after military service and took advantage of the fine barley it grew. Within 25 years, his distillery's reputation for spirit of sterling taste received its crowning moment when King William IV bestowed 'Royal' status to Brackla, in 1835. Thus, it became the first-ever Scotch to garner a royal warrant, a revelation that led to its nickname: 'The King's Own Whisky.'
Traditional production techniques help protect a distilling heritage that spans more than two centuries and preserves the unparalleled quality of a rather special spirit. To allow for the development of intriguing complexity and fruitiness, extra time is taken at the fermentation stage, which acts for up to 80 hours; far longer than most Scottish distilleries. Due to tall stills that run at a slow pace, the spirit has a long contact time with the copper, imparting delicate and lightly-perfumed notes of grass and green foliage alongside inviting, fruity aromas. Royal Brackla is finished in premium first-fill sherry casks, enriching it with notes of muscovado sweetness and dates, alongside opulent walnuts.
TASTING NOTES:
On the nose: Welcoming, sweet notes of pineapple, followed by roasted oats, barley and toffee apple are multisensory. Notes of a zesty nature, as well as butterscotch, cinnamon and anise closely follow. There is a lovely, floral, herbaceous note wafting around in there, alongside apricots, raisins and a light, waxy note.
On the palate: There is a lovely initial taste of crème brûlée, followed by toffee, pineapple and those toasted oats. That butterscotch note is ever-present, alongside flavors of vanilla, nutmeg, a hint of almonds and a welcome salty note, which is nicely finished with the slightest meaty note.
The finish: It is medium, zesty, with lingering toffee and light spices.
THE VERDICT:
The 16-year-old Royal Brackla is a delightful dram, and has plenty of lovely notes, but it does require a bit of time before these become apparent. It is an impressive Scotch, but it is a lot lighter on the palate than I anticipated—I was still pleasantly surprised. In my honest opinion, at 16 years, this scotch really doesn't require any water, but just time to breathe so you can fully enjoy the notes offered.
INFO:
ABV 40 percent in a 70-centiliter bottle.
SHOWCASING OMEGA'S HERITAGE
Omega introduced quite a few impressive timepieces this year at Baselworld, but not many of us would have seen the coming of new timepiece, the Globemaster, which takes design cues from the Constellation range. I am a massive fan of the Omega Constellation from the '50s and '60s, and the Globemaster has a perfect balance of historical elements in a contemporary package. And, to add to that, the Globemaster is the first timepiece from Omega to feature a METAS-certified movement.
The first things you'll notice about the new Globemaster are two design features that define its character: its dial, which is created in a style that collectors refer to as a 'pie-pan dial,' and the fluted bezel, which may seem like an unusual design element for Omega, but it is adorned on several famous Constellation watches from the late '60s. The 39-millimeter case is brushed, which is a nice touch, and downplays the Globemaster luxurious appearance. The lugs feature two polished bevels, which tie the finish of the bezel to the case.
Inside is the Co-Axial Master Chronometer caliber 8900/8901. On the case is a decorative medallion made of the same material as the case, which has been set into the glass before the glass is fastened to the caseback with four screws. The medallion is stamped with an image of an observatory surrounded by a polished sky marked with eight symbolic stars, similar to those seen on early Constellation models giving a subtle nod to Omega's heritage.
GLENMOR ANGIE & LAURENT FERRIER

GALET SQUARE
TRADITIONAL SCOTCH:
Highland distillery Glenmorangie is well known for its extremely tall copper pot stills and pale scotch. It is also known for its private-edition pour. This is the sixth release from Glenmorangie's award-winning Private Edition, Tùsail is the product of a carefully-selected parcel of Maris Otter barley, floor-malted by hand using traditional techniques, an non-chill filter. When first learning about what Master Distiller Dr. Bill Lumsden discussed about the Private Edition, it was easy to see the amount of research it took to produce each and every expression from the Glenmorangie range. What was quite interesting to learn was the emphasis put on the barley to create these signature expressions.
TASTING NOTES:
On the nose: There is a beautiful waft of oranges, red apples and toffee. This is then followed up by notes of marzipan, Madeira cake, walnuts and the strangest, but complementary hint of Stilton. Some butterscotch notes will start to emerge, followed by hints of zest, vanilla, cinnamon, lavender, fennel seeds and the lightest touch of oak.
On the palate: It is more poached pears than red apples, but those toffee and Stilton notes are still apparent. Those oranges start to come through, along with some peaches and spicy ginger. These notes are followed by almonds and vanilla, along with cinnamon and lemon zest. Quite surprisingly, there is a balanced, mossy-fungal note and a touch of oak.
The finish: Long and peppery with oak, and a lingering fungal note.
THE VERDICT:
Glenmorangie tends to be light and floral; however, this Tùsail from the Private Edition is something rather special. It's a scotch that has spades of character with some of the most unusual notes, which have been perfectly balanced to give you a dram that will only leave you wanting more. A whisky that, in my opinion, didn't really require any water, but did slightly unsettle the dram when some was added. If you do need to add any water, then only add a very, very small amount; and if you don't feel the urge to add any, then allow the scotch to breathe for approximately four to five minutes to open up the nose a bit.
INFO:
ABV 46 percent in a 70-centiliter bottle.
TRADITIONAL WATCHMAKING
This year, Laurent Ferrier introduced the Galet Square at Baselworld. And, while some thought its appearance was similar to a timepiece from another watch manufacturer, I can assure you, cushion-shaped timepieces have been around for more than a decade, even pre-dating said watch manufacturer. Laurent Ferrier is known for producing truly exquisite timepieces, and has a penchant for traditional watchmaking.
Laurent Ferrier watch designs are just about as pure as it gets: simple elegance that is functional, legible and harmonious. This doesn't even take into account the movement, the level of detail and the finishing. Laurent Ferrier's timepieces are distinctive, and employ a pebble-shaped case, which has become one of its standout features. Some would think, to venture toward a square case may dilute the brand's identity, but it's quite the opposite, as no detail has been overlooked.
The case of the Galet Square measures 41 millimeters-by-41 millimeters, which may not sound that large, but is intended to assert a bolder presence on the wearer's wrist than the Galet, of which it was inspired. The Galet Square collection is the first to welcome a timepiece sculpted out of stainless steel. Ordinarily, Laurent Ferrier's timepieces are made out of more prestigious metals, but as I've mentioned in the past, steel can be just as important in the world of Haute Horlogerie.
The sapphire crystal case-back provides a glimpse of this fine workmanship, and reveals an intricately-balanced structure stemming from a clever combination of lines and curves, which incorporates, probably, the most beautiful automatic micro-rotor in the business. Alongside the Côtes de Genève motif on the bridges and the circular graining on the mainplate, the wheel spokes are beveled, the screw hands are chamfered and polished, and the interior angles are handcrafted. The Laurent Ferrier brand carries the essence of traditional watchmaking, and these qualities are seen in every timepiece produced.