A new gourmet restaurant is the talk of the town in Dubai and Chef Reif Othman is leading a dream team of 40 culinary wizards to deliver succulent dishes that are sure to tantalize diners for years to come.
PLAY Restaurant & Lounge in Dubai officially opened to fabulous reviews on December 31, 2015, and has been serving up unique and carefully cultivated culinary concepts to guests clamoring to get through their doors since. Located on the 36th floor of the H Hotel, PLAY is draped in all things haute, from marble flooring, expansive Dubai skyline views and chandeliers dripping with Swarovski crystals and pearls. Catering to the finest of crowds, PLAY also features a private dining area and lounge for guest that require the utmost in seclusiveness, as well as a lounge and cocktail bar.
Spoiled with a concoction of exquisite flavors that fuse East and West, guests can feast Mediterrasian Cuisine as they dine surrounded by the most elegant and elaborate of décor in an inviting ambiance.
The "Mediterrasian" cuisine at PLAY combines the best of European cooking techniques with celebrated Asian ingredients. Indisputably one of PLAY's most precious appeals lies in its cuisine. Lead by the multi award-winning Chef Reif Othman, ex Regional Executive Chef of Zuma Restaurants for Dubai, Abu Dhabi and Istanbul, as well as overseeing Miami and Hong Kong operations, the Mediterrasian Cuisine stems from the best of European cooking techniques infused with the finest Asian ingredients.
The PLAY food concept is truly unique and enables enchanted guests to easily sample each other's delectable dishes without having to pass plates around; truly, they have thought of everything.
Chef Reif Othman is the mastermind who created Play Dubai's innovative Mediterrasian menu, which tempts with signature dishes like the Wagyu Beef Carpaccio, Truffle Ravioli Explosion, Rock Shrimp Risotto, Pita Surprise, Snails in The Garden, Caviar Cornets, and Wasabi Cod.
Chef Reif Othman of PLAY took a moment out of his whirlwind schedule to sit down with our Nasrine Abushakra for this exclusive interview.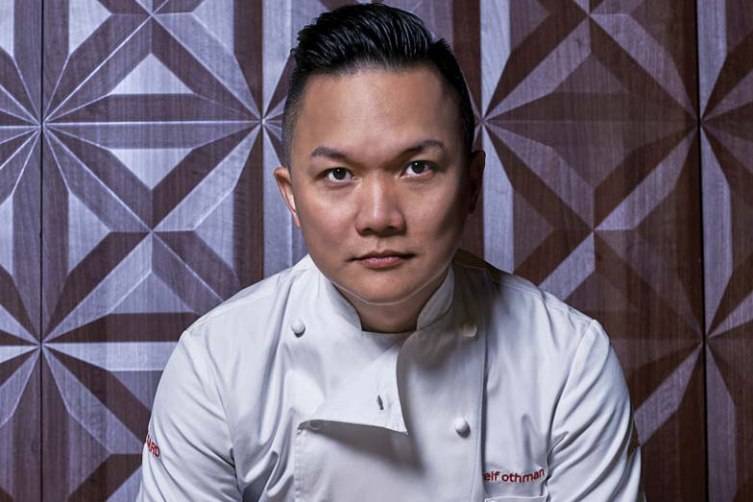 Chef Reif Othman of PLAY: Exclusive Interview With Dubai's Most Innovative Chef
Tell us about your personal experience of branching out here in the Middle East and the United Arab Emirates.
Trying to get things efficiently done is the biggest challenge while working with different types of organizations. It's an international concept that I believe will suit the market here in UAE, Dubai because, like other cities in the world, it is a diverse and multicultural city.
Why did you decide to open here in Dubai?
The Middle East is gaining popularity, with lots of expats coming here, either for business or pleasure. There's always room to cater different palates. Having being in Dubai for six years now, I am confident with the product that I am offering.
For those not familiar with PLAY Restaurant +Lounge, what region is your culinary style modeled after?
PLAY Restaurant + Lounge is inspired by Mediterranean and Asian ingredients (Mediterrasian). I will focus on quality produce & letting the product speak. You will find interesting "Playful" twists in most classic dishes that you have encountered while dining. I will not reveal too much..come and dine at PLAY.
What has been your impression of the local food scene over the years here in the Middle East?
I find that Dubaians are paying more attention over what they eat given the vast choices that are available now. Many big name chefs are making their presence known by opening their restaurants. I wish that more could be done to educate people about food in terms of quality and source of produce.
When you manage to find a little time to step away from PLAY Restaurant + Lounge, what are some of your favorite spots to dine or socialize?
I rarely socialize, as I am in the kitchen most of the time, however, when I do get the chance to get away, I hang out with my family and we go to local joints where we can enjoy good conversation over comfort food. That's the time when we get to catch up on what's happening in our daily lives.
What is your favorite restaurant, besides your own?
My all-time favourite will be WOX, at the Grand Hyatt, Dubai & Betawi Café in BurDubai & JLT.
If you had not pursued a Chef career or the life of a rogue restaurateur, what do you think you would have been?
If not a Chef…a financial broker.
What three ingredients you MUST have in your kitchen?
Bird's Eye Chill, Pasta and Haagen Dazs Ice Cream.
Play Restaurant & Lounge is open from 7pm to 1am daily, with lounge hours from 6pm to 3am daily. For reservations you can reach them at: info@playrestaurants.com.