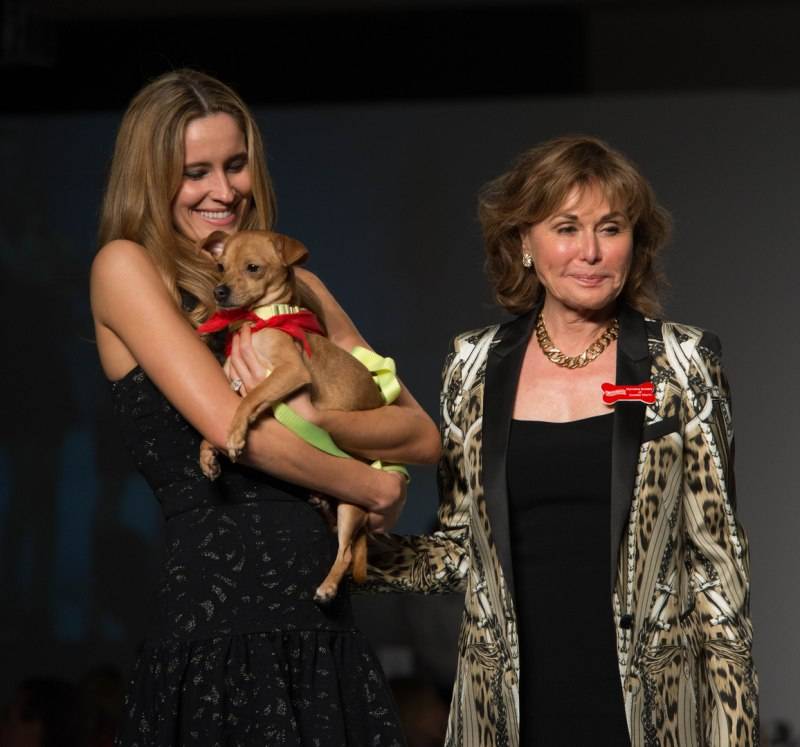 Miami is home of the most glamorous event for two-legged and four-legged friends alike: Pawpurrazzi! Friday, January 22, 2016, over 500 of Miami's most philanthropic, influential animal-lovers will gather for a gourmet dinner, silent auction, and runway show at Jungle Island to benefit The Humane Society of Greater Miami. Here, the Pawpurrazzi team discusses the importance of this philanthropy, how you can get involved, and what you can expect at what chairman Pat Milton calls, "the best auction in town!"
How did Pawpurrazzi get started?
The Humane Society of Greater Miami is a not-for-profit, charitable, animal welfare organization supported solely by donations, private grants, and fundraising events.
Pawpurrazzi started many years ago as a small event where approximately 100 people and their dogs got together at Merrick Park to raise money for the Humane Society of Greater Miami.  A few thousand dollars were raised and everyone had a good time. Pat and Milton Wallace attended the event and saw the great potential in Pawpurrazzi. In 2009, Pat and Milton became the new Chairmen of the event and we haven't looked back since.  This philanthropic couple knows exactly what it takes to put on successful, fun galas that raise much-needed funds.  Since their involvement, the event raises close to $600,000 each year. In 2011, Bunny Bastian became Co-Chairman of the event and continues to serve in this important role today. Bunny is an exceptional woman who demonstrates grace, style and excellence every step of the way. This year, we are thrilled to have Penny Stamps serve as Honorary Chairman of Pawpurrazzi. Penny's guidance, compassion and dedication to animal welfare have helped to make this Pawpurrazzi the best one yet!
What about Pawpurrazzi makes it so important?
Pawpurrazzi is the Humane Society of Greater Miami's premier and signature event of the year, driven by the love, devotion and direction of the wonderful Pawpurrazzi Chairmen, Pat and Milton Wallace, Bunny Bastian and Honorary Chairman, Penny Stamps. Divine delicacies, great music, an exciting silent auction and a runway for our two-legged and four-legged friends make Pawpurrazzi a one-of-a-kind event and an absolutely exuberant evening. This year's theme of South Beach adds an ornate touch of sparkle and vibrancy to this sophisticated and modish affair.
Can you give us any info on exciting possible auction items? 
Guests can expect the haute couture, one-of-a-kind auction held at Pawpurrazzi to live up to its reputation.  Top designers donate items.  Think Bond No. 9, Carolina Herrera, Chanel, Chloe, Dior, Gucci, Ralph Lauren and more. "It's the best auction in town, "says Pat.  Other great items include restaurant certificates, hotel stays, cruises, great accessories and much more.
How, besides Pawpurrazzi, can our readers help its cause?
As a private, not-for-profit, charitable animal welfare organization, we rely on the community to help us fulfill our mission of finding a loving home for all the dogs and cats in our care and promoting responsible pet ownership and spay/neuter programs.
In addition to participating in our fundraising events, financial donations help us provide shelter, vaccinations, and medical care for all the animals who make their temporary home with us before their permanent and loving family is found.
Because we are an adoption guarantee facility, the more we adopt, the more we can save. The more we spay/neuter, the more we prevent unwanted litters from being born and entering the shelter system. So, the more people who can be an ambassador for our mission and spread the word about what we do, the more we can accomplish.
We also have an extensive volunteer program with opportunities in and out of the shelter. In shelter opportunities include walking dogs, cat or dog socialization, bathing, or photography to name a few. Outside opportunities include programs such as foster care, adoption ambassador or participate in our outreach/community awareness events
We also welcome non-monetary donations. From products and services to our website wish list of supplies and electronics, we appreciate all the help we can get.
It's true what they say: "It takes a village!"
Tickets are $550, $750 or $1000 per person and table prices range from $5,500 to $7,500 to $10,000 per table; dogs are their guests.To purchase tickets or for more information, please contact Laurie Hoffman at 305-749-1815 or laurie@humanesocietymiami.org.