More than just the world's finest and most exclusive luxury fashion eyewear company, Sama Eyewear is a living, breathing being with charity for a heart, technology for a brain and fashion for a soul. Founded by internationally renowned eyewear designer Sheila Vance, the person responsible for introducing the world to luxury eyewear over two decades ago, Sama Eyewear remains the standard by which all others are judged, so it was natural that the Middle East's very first 'Destination: Sama' Boutique launched at Cove Beach, Dubai.
Photo Credit: Sama Boutique
"The Middle East is seen as one of the fashion capitals of the world and to have our LA based concept, hospitality and offering available here, where our clientele is considerably growing, was a natural decision for us. I would like to thank my Middle Eastern clients and friends for their continuous support and look forward to catering to existing and new clients here," said Sama Eyewear CEO, Sheila Vance.
Always on the cutting edge, Sama Eyewear is proud of its many design and manufacturing firsts including the introduction of 100% pure titanium to the optical industry. Sama Eyewear uses only the finest materials (Japanese zyl acetate, titanium, precious metals, precious and semi-precious gems, Swarovski® crystals, and nickel-free plating) and lens technologies (optical glass, CR-39 plastic, precious metals, photochromic, gradient, multi-gradient, polarized, and gradient polarized), and manufactures, assembles and hand-finishes all of its eyewear collections in Japan for a level of quality unachievable anywhere else on Earth.
Photo Credit: Sama Boutique
About The Designer: Sheila Vance, CEO & Designer of Sama Eyewear, Founder of The Sam Vance Foundation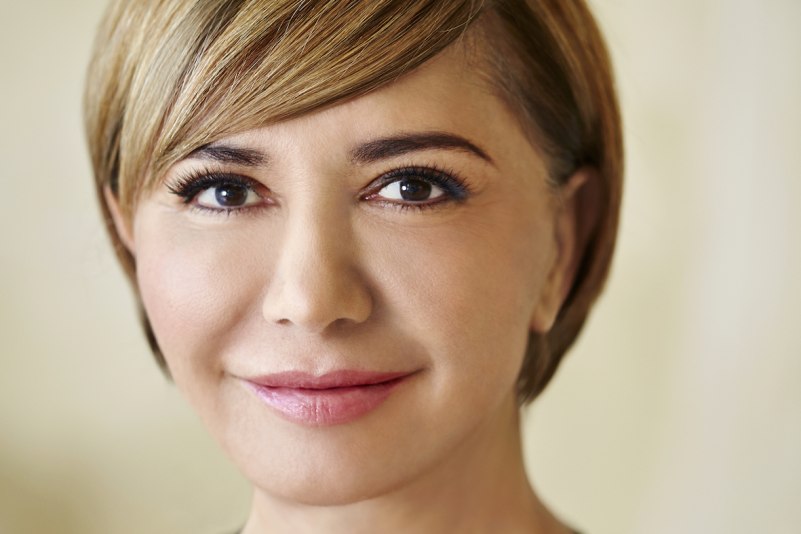 Photo Credit: The Qode
Sheila Vance is a legendary designer, successful businesswoman and true humanitarian. Whether changing the industry through her inspired eyewear designs, innovative business practices, or extensive philanthropic efforts, Vance works tirelessly to make the world a better and more beautiful place. Raised in Europe, Ms. Vance lived in Canada before moving to Los Angeles, taking inspirations from a life of worldly experiences. Vance was named by Interview Magazine as one of the "Most Noble Crusaders of the Modern Era." Vance's life was turned upside-down when she lost her only son Sam, a nineteen-year-old college freshman at U.C.L.A., to the scourge of heroin.
Determined to turn her personal tragedy into a positive force for change, Vance took action. Only months after her son's death, she created the Sam Vance Foundation with a mission to help free youth from the shackles of drug abuse. Leading by example, Vance donates 100% of the net proceeds from Sama's Visionaries collection, as well as a portion of all Sama Eyewear's total annual net profits to the Sam Vance Foundation to help support drug rehabilitation programs for youth as well as other specific initiatives focused on women and children in need.
Sheila Vance's plans for the Middle East don't stop here; a Middle Eastern collection of Sama Eyewear is also in the pipeline to be launched here later this year.
Our own Nasrine Abushakra caught up with Sheila Vance, CEO of Sama Eyewear, as she traveled through the UAE to celebrate the launch of Sama Boutique in Dubai.
Where were you born? I grew up in Paris France and then moved to London to attend Chelsea College
How long have you been visiting the Middle East? Since 1994. Every year I visit Dubai, Abu Dhabi, Kuwait, Bahrain and more.
Occupation: Designer and Philanthropist
Favorite Restaurant:  Madeo in Beverly Hills and Le Serre in Dubai
Best Sushi: Sugar Fish by sushi NOZAWA
Best Italian: Osteria Mozza
Best Dessert: Cup cakes from Sweet Stuff!
Best place for a romantic date: In Los Angeles Via Veneto in Venice beach and in Dubai The Cove Beach Jumeirah Beach
Best Sunday Brunch: At my house with eggs Benedict or soft Mexican scrambled with touch of guacamole and pecan pancake.
Best place for a power business meeting: Soho House sunset – it's chic and trendy and you are surrounded by beautiful creations.
If you have out of town guests, which hotel would you recommend? Montage Beverly hills.
Favorite shopping venue/boutique: Barneys first floor
Best Spa: Spa Montage in Laguna Beach
Favorite Cultural Event: Met Gala by Metropolitan Museum of ART
Favorite Cultural Institution: Kennedy Center in Washington DC
Best Steakhouse: Maestros Malibu, however I don't eat meat so I asked my husband.
Best Pizza: Toscana Brentwood unless you go to Napoli
Best Gym/Athletic Facility: I prefer to do Pilates and Yoga in the serenity of my home and I hike solstice when I'm really looking for a challenge.
Describe Dubai in three words: Vibrant -Magical -Oasis.
Favorite historic/legendary place to see or explore: Mayan Temple in Tulum.
All-around favorite spot in Dubai: I love the Cove beach- it's modern and romantic with great food and best of Dubai Social
Best Aspect of AD/UAE/Dubai/Middle East: The driving influence of modern design, especially in Architectural.
Subscribe to discover the best kept secrets in your city