For the holidays, indulge his or her ostentatious taste buds with the ultimate gift guide for spirit lovers. Nothing says, "I know you well" than an exclusive bottle of someone's favorite spirit. Skip the fruit basket, and go straight for the good stuff. Yes, there's no better time to be a boozer.
Absolut Elyx Pineaaple Gift Set-$120 
Touted as the world's first true luxury vodka, Absolut Elyx has created its very own modern interpretation of the most symbolic fruit in hospitality. The Elyx Pineapple of Hospitality serves as the perfect reminder that even the most seriously delicious vodka shouldn't be taken too seriously. In addition, by purchasing the luxe vodka or the Elyx Pineapple of Hospitality, you will be doing some good. With the purchase of an Absolute Elyx, the vodka brand will provide one week's supply (140 liters) of safe water to someone who needs it most. For every Elyx Pineapple of Hospitality sold, it will provide one month's supply (560 liters) of safe water. 
Basil Hayden's Bourbon + Quoddy Limited Edition Gift Set-$399
With the holidays right around the corner, the Basil Hayden's + Quoddy limited edition gift set would be a great fit for the bourbon enthusiast. The brand partnered with American manufacturer Quoddy to create a special, limited-run collaboration item available to the public this holiday season. To create the gift set, along with other American-made barware items, Quoddy tapped Basil Hayden's Cultural Bloodhound, Max Wastler, to help curate all the barware items you'd need to enjoy this spicy, smooth bourbon.
The set includes four leather-wrapped rocks glasses in a custom co-branded gift box and a pair of made-to-order co-branded Basil Hayden's + Quoddy "drinking shoes" – all made with the highest quality Horween leather in a rich whiskey color. Only 100 gift sets are available for purchase. In addition to the set, there are items like coasters, a jigger, a bar spoon and even a Mason Shaker. 
Célébration Sensorielle Gift Set– $470
A unique, celebratory and sensorial experience, the exclusive set includes a bottle of Initiale Extra cognac and two bespoke fragranced candles. A highly sophisticated gift idea, this special collection allows you to embrace the spirit of a glittering era when the world came to Paris and Paris.
English Harbour Rum 25-Year-Old -$399.99
This single-vintage, hailing from Antigua, was laid down to age in 1981—the same year the island gained independence from the UK.  It was forgotten over the years, and was re-discovered in 1995 when it was aged for an additional 10 years, reaching peak maturation in '04.  Because the stills at English Harbour's distillery have been reconditioned, this is the last remaining rum expression from these original stills, and for rum enthusiasts, this is a lighter style of aged rum that's smooth going down.
The Glenrothes 1968 Extraordinary Cask – $9,250
The ultimate gift of luxury for the whisky lover in your life. Made from a single cask by one of Scotland's most revered whisky producers, this single malt whisky comes in a crystal decanter and a leather case to protect its elegant flavors.
Grand Marnier Quintessence-$899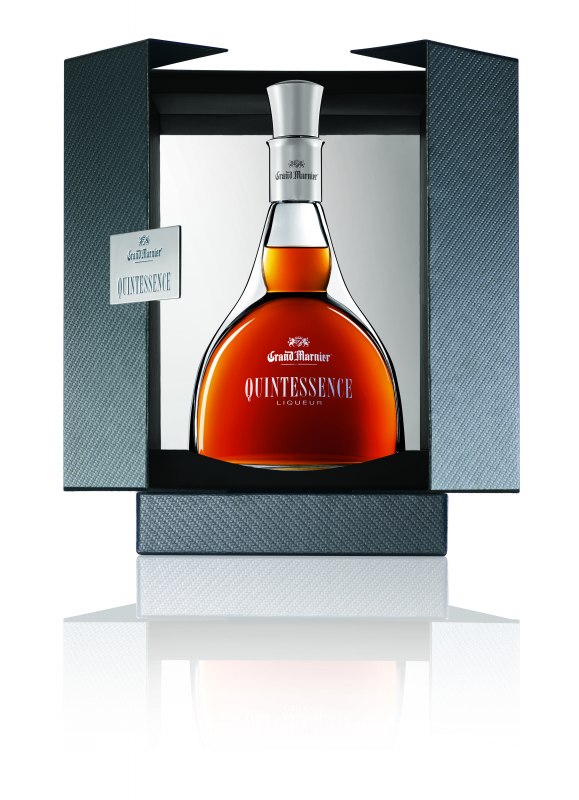 This cognac liqueur is made with most previous cognac from the private reserves Marnier Lapostolle family. The Cellar Master carefully selects very rare cognacs coming exclusively from Grande Champagne, the most prestigious growing area of cognac. He blends these outstanding eaux-de-vie with very old cognac from the family Paradis, their private cellar which includes cognacs that date back to 1906. This rare blend of cognacs is then combined with unique double distilled orange essence and then aged in French oak casks. Cased in a stunning display, the Grand Marnier Quintessence is a luxurious and memorable addition to any party or meal.
The Macallan– $28,000
One of the three specially commissioned and bespoke decanters, The Macallan is the rarest Speyside whiskies available today. Created by Britain's most prestigious specialist craftsmen and designers, this rare collector's item is made even more valuable by the addition of a piece of the original Savoy American Bar as part of the presentation box.
The box for each decanter was produced by Neil Stevenson, specialist cabinetmaker and holder of a Royal Warrant since 2003, who has been creating cabinets and furniture for the Royal family since 1992. Each box is handmade and polished, and includes a piece of the original Savoy American Bar.
Nolet's Family Reserve Dry Gin-$700
Touted as the godfather of all artisanal gins, the Nolet's Family Reserve Dry Gin is the personal creation of Carolus Nolet Sr., the 10th generation distillery owner. This limited edition gin are individually numbered by hand and presented in a prestigious gift box.
Patrón en Lalique Serie 1– $7,500
Patrón en Lalique: Serie 1 is a limited-edition crystal decanter handmade by Lalique's master artisans. The design of the bottle was inspired by Mexico's indigenous Weber Blue Agave plant, from which tequila is produced. The meticulous detail of the amber crystal bottle stopper is perfectly shaped to represent the heart of the agave, the piña. The decanter showcases Lalique's signature technique of contrasting clear and frosted crystal finishes to showcase its detail and enhance the unique amber color of the tequila.
Inside is a blend of the oldest and rarest Patrón tequilas, hand-selected from Patrón's barrel aging room at the Hacienda Patrón distillery in the Highlands of Jalisco, Mexico. The extra añejo tequila is aged for at least four years in a combination of new American oak and new and used French oak barrels to achieve the right balance of agave and oak notes. This special series is limited to 500 bottles worldwide.For more information or to reserve your bottle, contact concierge@patronspirits.com.
Bonus: If you don't know exactly what kind of booze to get to get the spirit aficionado why don't you get him or her an organic home mixologist set or a fuse of spirits and wine.
Farm to People + Quinciple Home Mixologist Set
Fram to People teamed up with Quinciple to showcase local farms, artisans and original small-bath products. By merging both companies will bring the best of the farmers market right to your doorstep. Offering curated gifts, a tasting box subscriptions and an "a la carte" marketplace, you can expect innovative seasonal recipes that can elevate home cooking or entertaining like the home mixoloist set. Bring mixology straight to the home of your favorite mixologist with this unique combination of artisanal products.
Maven Cocktails mingles premium gluten-free vodka and super premium wine with all natural flavors. It was created from the love of fine wine and the lack of great choices at most bars, clubs and lounge. These one-of-a-kind cocktails, with the flavor of wine and the spirit of classic mixed drinks, are the ultimate combination of style and great taste.
Subscribe to discover the best kept secrets in your city