Last night, Audemars Piguet celebrated the opening of its latest boutique on Rodeo Drive with a glamorous fete that included some of the biggest names in Hollywood, as well as a number of illustrious watch industry VIPs.
Audemars Piguet Global CEO,  Francois-Henry Bennahmmia and CEO of North America, Xavier Nolot joined Westime Founder, John Simonian, President Greg Simonian and Audemars Piguet brand ambassadors Serena Williams and Freida Pinto as they celebrated the company's fourth boutique in the US.
The new monobrand boutique, located in the famed Beverly Hills shopping arcade Two Rodeo, served as a fantastic location to not only celebrate Audemars Piguet's Swiss roots, but also their new home in the heart of LA. A bold neon sign reading "Welcome to Le Brassus Hills" and reminiscent of the famed Beverly Hills sign hung overhead as guests made their way into the party. After the ceremonial ribbon cutting by Xavier Nolot, Frieda Pinto, Greg Simonian, Serena Williams and CEO Francois-Henry Bennahmias, the façade of the boutique was illuminated in white lights followed by a snowfall of white confetti.
The party featured a number of playful Swiss touches, including food and drink like traditional raclette presented by servers dressed in cream, white and grey ski resort attire. The Swiss motif was also represented in the décor, which included a fire pit and cabins housing the DJ, watchmaker and food stations. Also present was an interactive photo station with light snowfall.
Guests included Hollywood A-listers like Alessandra Ambrosio, Don Cheadle, James Corden, Miguel Cotto, Corey Gamble, Kevin Hart, Johannes Huebl, John Mayer, Joel McHale, Omarion, Pras Michel, Nicole Murphy, Olivia Palermo, Erica Pelosini, Jeremy Piven, Kiss drummer Eric Singer and Sylvester Stallone.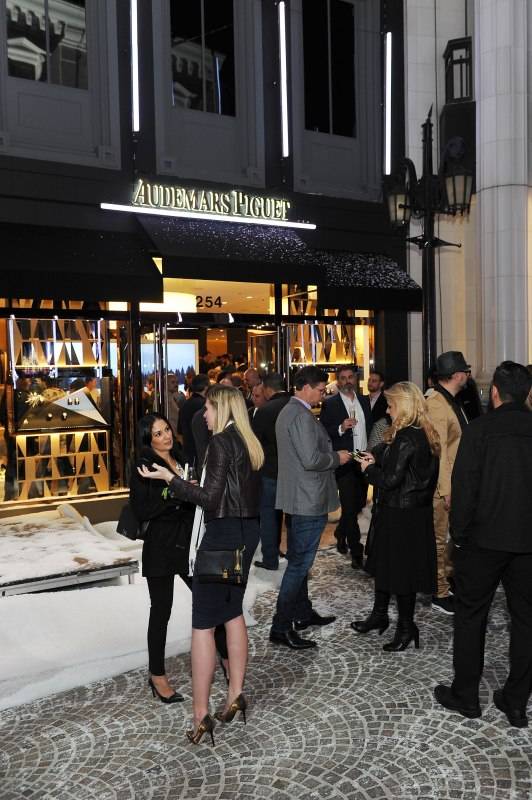 The three level, 1,342-square-foot boutique offers the full range of Audemars Piguet's collection, and is furnished with materials like oak, Vals stone and metallic surfaces that evoke the natural beauty of the Vallée de Joux region in Switzerland where Audemars Piguet timepieces have been crafted for over 140 years.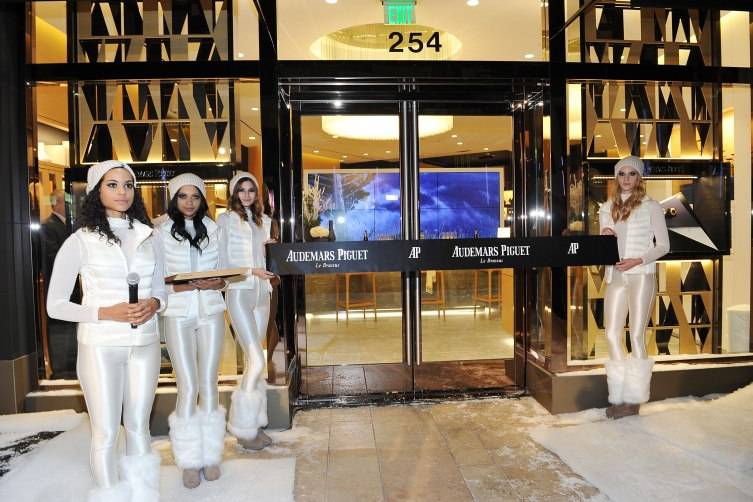 Audemars Piguet Celebrates the Opening of Audemars Piguet Rodeo Drive
BEVERLY HILLS, CA - DECEMBER 09: General view of atmosphere at Audemars Piguet Celebrates the opening of Audemars Piguet Rodeo Drive at Audemars Pigue…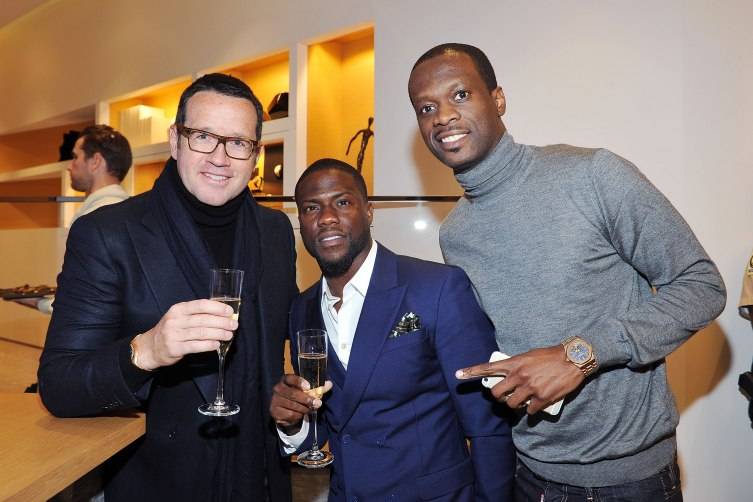 Audemars Piguet Celebrates the Opening of Audemars Piguet Rodeo Drive
BEVERLY HILLS, CA - DECEMBER 09: Global CEO of Audemars Piguet Francois-Henry Bennahmias, actor Kevin Hart and rapper Pras Michel attend Audemars Pigu…
Audemars Piguet Celebrates the Opening of Audemars Piguet Rodeo Drive
BEVERLY HILLS, CA - DECEMBER 09: (L-R) CEO of Audemars Piguet North America, Xavier Nolot, actress Freida Pinto, Westime President, Greg Simonian, pro…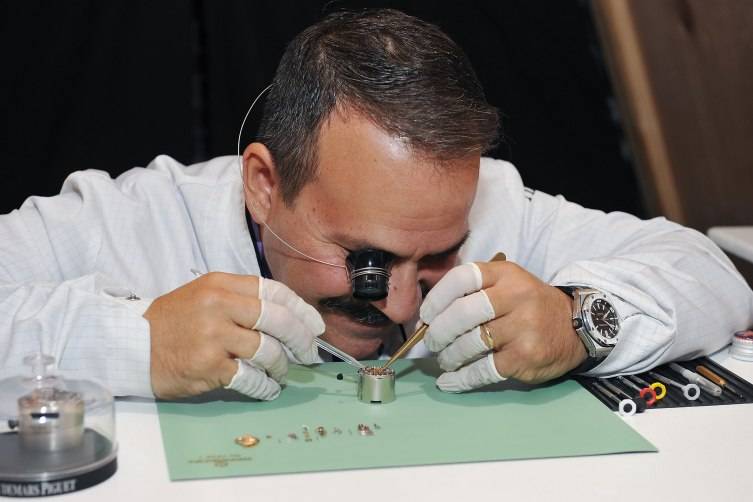 Audemars Piguet Celebrates the Opening of Audemars Piguet Rodeo Drive
BEVERLY HILLS, CA - DECEMBER 09: Watchmaker at the Audemars Piguet Celebrates the opening of Audemars Piguet Rodeo Drive at Audemars Piguet on Decembe…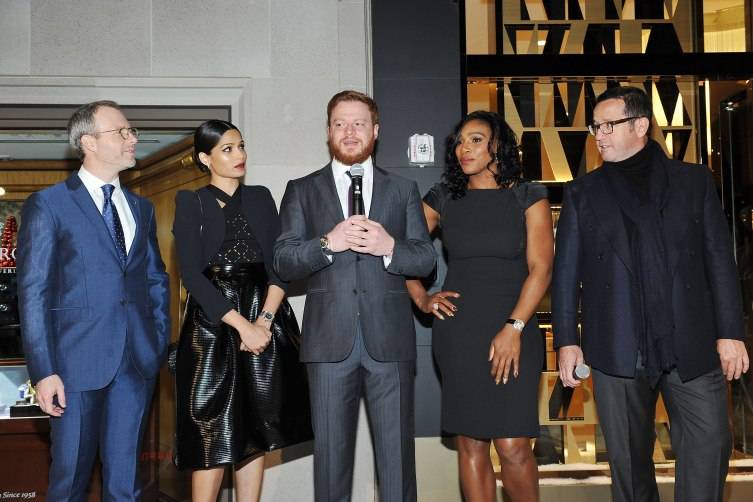 Audemars Piguet Celebrates the Opening of Audemars Piguet Rodeo Drive
BEVERLY HILLS, CA - DECEMBER 09: (L-R) CEO of Audemars Piguet North America, Xavier Nolot, actress Freida Pinto, Westime President, Greg Simonian, pro…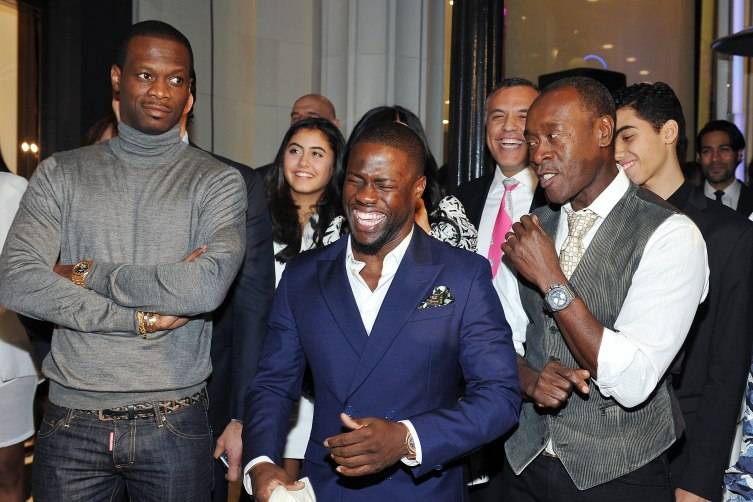 Audemars Piguet Celebrates the Opening of Audemars Piguet Rodeo Drive
BEVERLY HILLS, CA - DECEMBER 09: (L-R) Rapper Pras Michel, actor Kevin Hart and actor Don Cheadle attend Audemars Piguet Celebrates the opening of Aud…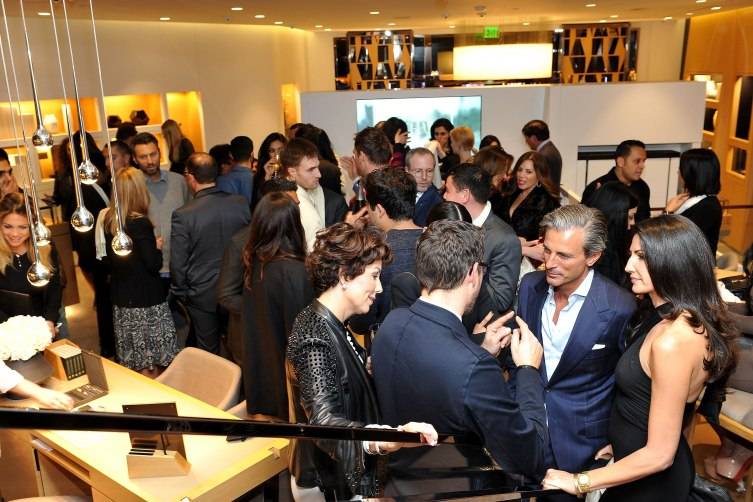 Audemars Piguet Celebrates the Opening of Audemars Piguet Rodeo Drive
BEVERLY HILLS, CA - DECEMBER 09: General view of atmosphere at Audemars Piguet Celebrates the opening of Audemars Piguet Rodeo Drive at Audemars Pigue…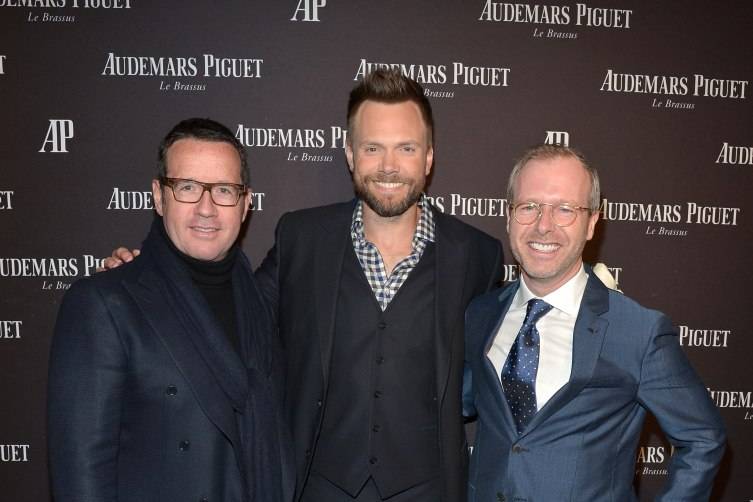 Audemars Piguet Celebrates the Opening of Audemars Piguet Rodeo Drive - Red Carpet
BEVERLY HILLS, CA - DECEMBER 09: (L-R) CEO of Audemars Piguet Francois-Henry Bennahmias, actor Joel McHale, and Xavier Nolot, CEO of Audemars Piguet N…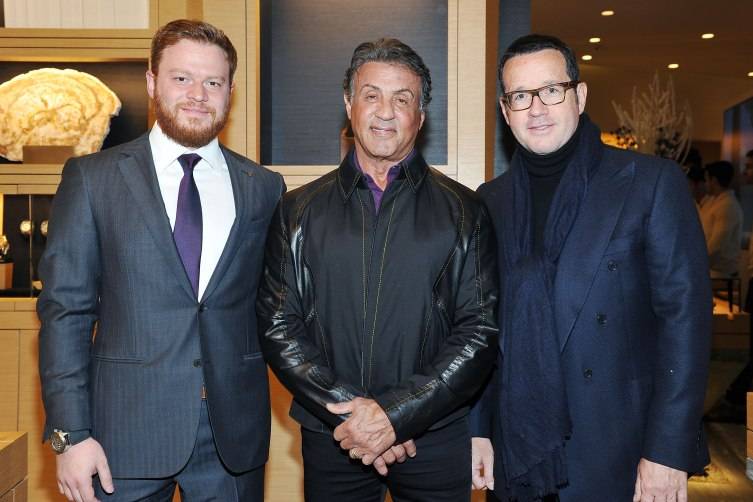 Audemars Piguet Celebrates the Opening of Audemars Piguet Rodeo Drive
BEVERLY HILLS, CA - DECEMBER 09: (L-R) Westime president Greg Simonian, actor Sylvester Stallone, and Global CEO of Audemars Piguet Francois-Henry Ben…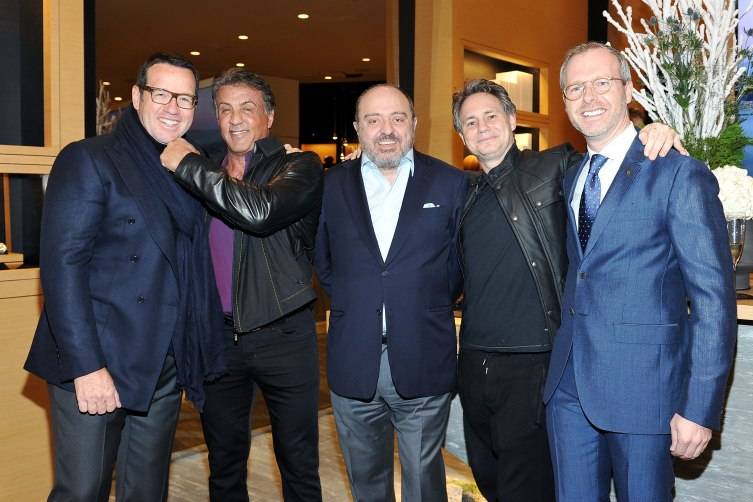 Audemars Piguet Celebrates the Opening of Audemars Piguet Rodeo Drive
BEVERLY HILLS, CA - DECEMBER 09: (L-R) Audemars Piguet Global CEO, Francois-Henry Bennahmias, actor Sylvester Stallone, Westime founder John Simonian,…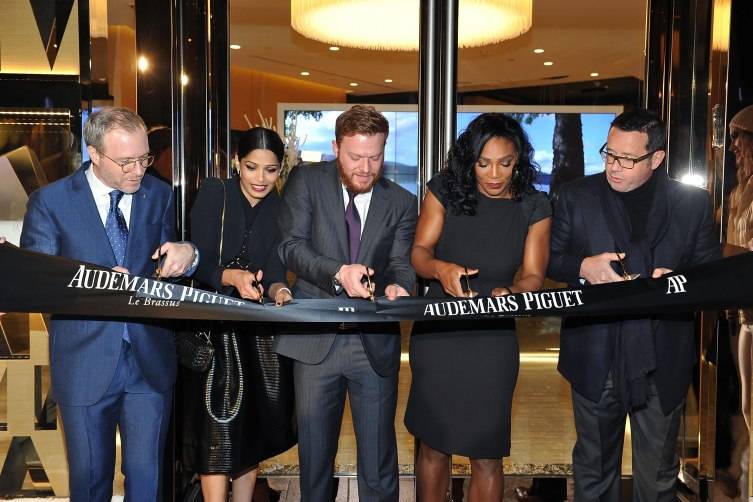 Audemars Piguet Celebrates the Opening of Audemars Piguet Rodeo Drive
BEVERLY HILLS, CA - DECEMBER 09: (L-R) CEO of Audemars Piguet North America, Xavier Nolot, actress Freida Pinto, Westime President, Greg Simonian, pro…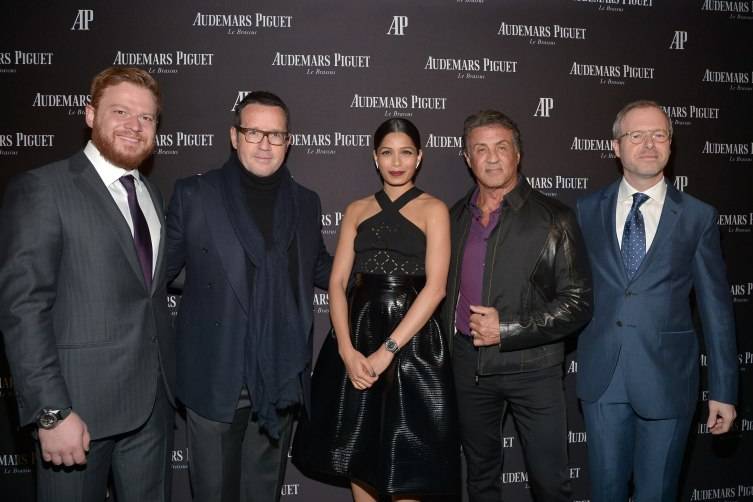 Audemars Piguet Celebrates the Opening of Audemars Piguet Rodeo Drive - Red Carpet
BEVERLY HILLS, CA - DECEMBER 09: (L-R) President of Westime Greg Simonian, CEO of Audemars Piguet Francois-Henry Bennahmias, actors Freida Pinto and S…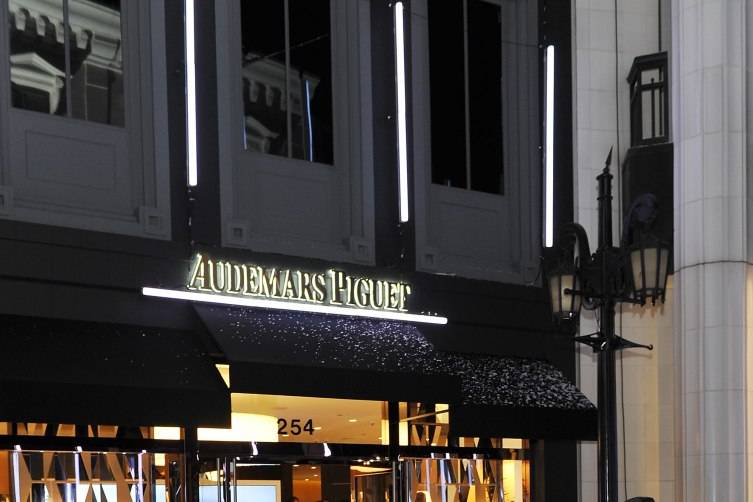 Audemars Piguet Celebrates the Opening of Audemars Piguet Rodeo Drive
BEVERLY HILLS, CA - DECEMBER 09: General view of atmosphere at Audemars Piguet Celebrates the opening of Audemars Piguet Rodeo Drive at Audemars Pigue…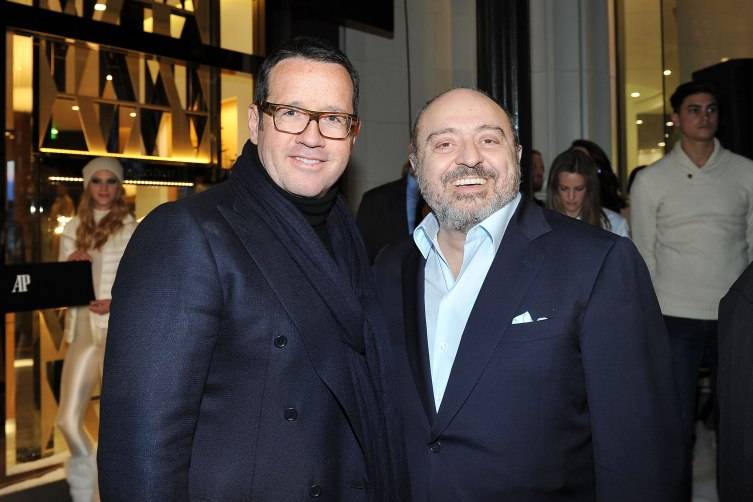 Audemars Piguet Celebrates the Opening of Audemars Piguet Rodeo Drive
BEVERLY HILLS, CA - DECEMBER 09: Audemars Piguet Global CEO, Francois-Henry Bennahmias and Westime founder John Simonian attend Audemars Piguet Celebr…
image1
image2