"New York is a different city every 10 years, and many resist that change, but it doesn't matter — it reinvents every decade," says Sean MacPherson. The California transplant is keenly aware of our city's metamorphosis — he's the creator of the very concept of the hipster hotel with The Maritime, The Bowery, The Ludlow, The Marlton and The Jane hotels, which have changed the landscape of New York with his idiosyncratic gathering spots. "I certainly lament the loss of the things that are no longer there, but that's NYC and we evolve with it. Would I rather have Keith McNally [owner of recently closed Pastis] as a major tenant in the neighborhood [Chelsea] instead of a large corporation?" he asks rhetorically.
MacPherson is referring to the sea change that has taken place in Chelsea where his first hotel, The Maritime, resides. After the project was nearly derailed because of 9/11, he forged ahead with the $19 million purchase with his partner, Eric Goode. He transformed the 1960s nautical-style building, which had fallen into disrepair, with modern mid-century décor, added La Bottega restaurant and hosted a bunch of fashion and art events that got the style crowd to head west to Ninth Avenue. The hotel has no doubt added to the gentrification of the area. The recent influx of corporations, like the Apple Store, has brought the throngs of humankind in a steady stream and has prompted a spiffing up of the hotel lobby and a new Maritime restaurant with Mario Batali and Joe Bastianich. "We are evolving The Maritime in ways that reflect what the neighborhood is today," says the contemplative hotelier.
The unassumingly stylish MacPherson, 51, arrived in New York from Los Angeles in 2000, after a string of nightclub and restaurant successes in his 20s. He graduated summa cum laude from the University of Southern California with a degree in philosophy and business. "My mother insisted on the business-degree part — she said to me, 'Philosophers drive cabs.' It was not my intent to go into business per se, but as my projects continued to work I became more interested in opening a hotel. The Maritime came up for sale, and I became emotionally connected to the building. A lot of people responded to that architecture too, but there were many who thought it was an eyesore," he says of the former National Maritime Union of America building with porthole windows that mimic a ship's design.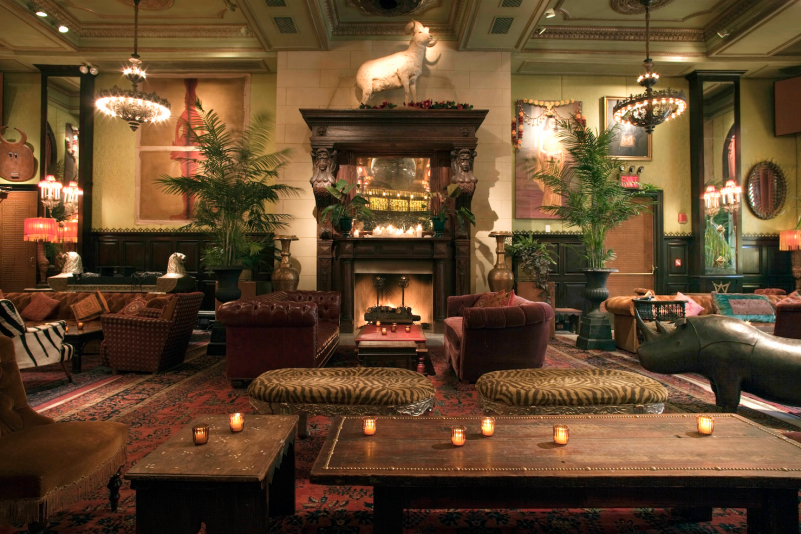 "In all my places, I do the design build — I really enjoy that part of it. As the world becomes more corporatized I'm more and more interested in individual places. I like places that are independently operated and designed so you can feel the heart and soul," says MacPherson. "I think if it's at least 'human' it has its own power. In corporate designs, something is lost. I may not be as good as some of the corporations in some ways — but hopefully there is some moderate kind of alchemy or magic in it [hotel] being closely connected to a person."
This urban guru is an observer of humankind, and his approach to his projects is largely intuitive. It's easy to see why he wanted to major in philosophy. "I think New York is tremendously wealthier than it was even 10 years ago. It's more and more, and the creative culture for creative sake is valued less and less. There seems to be a market value to everything. Even the fine-art world is mercenary. Yes, there has always been a financial element to NYC, but there was always what I'd call that 'Woody Allen' element too — that liberal, intellectual part that is educated but not necessarily so rich. And I moved here for that. It's still here in pockets," he says sanguinely. But MacPherson doesn't wallow in the "back in the day" mentality. He's an observer of life and an authority on this city — and continues to add to the vibrancy of the global village.
Although he's a native of Los Angeles, he resides in Greenwich Village with his wife, Rachelle Hruska (co-founder and CEO of Guest of a Guest) and two small children. And he has adopted New York as his home. "What I've always strived to do is to make my work and personal life into part of the same continuum. One is not separated out from the other — it's just part of my whole life. I've never felt like a slave to my job and I care deeply about what I do — it doesn't feel like work at all," he says. "For instance, I opened The Crow's Nest in Montauk [N.Y.] because I couldn't find a restaurant I liked out there," he says of the small, seasonal hotel where he also owns a summer cottage.
But MacPherson finds himself for the first time without a project under construction, which he is happy about. "It's kind of nice to go back to tune up what is already there. I'm able to go back and reinvent the lobby of The Maritime and the relaunch of La Bottega, now named La Sirena, with Mario Batali and Joe Bastanich, which is exciting. It's 15 years since we opened it, and the relaunch is going to be a contemporary, simple and elegant restaurant that will be fitting of the new incarnation of the neighborhood," he says.
When asked how the restaurant differentiates, he takes a long, thoughtful pause. "I guess the best way to put it is, I've always been front-of-house focused. I think about the guests experience and all those components, which was emblematic of the era of restaurants 15 years ago. But there's been a shift to the back of house now — people are obsessive about food. I don't pretend to be a chef — that is not my natural or learned talent," he says. "Mario and Joe are really appropriate for this time, and I'm happy to have them reinvent La Bottega. It's their restaurant and I think it's important to let them do what they do including the décor. They are real New Yorkers and care greatly about the place, so it feels like a natural progression. It's going to be a bit more elegant and chic, because in 2000 [when it opened] the neighborhood was grittier than it is today. That was appropriate for that time and this is appropriate for this time," he continues. "All of us have learned a lot over the last 30 years, and we are bringing all our experience to bear with this place."
MacPherson takes the macro view when commenting on the changing roles of hotels. "Hotels have played a social role for a long time — for example, the Algonquin was a great literary meeting space in the first part of the 20th century. Somewhere in the '50s '60s and '70s big corporations like the Hilton came in and built hotels that you could check in at any place in the world and be in the same environment. At that time hotels took on less of a social role. Around the time where Ian Schrager did the Morgans hotel, the idea of a hotel as a social gathering space had a resurgence, and people gravitated to them," he says.
Although he loves his adopted city, he loves to travel. "I'm lucky that I get to travel a lot. For New Year's we go to Uruguay to the hotel Jose Ignacio, which is off the beaten path and a little hard to get to but quite chic. It has incredible food and culture, and I find it very special. I'm increasingly interested in the classic hotels. Maybe this is a function of my age, but trendy hotels are so common right now. There are fewer and fewer classic hotels that have a history and know how to do things well," he says. "I find that much more interesting. I love the Ritz in Paris and Claridge's in London."
Although he admits to not participating in social media, he appreciates that it has given individuals a voice. "That kind of voracious consumption [of social media] at the expense of being present is a problem, but I like the idea of communicating and giving a voice to people — it's a real plus that we can all communicate with each other so easily. Celebrity culture made people feel alienated and disenfranchised. Social media has given people agency again, and that is quite cool," reflects MacPherson. "I'm not a participator but definitely not a hater and I think it is here to stay."
MacPherson's good fortune in his life and golden touch in business does not come without its challenges. "I deal with a lot of personalities of the staff, of guests," he says. "A guest believes he is entitled to something and a staff member doesn't. It's just exhausting. But then I think we are all humans trying to do our best and slowly navigate through life," he adds, trying to take a balanced approach and always seeing the big picture.
Sean MacPherson's laid-back, reflective nature is not what one would expect from someone who has quietly changed the landscape of New York with his empire of five hotels and two restaurant hotspots. With a sincerity and heart, he imbued his "places" with his soulful aesthetic that make guests feel at home — each with its unique sensibility.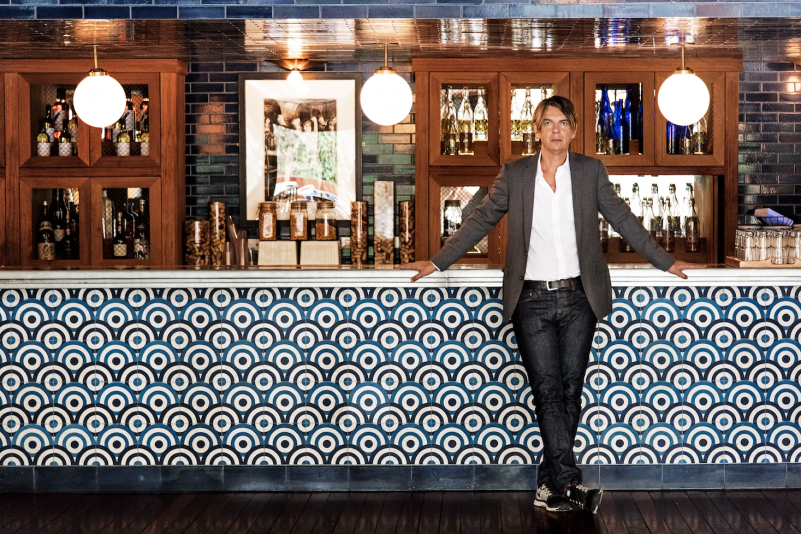 Subscribe to discover the best kept secrets in your city