Fresh American Bistro (AKA F.A.B.)


Ambiance: Inside the Solé on the Ocean Resort and Spa is a casually refined space with all-American touches (a patriotic bar ceiling) and nautical décor. Diners can sit inside – or outside on the balcony overlooking the waves of the Atlantic Ocean.
What to eat: Mini Wagyu beef sliders with spiced coleslaw and mini pickles are a good start, while Florida Coast Hog Snapper is a great fresh catch. Braised Short Rib with pumpkin potato gnocchi is a succulent land option.
What to drink: Freshly squeezed pineapple juice or perhaps a bloody mary.
Sweet tooth: Go with a Warm Apple Pizetta with caramel, and bourbon vanilla ice cream or home made caramel corn.
Byblos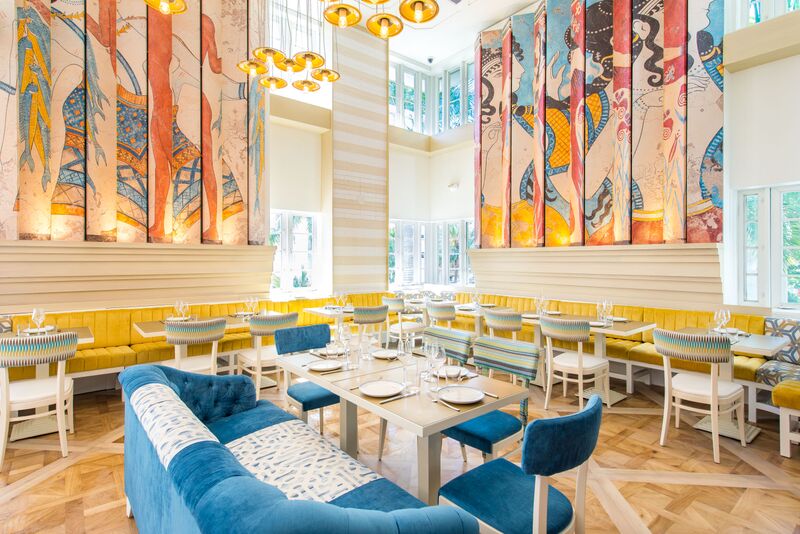 Ambiance: Imagine combining ancient Mediterranean artifacts with bright, light regency-style design and you'll get the picture. An open kitchen and second story windows provide a view from every angle.
What to eat: Don't miss the rice dishes, especially the Sweet Jeweled Rice. Braised Colorado Lamb with house made pickles and lavash is divine as is all the small mezze plates such as the Lamb Ribs, Roasted Red Beets and simple but addictive Citrus Mixed Olives.
What to drink: The cocktail menu is filled with refreshing drinks including tea-based cocktails and our favorite, the Gulab, served with rose-infused vodka, lemon, pomegranate and rose petals on top.
Sweet tooth: The Brik Pastry Cigar with Fig Crème and pickled Bing cherries along with Yogurt Mousse Pistachio Cake served with orange blossom water and flower jam from Paradise Farms sum up the meal quite nicely.
El Cielo


Ambiance: This Colombian import from chef Juan Manuel Barrientos is clean and beautiful, featuring a distinctly Brazilian-style modern interior design. Views of the skyline and the Miami River make it extra romantic, which is good because you'll be there for a while.
What to eat: You'll be getting the 10, or 15-course tasting menu for dinner, depending on the amount of time you have. They will serve modern, sensory, and sometimes molecular interpretations of items like Colombian empanadas, Ropa Vieja Croquettes and squid-ink chicken. Thanks to a table-side Tree of Life, made with yucca bread, you'll always have something to nibble on between courses.
What to drink: Drinks are as imaginative as the meals—and as well prepared. Even the coffee comes out beautifully.
Sweet tooth: Bocadito del Amor, is a phyllo pastry cup stuffed with lavender, if you're lucky it'll be on your menu. Sometimes they end the meal with chocolate – the kind you pour over your hands and rinse off to leave you with an intense scent all evening.
Beachcraft


Ambiance: Tom Colicchio, the father of the ingredient-focused, farm-to-table movement, has opened a rustic, beachy restaurant at 1 Hotel & Homes South Beach. Designed by Meyer Davis Studio, the restaurant features an open kitchen to show off the culinary skills and (mostly) local produce. Whitewashed woods and minimalistic décor give a light, chic, and airy feel that subtly says "seaside."
What to eat: Any of the locally-caught fishes, or antibiotic-free meat dishes, are good bets with Colicchio at the helm. Try Turbot with baby turnips, Eng- lish peas and black garlic purée or a dry-aged New York Strip Steak with balsamic onions, heirloom grains or snap peas. .
What to drink: From Russia with Spice (vodka, lime, jalapeno and ginger beer)
Sweet tooth: Thousand-layer doughnut drizzled with key lime curd and topped with rose petals
Subscribe to discover the best kept secrets in your city