We're in the thick of August and the warm weather will soon be a distant memory so its a great time to  take in some NYC views with a cocktail in hand. A well deserved night of kicking-back with friends is what we crave after a hard day's work and a rooftop lounge makes it a celebration with stunning views at dizzying heights. We've put a list of our favorites so you can enjoy the city views while having a favorite mixed drink—maybe a Manhattan?
This garment district lounge is great for a fashion friends' gatherings since it is smack-dab in the middle of fashion row. Guests need to make reservations and entry is strictly enforced. Security will check lists at several points upon entry so make sure you are on the list. It seems like you are going up to a secret club with several elevators and winding hallways but once you get there you'll be amazed at the cityscape. You'll feel like you are in your living room except for the twinkling lights of the massive buildings which envelope you.
200 West 39th Street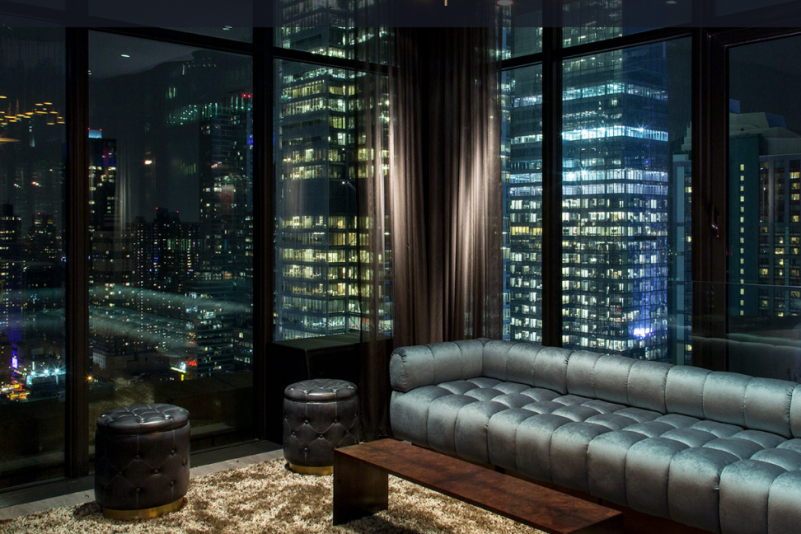 The Penninsula Hotel's Rooftoop bar is a New York City favorite that can't be beat. This midtown outdoor terrace has comfy chairs with plush pillows. A large group sofa is the centerpiece of the space and the dramatic views are breath-taking. The bar is right inside if you prefer to get a cocktail there.
700 Fifth Avenue, (212 )956-2888
The Hotel Americano's rooftop bar has sweeping views of lower Manhattan plus a special cocktail menu which is "French but Latin inspired". Drinks like La Flace—frozen margarita with jalapeno infused Dobel Tequils and La Buena which is Perrier Jouet Champagne with raspberry puree' add to the unique experience. The menu includes Branzino and grilled lobster among other delicacies. There is a pool which guests can access for a fee of $40.
518 West 27th Street, (212) 216-2000
The Rainbow Room is quintessential old school New York with views of some the Chrysler building and the Empire State building. Although the main room, with 360 view of the city is not open during the week, the bar called Sixty Five is a great place for post work cocktail. The room just emerged from a major face-lift so the art deco decor is pristine and new. The sky-high cocktails include— what else—old-fashioned cocktails from the room's hey-day. Old Fashioneds, Gin and Tonic and Rose's Dirty Gibson are a few. Treat yourself to the caramel popcorn, ancho chili, black pepper and Maldon salt.
30 Rockefeller Plaza, (212) 632-5000
The Standard Hotel's rooftop is a rocking spot for nightlife with world class DJ's and a state of the art sound system not to mention stunning views. During the summer there is a plunge pool and dance floor. And how's this for something unique? There is a creperie on the grass covered rooftop! Opened weeknights from 4pm to 4am. On weekends the partying starts at 2pm and can go into the wee hours.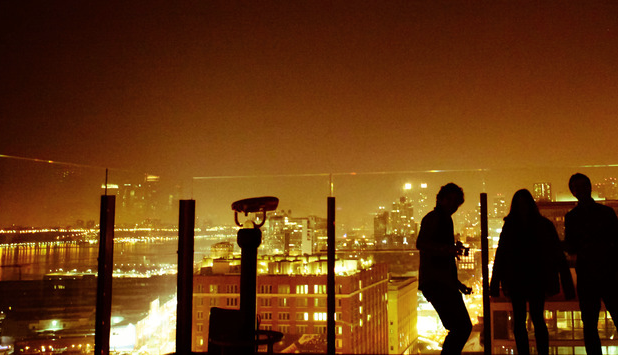 Subscribe to discover the best kept secrets in your city