SLS Las Vegas was in full celebration mode after UFC Featherweight Conor McGregor claimed Fotxtail as his after-fight headquarters on Saturday night.
The Irish champ and his entourage filled up the Northside Café for a late night dinner joined by UFC chiefs Dana White and Lorenzo Fertitta after knocking out American fighter Chad Mendes less than five minutes into the second round at the MGM Grand Garden Arena earlier in the evening.
After showing off his new belt on the red carpet and pausing for some fan selfies, McGregor was triumphantly received by a massive crowd of fight fans from here and abroad, including UFC ring girl favorite Arianny Celeste, who dined earlier in the evening at Katsuya at the SLS.
Draped in the Irish flag and hoisting the belt overhead, there was nothing "interim" about this celebration — McGregor was acting every inch the UFC featherweight champ and seemingly already anxious to take on seven-time defending champion Jose Aldo for the undisputed crown.
Did you know that Haute Living Las Vegas has a highly informative Facebook page? Join the fun, become Haute Living fan. You're sitting at work, wondering what the rest of the best are up to, why not "Like" Haute Living Las Vegas and stay updated on the hautest happenings around town? We've got the who, what, where and when for the exclusive and then best parties, openings, restaurants, news and more.
Like Haute Living Las Vegas? Join our Facebook page or follow us on Twitter @HauteLivingLV. Want Haute Living Las Vegas delivered to your inbox once a week? Sign up for our newsletter.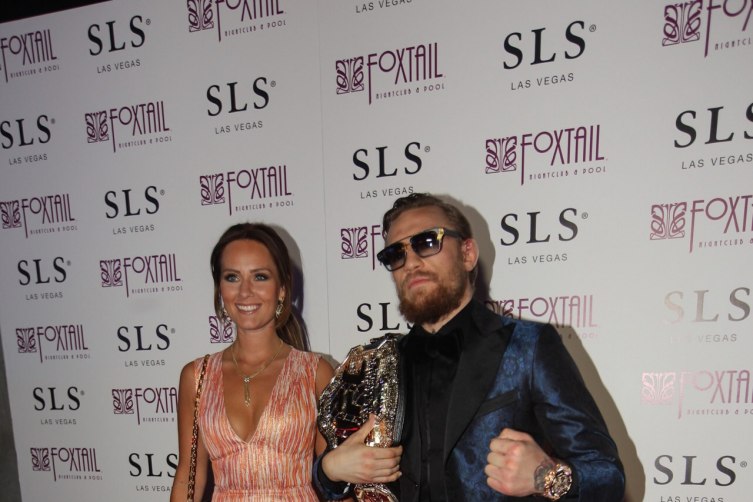 Conor McGregor on the red carpet at Foxtail
Conor McGregor on the red carpet at Foxtail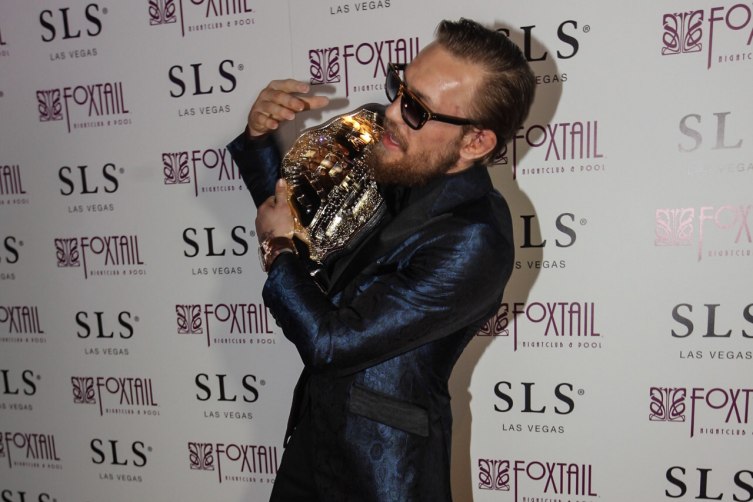 Conor McGregor showing off his new belt on the red carpet at Foxtail
Conor McGregor showing off his new belt on the red carpet at Foxtail
Conor McGregor with UFC President Dana White
Conor McGregor with UFC President Dana White
UFC Featherweight Conor McGregor celebrates at Foxtail Nightclub
UFC Featherweight Conor McGregor celebrates at Foxtail Nightclub
UFC Featherweight Conor McGregor celebrating with Arianny Celeste and friends at Foxtail Nightclub
Subscribe to discover the best kept secrets in your city