Lagasse's Stadium is home to the newest broadcast studio on the Las Vegas Strip. The Palazzo Broadcast Studio celebrated its grand opening on Monday night with a star-studded lineup of guests.
Actor Rob Riggle, Sports X Radio host Ken Thomson and Senior Vice President of Operations for The Venetian, The Palazzo, and Sands Expo Pete Boyd cut a ribbon in front of the studio, ceremoniously opening the studio for operation.
The current broadcasting lineup in The Palazzo Broadcast Studio includes:
Yahoo Sports Radio's Sports X Radio featuring Ken Thomson, weeknights from 7 p.m. to 10 p.m. PT
Ballin' Live featuring former NBA sharp shooter Tracy Murray and basketball analysts Van Coleman and Brett Grant on Tuesday nights from 5 p.m. to 7 p.m. PT.
During Ken Thomson's live show on Monday night, Hall of Fame quarterback Warren Moon and current football cornerback Damarious Randall stopped by to talk about all things sports.
In addition to celebrating the grand opening of The Palazzo Broadcast Studio, a partnership was announced between basketball star C.J. Watson's Quiet Storm Foundation and Sands Cares, the global citizenship program for Las Vegas Sands®. The donation of $10,000 will fund 10 individual scholarships donated over a period of two years, along with mentorship programs for the foundation's Youth Advisory Council.
Also in attendance was former football star Gerome Sapp and the entire lineup of broadcasters for Yahoo Sports Radio, who are in Las Vegas celebrating the second annual Yahoo Sports Radio Superweek, hosted at Lagasse's Stadium.
Did you know that Haute Living Las Vegas has a highly informative Facebook page? Join the fun, become Haute Living fan. You're sitting at work, wondering what the rest of the best are up to, why not "Like" Haute Living Las Vegas and stay updated on the hautest happenings around town? We've got the who, what, where and when for the exclusive and then best parties, openings, restaurants, news and more.
Like Haute Living Las Vegas? Join our Facebook page or follow us on Twitter @HauteLivingLV. Want Haute Living Las Vegas delivered to your inbox once a week? Sign up for our newsletter.
Football cornerback Damarious Randall is interviewed by Sports X Radio's Ken Thomson
Football cornerback Damarious Randall is interviewed by Sports X Radio's Ken Thomson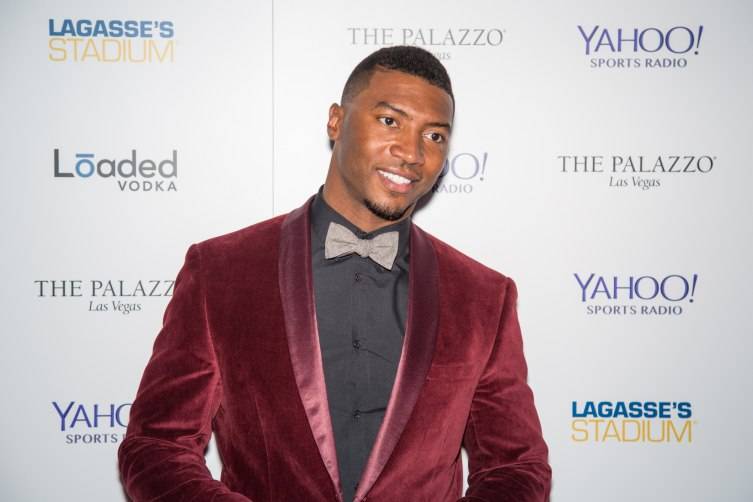 Former Football Star Gerome Sapp on the red carpet of the Palazzo Broadcast Studio Party
Former Football Star Gerome Sapp on the red carpet of the Palazzo Broadcast Studio Party
Hall of Fame quarterback Warren Moon
Hall of Fame quarterback Warren Moon
Sands Cares Makes Donation to the Quiet Storm Foundation
Sands Cares Makes Donation to the Quiet Storm Foundation
Sports X Radio's Ken Thomson, Sr. VP of Operations Pete Boyd, and actor Rob Riggle
Sports X Radio's Ken Thomson, Sr. VP of Operations Pete Boyd, and actor Rob Riggle
The Palazzo Broadcast Studio Desk
The Palazzo Broadcast Studio Desk
The Palazzo Broadcast Studio
The Palazzo Broadcast Studio
Warren Moon is interviewed by Sports X Radio's Ken Thomson
Warren Moon is interviewed by Sports X Radio's Ken Thomson
Yahoo Sports Radio's John Granato
Yahoo Sports Radio's John Granato
YSR's John Granato Travis Rodgers Steve Czaban Scott Linn Lanny Ford Marty Hurney
Warren Moon is interviewed by Sports X Radio's Ken Thomson