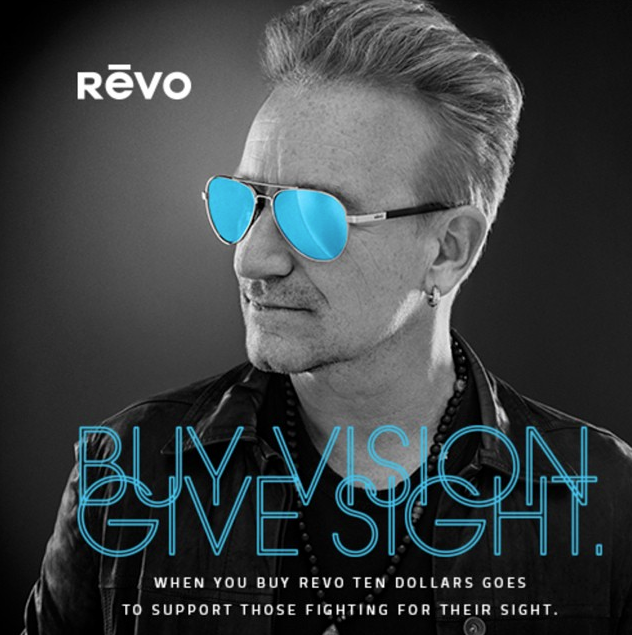 Eyewear brand Revo has tapped U2's frontman Bono to design its fall capsule collection. The legendary musician will work with Revo on the "Buy Vision, Give Sight" campaign, which is intended to improve eye care in underprivileged communities.
The eyewear brand hopes to raise $10 million for the fight to improve access to eye care in improvised communities around the world. As a result of the partnership, under-resourced communities will have access to eye screening, prescription glasses and essential eye care needs.
How can you help? When you, the consumer, purchase a new pair of Revo sunglasses, the eyewear brand will donate $10 from the sale to the "Buy Vision, Give Sight" campaign. Bono and Revo will work with the non-profit Brien Holden Vision Institute, whose mission is to provide sustainable solutions for eye care and end avoidable blindness and vision impairment in under-resourced communities. The funds will help pay for basic eye care services, as aforementioned above as well as build stronger eye care services in target communities for the longer term by training local people to provide eye care and detect eye diseases in their communities. Additionally, the bulk of the donations will go to the institute's "Our Children's Vision" initiative, whose aim is to prevent impaired vision and preventable blindness in more than 50 million children by 2020.
The singer-songwriter, who has been diagnosed with glaucoma 20 years ago, has had a long track record with global health initiatives.
In a statement, Bono said, "The 'Buy Vision, Give Sight' campaign is a very personal one for me. Thanks to good medical care my eyes are okay, but tens of millions of people around the world with sight problems don't have access to glasses, or even a basic eye test. Poor eyesight may not be life-threatening, but it dramatically affects your life and your livelihood if you aren't able to fix it. When we met with experts, they said the number one problem is untreated poor vision, which prevents a child from learning in school, or an adult from performing their job. Sight is a human right and the 'Buy Vision, Give Sight' initiative will help ensure millions of people have access to the eye exams and glasses they need to see."
He continued, "With Brien Holden, we found a partner doing remarkable work, hand-in-hand with local communities. It's mind-expanding what they are achieving; we're very excited to work in partnership with them and Revo."
The capsule collection will be available in North America this fall, which will include lenses outfitted with Revo's LMSTM technology.
(Photo via Revo)
Subscribe to discover the best kept secrets in your city