"I do think there is something magical about having a cutting garden," says Aerin Lauder, who can be found on a typical morning cutting white peonies, roses, hydrangeas and dahlias for the dining table of her Greek-revival home. She shares her love of white flowers with her grandmother, Estée, as evidenced in the 2007 fragrance Tuberose Gardenia that she created in honor of her famous grandmother. It's no wonder that Aerin has reprised the idea of the pristine white flower with her latest fragrance, dubbed Rose de Grasse, from her eponymous collection of fragrances, home décor, cosmetics and fashion accessories. "They accent any room and you only need two stems to fill a vase," she says of a variety called dinner plate dahlias. "They're so easy," she muses. The key descriptive here is easy, which is Aerin's approach to her very full life. The effortless beauty, avid philanthropist, not to mention determined businesswoman and consummate New Yorker's Hamptons home was once a retreat where her famous grandmother spent summers.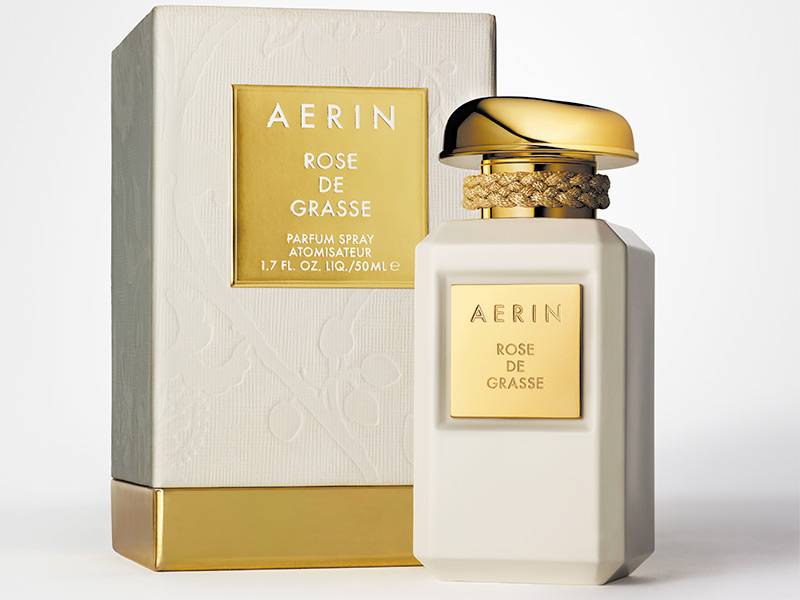 "It was my grandmother's home so there are lots of elements that I've kept," she says of the summer getaway. "Whether it's her blue and white wallpaper or her vintage Town and Country and Architectural Digest magazines," which Aerin keeps in a big wicker basket in the living room for rainy-day perusing.  "Estée's furniture is left in place, but at the same time I've added a layer which brings our family into the home." For starters, Aerin and her husband constructed an addition to the two-bedroom "Tara." The name refers to Gone with the Wind's plantation, which Estée Lauder modeled her home after, complete with a white-columned façade.
Although the house is in some ways a tribute to her larger-than-life grandmother, Aerin Lauder incorporates everyday family memorabilia as design elements. "A basket of sports equipment, sisal rugs, photographs from (my sons) sports games along with mixing in children's artwork in vibrantly colored frames all add an element of whimsy," she says. It's obvious that family remains her number one focus.  The resulting vibe is a summer hearth—an extension of her warm and easy manner.
She describes the Southampton home's decor as "traditional with a modern twist" and adds, "I think color is really important; we have a bright blue dining room with pops of color throughout the house. But we also have a black-lacquered library which is so great; even though you would think black is a winter color, it's perfect all year-round."
Although art was a big part of her childhood, (her father and uncle started New York's Neue Galerie, which boasts painter Gustav Klimt's A Woman In Gold as part of its permanent collection), Aerin's Hamptons home's walls are lined with simple beach images from local photographers. She muses, "Yes, I've been surrounded by art my whole life, but at the same time, I love Clifford Ross' photographs of calming waves on Long Island's beaches. I think The Drawing Room in East Hampton has amazing prints and artwork, especially the work of painter, Donald Sultan," she says, which speaks volumes about her penchant for low-key, Hamptons living.

As far as her Hamptons routine, "I don't have one," she confesses, but later concedes, "Mornings I like to start my day with a coffee from the Sagaponack General Store, which I love, then I come back for a long beach walk with my three dogs," she says. She's got two Brittanys  and a dachshund. Other times she wakes up early to make a large country breakfast of pancakes, bacon, eggs and muffins. Although she doesn't have a vegetable garden, she frequents the lush farms that punctuate the Hamptons landscape and buys fresh-cut flowers and seasonal produce from their local roadside stands. "Different farm stands have different flowers, and I love to frequent them all. "

When asked about her summer social calendar, she doesn't skip a beat. "I love the The Hamptons Paddle and Party for Pink event that happens every year at Lisa Perry's place. I always design a paddle, which gets auctioned off," she remarks. Each year fashion designers emblazon paddles with their unique styles. The party-and-paddle race is slated for August 1st in Sag Harbor and raises funds for the Breast Cancer Research Foundation. The once yearly event has raised 3.5 million to date earmarked for advancing the cause of finding a cure for breast cancer. "Obviously the Breast Cancer Research Foundation is very close to my family," she says of the charity that her aunt, Evelyn Lauder, started in 1993. "I'm attending the yearly BCRF's gala tonight," she adds. The ball dubbed the Hot Pink Party transforms the legendary Waldorf-Astoria into a pink-and-gold palace and on that evening, raised seven million dollars. The influential charity has raised over $550 million since its inception and is deeply involved in every major breakthrough in breast cancer, from its prevention and diagnosis, to its treatment.
Aerin also holds the charity First Books dear to her heart. The 22-year-old fund puts books in the hands of children who would otherwise not have them in order to promote learning.
With several homes to maintain, children and family to love, and ample philanthropic pursuits, it's easy to forget that Aerin is a formidable businesswoman. After all, her grandmother founded a world-renowned cosmetic company that currently holds 25 different brands in 150 countries under the Estée Lauder corporate umbrella. Estée embarked on a simple dream at a time when women were relegated to getting married and rearing children. That dream transformed into a worldwide empire in which Aerin currently holds the title of Style and Image Director while also maintaining her lifestyle brand Aerin, launched in 2012.
Blue shagreen coaster sets, sea urchin porcelain boxes, and Lapis Lazuli picture frames are some of the chic knick-knacks for sale at the seasonal Southampton boutique. "It's mostly our items mixed with handpicked treasures from all over the world that we love," she adds about the curated mix. Accessories like a straw-market bag with crocodile handles by Alexandra Knight and tunics and beach dresses by Talitha are mingled with Aerin signature sandals, raffia heart envelopes, aviator sunglasses and costume jewelry. You'll also find Aerin cosmetics and her seven fragrances, with the latest, Rose De Grasse, the first in a series of premier parfums. "It's formulated with rose-notes from three distinct regions," she reveals, "a Bulgarian rose, a rose from Grasse in the South of France and a Turkish rose." Other summer fashion fare are Italian-made Capri sandals with embellished accents, and a cutout slip-on sneaker she's named Liza. "I'll be wearing them both all summer long," she says without hesitation.
Aerin's personal style is well documented, from spreads in Vogue to the AERIN ads, where she can be seen wearing a ravishing embroidered Valentino. But her Hamptons uniform takes on a more earth-bound approach. "Classic, casual, effortless" she says matter-of-factly, as if anything more would take away from her rich family life. Besides, a sandy-haired lithe beauty doesn't need more than white Frame jeans, cutout trainers of her own design and her newly created self-tanner with a rose scent for her signature sun-kissed look. She loves Eres' classic one-piece or string bikini, and waits to see what the brand's latest seasonal color will be. Beauty and style come easily for Aerin; it's part of her DNA.
Although dressing fashionably comes easily for Aerin, it in no way defines her. She insists on carving out time for a little globe-trotting. Her recent trip to Australia was not all business. "Australia was exciting! We were there to launch Aerin Beauty, and I had not been back since my honeymoon 19 years ago," she says of her April jaunt. "I got a great feel for the city even though we were only there for three days. We found some great restaurants on Bondi Beach and a wonderful home shop called Becker Minty on Macleay Street [in Sydney]."
Stay tuned for an Australian vibe seeping into her holiday mix of lifestyle goodies, perhaps with a breadth of simple white flowers somehow making another appearance—albeit winter ones.   
Subscribe to discover the best kept secrets in your city