You've gotten the engagement ring and now it's time to pop the question. Finding that special place to celebrate the beginning of the rest of your lives together is one of the most special decisions you will make. There are only a few exclusive restaurants in Boston that fit the bill perfectly. Here are our picks for the most perfect haute spots.
o ya in the Leather District features some of the most artfully presented nigiri and sashimi you will find in the city. For example, on the menu you will find Santa Barbara sea urchin with Russian ossetra caviar, langoustine tempura and house smoked Moullard duck tataki with foie gras kabayaki. If your significant other is a real foodie, o ya is the only place in Boston to go for a decadent dinner of Japanese Wagyu Aragawa style Kobe beef.
Over on Congress Street in the Fort Point Channel is Menton, Chef Barbara Lynch's beloved Grand Chef Relais & Chateaux property, the first and only in Boston. In 2012, Lynch joined the exclusive group of chefs like Daniel Boulud and Thomas Keller in North America who have received the title of Grand Chef. Here, you can start off with a choice of two tasting menus that include a tart of foie gras or lobster and chamomile as well as a duck egg with asparagus, spot prawn and buttermilk.
One of Boston's most beloved restaurants for special occasions is L'Espalier. The Back Bay restaurant located on Boylston Street adjacent to the Mandarin Oriental Hotel where jacket and tie are recommended serves up New England-French fare in four dining rooms. We recommend reserving a table in the Library, a cozy dining room located at the rear of the restaurant where dimly lit tables, books lining the walls and dark beams make for a cozy place to pop the question over a seasonal degustation menu that can be paired up with your favorite wines.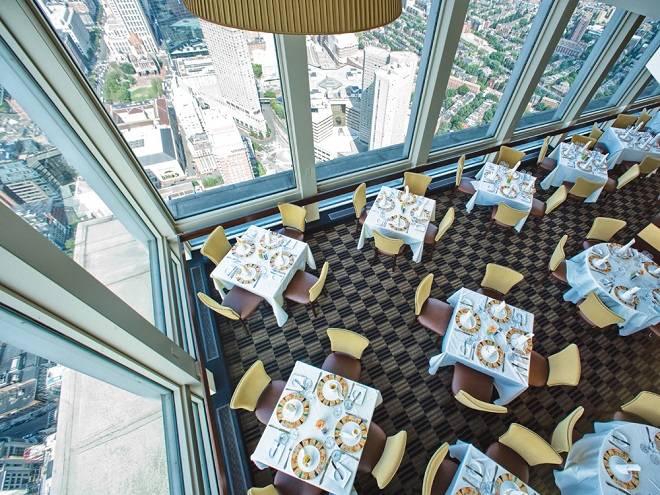 Photo Credit: Top of the HubThe view doesn't get any better than the spectacular one seen from Top of the Hub located on the 52nd floor of the Prudential Tower. Soaring high above the clouds, the spacious restaurant features floor-to-ceiling windows that offer amazing views of Boston and beyond. We recommend celebrating your special occasion with a starter of American caviar best enjoyed with a bottle of Cristal. As for dinner, don't miss the two-pound baked stuffed lobster, toasted sesame crusted tuna steak or juicy center cut New York strip.