When we hit the bar after work we're usually greeted with a watered-down mixed drink or a glass of wine for what's supposedly a "happy hour." And unless you closed a big deal that day, the thought of having a glass of champagne doesn't really cross your mind. Sure, you pop open a little bubbly for New Year's Eve or a wedding anniversary, but enjoying a casual glass of the brut isn't really on your day-to-day menu. But, shouldn't even the simple act of going on vacation be reason enough for a toast? That's exactly why these five hotels have started the trend of champagne happy hours to make every day of vacation feel like a little celebration. Cheers!
Capella Hotel
Washington, D.C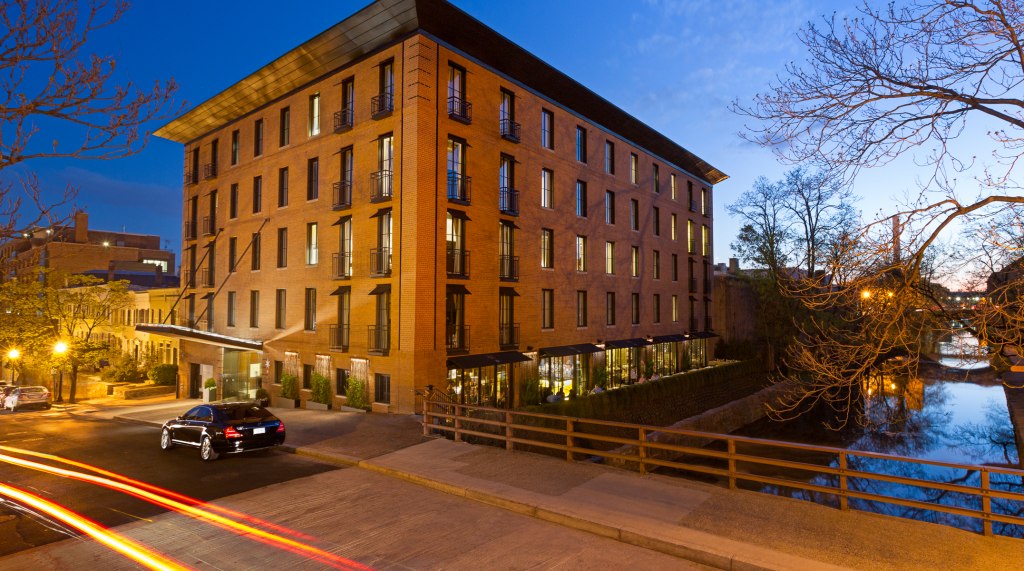 Time to ring in the weekend! What better way to do that than treating yourself to this luxury hotel's Taittinger Champagne Friday Happy Hour? Situated alongside Washington, D.C.'s stunning canal, you can mingle with like-minded connoisseurs of fine spirits to savor some of the best champagnes in the world every Friday from 5:00 pm to 7:00 pm. Beverages such as the Taittinger Brut la Francaise BTG are specially priced ($16 instead of the usual $24) and during that one hour and bottles sell for $80 instead of the usual $110.
Hotel Caesar Augustus
Capri, Italy
The Italians are known for their wines, but this high-end island hotel has views that are truly worthy of a toast. Situated on the edge of a 1,000-foot-high cliff overlooking the sea, you can take in the unique landscape during the Crudo & Champagne hour with a glass of champagne accompanied by French oysters, incredible tartars, sashimi, or Iranian caviar. From 6:30 pm to 10:30pm, guests are welcome to lounge on the terrace's sofas and cheers to a romantic escape.
The Plaza Hotel
New York, NY
In New York there's always a million things to toast, which is why this iconic hotel doesn't provide a champagne happy hour, but rather an entire champagne-themed bar. Perched above Fifth Avenue, this historic bar has hosted guests like the Prince of Wales and serves the world's finest champagne, caviar and wines. Purchased by the glass, bottle or stirred up in one of their champagne-infused mixed drinks, you get complimentary savory elegant snacks every night of the week.
Loews Santa Monica Beach Hotel 
Santa Monica, California
The only thing that can make an iconic California sunset a bit better is having bit of bubbly as you watch the sun descend behind the Pacific Ocean. Each evening the upscale ocean view resort provides its guests with complimentary sunset champagne toasts in the sprawling lobby. If that's not enough for you, the property even offers its Sunday Champagne and Draft Beer Brunch to suit any one's drink desire.
Four Seasons
Baltimore, Maryland
If you need a little excuse to warm up this winter than head to the historic harbor in Baltimore. As of November 7, you can enjoy half-priced champagne every night of the week from 10:00 p.m. to midnight. The Lead Sommelier will even be on hand to help you choose the perfect bottle and provide some pointers on making the most of your bubbly.