Photo Credit: Gabe Ginsberg
Reality TV star Scheana Shay celebrated her 30th birthday in style at Palms in Las Vegas alongside her fellow "Vanderpump Rules" cast members Katie Maloney, Ariana Madix, Tom Sandoval, Tom Schwartz, Jax Taylor and husband, Mike Shay.
The weekend birthday trip included a group dinner to N9NE Steakhouse on Thursday. The cast toasted to the birthday girl and dined family-style on dishes including rock shrimp, lobster potstickers, bone-in ribeye, filet mignon, Alaskan halibut and more.
Bad weather didn't stop the group from "turning up," with Shay moving her birthday party from Palms' pool party, Ditch Fridays, to Ghostbar on Friday due to bad weather.
The "Vanderpump Rules" crew was greeted by go go dancer's holding oversized score cards spelling out "Scheana," and a three-tier pink and green sea-inspired cake for the birthday girl.
Ariana Madix, Tom Schwartz, Tom Sandoval, Scheana Marie, Katie Maloney and Jax Taylor at Ghostbar_Joe Fury
Ariana Madix, Tom Schwartz, Tom Sandoval, Scheana Marie, Katie Maloney and Jax Taylor at Ghostbar
Photo Credit: Joe Fury
Katie Maloney, Ariana Madix and friends celebrate Scheana Marie's birthday at Ghostbar_Joe Fury
Katie Maloney, Ariana Madix and friends celebrate Scheana Marie's birthday at Ghostbar
Photo Credit: Joe Fury
Katie Maloney, Tom Sandoval and Scheana Shay at Ghostbar_Joe Fury
Katie Maloney, Tom Sandoval and Scheana Shay at Ghostbar
Photo Credit: Joe Fury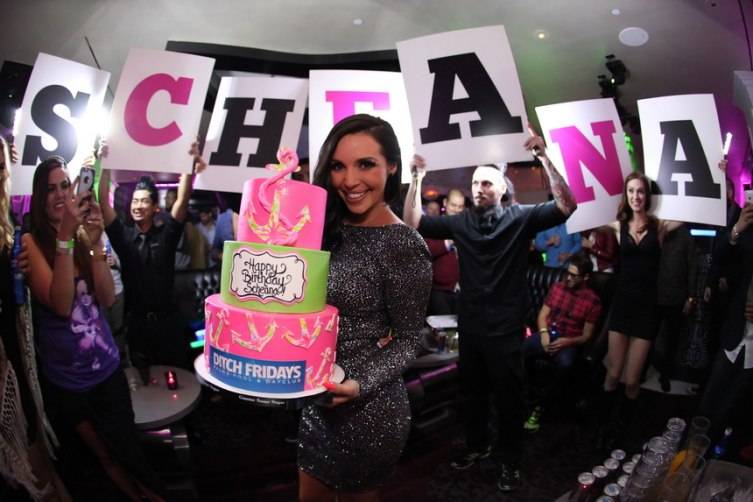 Scheana Marie all smiles during cake presentation at Ghostbar_Joe Fury
Scheana Shay Celebrates Birthday With Fellow "Vanderpump Rules" Co-stars At Palms Pool & Dayclub In Las Vegas
LAS VEGAS, NV - MAY 08: Television personalityÊScheana Shay arrives at "Ditch Fridays" at Palms Casino Resort to celebrate her birthday on May 8, 2015…
Scheana Shay Celebrates Birthday With Fellow "Vanderpump Rules" Co-stars At Palms Pool & Dayclub In Las Vegas
LAS VEGAS, NV - MAY 08: Television personalities Tom Sandoval, Scheana Shay and television personality/ DJ Mike Shay arrive at "Ditch Fridays" at Palm…