Photo Credit: Lauren Ungerer/KabikPhotoGroup.com
NFL player Rob Gronkowski took over Rehab at Hard Rock Hotel to host his birthday weekend with DJ sets from Joe Hahn of Linkin Park on Saturday, May 9, and Pete Wentz of Fall Out Boy on Sunday, May 10.
On Saturday, Gronkowski kicked off the festivities by walking the blue carpet with his teammate Chandler Jones and professional wrestler Mojo Rawley. The group, including Gronkowski's father and brothers, then took to the poolside stage where Gronkowski signed autographs, showered partygoers in champagne and participated in dance offs with his friends who were adorned in fun animal-print pants. The birthday boy was later surprised with a football-shaped cake; he excitedly performed his signature move, the Gronk spike, cascading pieces of the cake into the screaming audience. The afternoon was capped off with a DJ set from Joe Hahn from Linkin Park. Later, Gronkowski and his crew topped off the night at Body English Nightclub.
The party continued on Sunday when Gronkowski took to the blue carpet for a second time with Rawley and then headed down to the pool to greet REHAB guests, showering them with champagne, tossing inflated footballs and giving away foam fist drink holders. When greeted with his second birthday cake of the weekend, the football star once again Gronk spiked pieces of it as the crowd roared. Gronkowski and friends then headed to the dayclub's new VIP bungalows to enjoy the rest of their afternoon. Pete Wentz from Fall Out Boy provided the tunes throughout the afternoon while performing his DJ set.
Joe Hahn 2
Joe Hahn
Mojo Rawley
Rob Gronkowski 2
Rob Gronkowski 3
Rob Gronkowski 4
Rob Gronkowski and Chandler Jones
Pete Wentz 2
Pete Wentz 3
Pete Wentz
Rob Gronkowski 2
Rob Gronkowski 3
Rob Gronkowski 4
Rob Gronkowski 5
Rob Gronkowski 6
Rob Gronkowski 7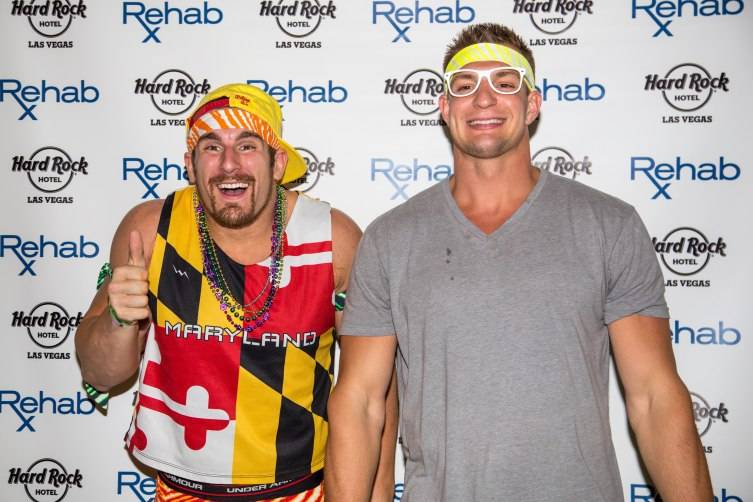 Rob Gronkowski and Mojo Rawley
Rob Gronkowski