Haute Living spoke with some famous locals to find out about Orange County and Malibu's best spots.

KELLY SLATER
Professional surfer, 11-time ASP World Tour Champion and collaborator on the new eco-friendly PBteen capsule collection
1. Sunlife I love stopping by here every morning for a fresh smoothie or green juice.
2. Nobu How could you beat eating the best sushi and Japanese food around while having the best view of the Pacific Ocean?
3. Surfrider Beach People don't think of Los Angeles county as a major surf destination, but there is some great surf to be had. Surfrider Beach at Malibu has long been regarded as one of the greatest waves around the world; even though it is always crowded, it is a perfect wave.
JANE SEYMOUR


Actress, author, jewelry designer, and founder of the Open Hearts Foundation
1. Nobu The food, the view, the scene! The sunset over the Pacific is the best of Malibu's relaxed atmosphere.

2. Taverna Tony Great Greek food; a wonderful, family-owned restaurant with an authentic atmosphere.
3. The Bluff All of my children played sports here.
4. Paradise Cove A great beach with great food and surfer watching.
5. Sunday Malibu Farmers Market Great produce, food, and flowers; I always run into friends here.
6. Alice + Olivia Great go-to dress boutique in Malibu that covers casual to glam, while at the same time covering the trends and staying classic. I've made lots of great buys here.

RANDE GERBER
Nightlife impresario, founder of Caliche Rum, co-founder of Casamigos tequila, and owner of Café Habana

1.  Casamigos Karaoke on Wednesdays at Café Habana.
2. Nobu Malibu and Bui Sushi for sushi.
3. Tra di Noi for Italian.
4. Hiking—[there are] many trails in Malibu.
5. Malibu Farmers Market.
DAVID FOSTER
Multi Grammy-winning producer, musician, composer, arranger, and songwriter


1.  Nobu Malibu Incredible food and the best ambiance in all of L.A.
2.  Taverna Tony Tony is the greatest host, and it's always been a family tradition to dine there; we love it.
3.  Tra di Noi If you love Italian food, it doesn't get better than this.
EVA CHOW
Designer, art collector, trustee at the Los Angeles County Museum of Art and co-chair of the museum's annual

'Art + Film' fundraiser
1. Mr. Chow Of course Mr. Chow restaurant.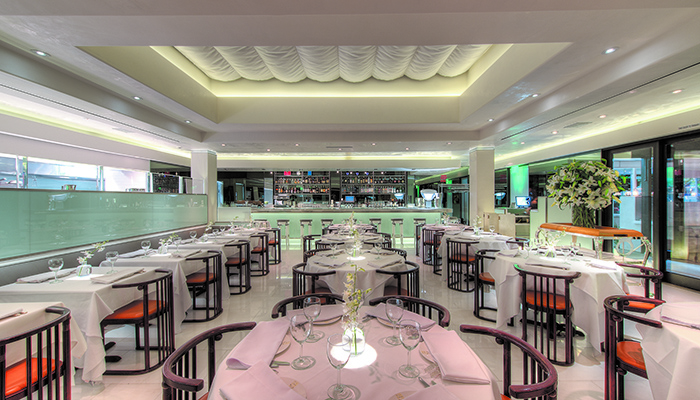 2. Paradise Cove Beach I used to take [my daughter] Asia to Paradise Cove Beach restaurant. [It's a] great drive out there: we'd listen to music and enjoy the beautiful Malibu coast on the PCH.
3. Malibu Tennis and Riding Club.
JERROD BLANDINO
Co-founder of Too Faced Cosmetics

1.  Urban Gardener creates amazing seasonal arrangements for us on a regular basis and it always does a holiday twist: festive, but refined and chic.
2.  Skin By Katie It's imperative that my skin looks good. My facialist, Katie of Skin By Katie, comes to my house and gives in-home facials, microdermabrasion, acid peels; the works.
3.  Studio at the Montage Laguna Beach is the perfect place to go for a romantic dinner and a great Bellini. Ask for my friend Rob Wilson. Plus, you may just see a bunny or two outside.
4. SideDoor Cocktails with friends or a quick bite at SideDoor is a must. Fireside table sitting is perfect for summer and spring alfresco dining.
5.  Sante Pilates Studio Dr. Darlene Lara at Sante Pilates Studio gives the best private. Pilates sessions in Orange County, and she's a registered chiropractor to boot.
6.  Port Theater is a great local movie house that plays current and retro movies. It's perfect for date night: they have reclining sofa chairs and serve cocktails. What else do you need?
7. Corona del Mar Right now, I'm building a dream home above little Corona del Mar. It's the perfect place to watch the sunset, end the day, and remember how blessed you are.
8. Cartier at South Coast Plaza Caroline at Cartier in South Coast Plaza is my go-to for bits and baubles and everything sparkly. She is an expert in gems, and a really fun girl to shop with and have a glass of champagne with while perusing the chunks of carats.
9. B.Candy is a whimsical little candy shop by the water. It has the most amazing selection of sweets, and its ice cream is to die for.
LAUREN CONRAD
Television personality, author and fashion designer

1. Fashion Island

2. Orange County beaches I like Orange County beaches because they're a little quieter [than other stretches]. I live on a beach in Laguna, and that's my favorite. I love Laguna's little coves; they tend to be less windy and they just feel like a little more destination. We live on a bay; it's really sweet. Because of that you get to see more see life. We get to see whales, dolphins, and sea lions all the time. They're sassy!
ALLI WEBB
Drybar founder


1. Playground If you live in Orange County, you absolutely have to eat at Playground in downtown Santa Ana. The owner, Jason Quinn, is as authentic and cool as they come.
2. The O.C. Mart I love Saturday strolling around the O.C. Mart. There are so many great little boutiques and restaurants. HD Buttercup, one of my favorite furniture stores, just opened up there too. I used to drive to L.A. to shop there, so I'm stoked to have them here in the O.C.
3. Fashion Island You'll find me at Fashion Island at least once a week; it has so many of my favorite spots such as Drybar (of course!), SoulCycle, Whole Foods, True Foods, Vince, Anthropologie, Nordstrom, and Island Cinema movie theater, which is the most posh movie experience ever.
TADASHI SHOJI
Fashion designer; recently opened a luxe boutique at South Coast Plaza

1. Bowers Museum The Bowers Museum is a place of inspiration that is enriched with local and global culture. When I am in town, I like to set aside time to stop in and visit the various international exhibitions on display.
2. Din Tai Fung The truffle and pork dumplings is one of my favorite dishes.
3. Tranquil Tea House This is a place I go to relax while enjoying one of the many green tea blends offered.
AMANDA BEARD
Swimmer and seven-time Olympic medalist

1. Javier's There's nothing like amazing Mexican food in an amazing setting. Love eating then going for a walk and checking out all the galleries.
2. Cucina Enoteca Really great restaurant and decor! Spectrum is great to walk around for good shops and more.
3. The Balboa Ferry With only three cars fitting on it, it's beyond cute and a great way to get to the boardwalk to grab a chocolate-covered frozen banana.
4. Huntington Beach My favorite place to take my dogs to catch some waves!
5. Corona Beach and Little Corona Growing up this was my go-to beach for playing with my family, and I loved walking over to Little Corona to hang in a smaller beach area.
Subscribe to discover the best kept secrets in your city