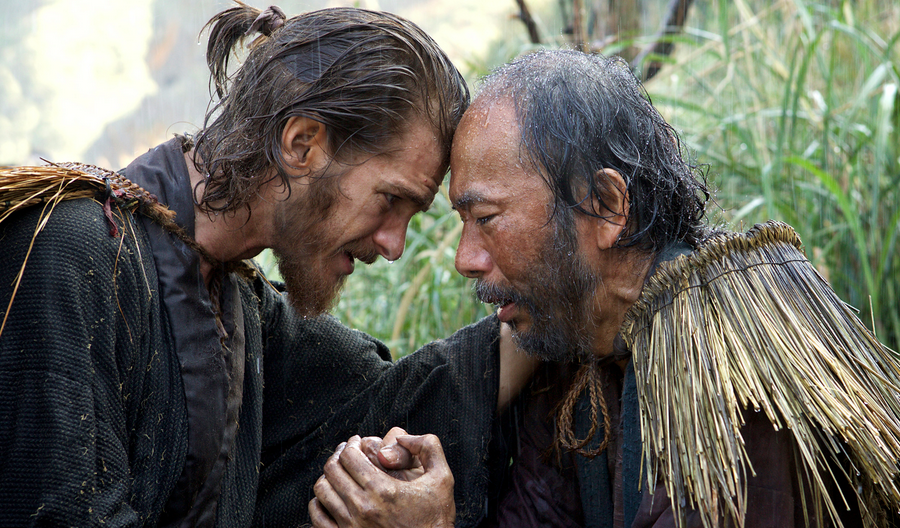 The first still from Martin Scorsese's upcoming Japan-set epic Silence has hit the web. Based on a novel by Shusaku Endo, the project has been in development hell for years. I for one remember reading about it ever since Scorsese's Shutter Island was released, just out of my eternal eagerness for new Scorsese content. At that point, it looked as if the inimitable Daniel Day Lewis and Benicio del Toro were set to star. Nevertheless, the film didn't surface, and in the mean time Scorsese released the beautifully done children's film Hugo and the envelope pushing The Wolf of Wall Street.
In a press conference, Scorsese confirmed that he indeed has been trying to adapt the novel since he read it 25 years ago.  "The subject matter presented by Shusaku Endo was in my life since I was very, very young," he told reporters. "I was very much involved in religion, I was raised in a strong Catholic family. … Further reflection is how [we] want to lead our life in the Christian faith … so ultimately this book drew my attention when it was given to me in 1988."
Finally, in 2014, Silence had its cast finalized and went into production. The film follows two Jesuit priests, Sebastiao Rodrigues played by Andrew Garfield (The Amazing Spiderman, The Social Network) and Francis Garrpe played by Adam Driver (Girls, Francis Ha). The two travel to Japan to locate their mentor, Crisóvao Ferreira played by Liam Neerson, where they face the violence and persecution common in the 17th century of Japan's history.
The film is due in 2016.
Jerry Seinfeld's online series Comedians in Cars Getting Coffee has become Sony Crackle's most popular for strong reasons. For one, it stars the namesake of the biggest sitcom of all time. But because of Seinfeld's presence, and also the format of Seinfeld taking comedians for rides in cars to get coffee, it elicits genuine insight from the comedians featured. Between Seinfeld's towering influence and the soothing effects of the hot brew, the comedians that guest get comfortable saying things they wouldn't say in any other format or on any other show.
With that being said, get excited. The series is returning for its sixth season on June 3 and the lineup of guests is killer: Jim Carrey, Bill Maher, Stephen Colbert, Steve Harvey, Julia Louis-Dreyfus, and new Daily Show host Trevor Noah are slated to appear. You can watch the trailer for the sixth season above.
Subscribe to discover the best kept secrets in your city