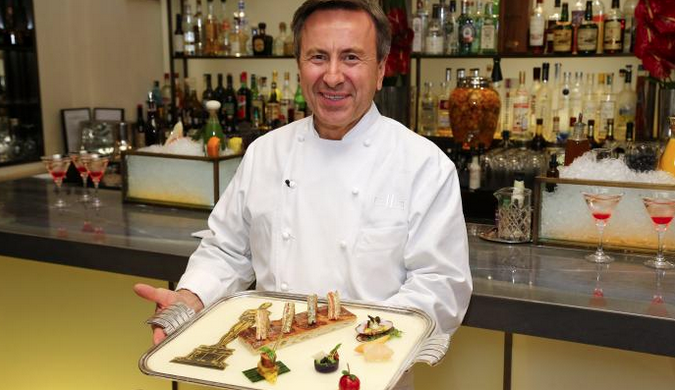 Few chefs have had careers as fruitful and storied as that of Daniel Boulud. Bouloud is being recognized for his achievements in the culinary industry with The World's 50 Best Restaurant Awards' 2015 Diners Club Lifetime Achievement Award. Bouloud is the 10th chef to receive the accolade and will be presented with the award in London on June 1.
Upon receiving the news of the award, Bouloud said, "The challenge, and I would hope, my ultimate success, or what I should be judged by, is my creativity, and level of detail and service that is achieved, in every one of my restaurants. This, along with mentoring chefs, is my life's work and what I am most proudest of."
Bouloud was born in France and got his start at the ripe age of 15 becoming a finalist in France's competition for Best Culinary Apprentice. Before coming to New York he worked under chefs Roger Vergé, Georges Blanc, and Michel Guérard. After moving to New York, his career his a stride: he opened the Polo Lounge and the Westbury Hotel and Le Régence at the Hotel Plaza and spent six years as executive chef at Le Cirque.
He opened his first namesake restaurant Daniel in 1993 and then opened up location in New York, Boston, Washington D.C., Las Vegas, Palm Beach, Miami, Toronto, Montreal, Singapore, and London. He also operated Bar Boulud in London at the Mandarin Oriental. His string of successes is almost unprecedented in the food industry.
"We are delighted to be able to present this prestigious award to one of France's and America's most accomplished chefs," says group editor of The World's 50 Best Restaurants William Drew, "Daniel's classic cooking style has evolved to incorporate modern techniques and international flavors. This award is recognition of his extraordinary talent and a celebration of his success as a chef and a restaurateur."
Carolina Herrera expresses her love of the life and work of Frida Kahlo by sponsoring the show "Frida Kahlo: Art, Garden & Life" at the New York Botanical Garden that runs through November 1. The gallery will be showing 14 of Kahlo's paintings and works on paper with a botanical theme running through the work. Herrera also maintains the Frida Kahlo theme with the sponsorship of NYBG's Conservatory Ball on June 4.
Herrera has been inspired by Kahlo's use of color, floral motifs, and depiction of the female body in her design work. This influence came to the forefront when Herrera held an event in Kahlo's birth city, Mexico City, last November. After showing a collection in Mexico City's historic Universidad Claustro de Sor Juana, Herrera toured Casa Azul that was the home that Kahlo shared with her husband, the Mexican politically charged muralist Diego Rivera.
On the influence of Kahlo, Herrera said, "Frida Kahlo has been a source of inspiration for me; her vibrant use of color, sense of proportion and her whimsical style all her own. It is fantastic welcoming her exquisite paintings to the Botanical garden."
Adrian Zavala, an expert in Mexican art, has curated the NYBG. Herrera's exhibition in the LuEsther T. Mertz Library's Art Gallery will be one component of the unprecedented six-month show.