Sean 'Diddy' Combs caught up with Gotham magazine to discuss his storied career, his new men's fragrance 3AM, and what he actually likes to be called.
About the fragrance's influence, Combs said he wanted the cologne to speak to the part of the personality that doesn't care about caution. He also wanted to make it clear that the cologne is not just a celebrity endorsed fragrance, but that he approaches all products as a designer, just like he did with his Sean John streetwear brand.
About his name, Combs said that his music palls still call him "Puff Daddy" or "Puffy," but in the media and in the world he's Diddy. Who was the first to call him Diddy? His best friend: the late rapper The Notorious B.I.G.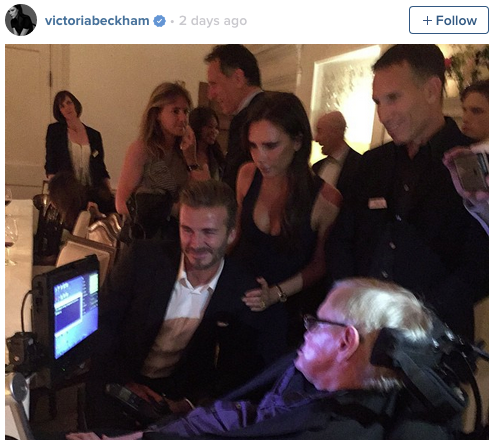 David Beckham and astro physicist Stephen Hawking met at an event hosted by Google on Monday and they found out they shared common ground. To Beckham, Hawking wrote, "I'm always being compared to you as a British icon and sometimes you rate higher and sometimes I do."
Beckham was, needless to say, psyched about the recognition from the brilliant mind and posted a photo of him and Professor Hawking to Facebook with the caption, "It was an absolute honour to meet Professor Hawking. What he said to me was truly amazing. Victoia Beckham also posted a photo of the encounter.
It seems as if ever Eddie Redmayne won the Best Actor Oscar for portraying Professor Hawking in The Theory of Everything that he's been more present in the pop cultural zeitgeist. Last month he elated teenagers by explaining the cosmological reason for Zayn leaving boy band One Direction.