Photo Credit: Tom Donoghue
Rock & Roll Hall of Famer Sammy Hagar and his supergroup The Circle, featuring Michael Anthony, Jason Bonham and Vic Johnson, took over the Downtown Las Vegas Events Center for an evening packed with hits from "The Red Rocker" and iconic Van Halen and Led Zeppelin classics on Saturday night.
The night kicked off with a set by local Las Vegas video DJ and emcee DJ Sally. Then Derek Stevens, CEO and co-owner of the Downtown Las Vegas Events Center as well as Downtown Las Vegas properties the D Las Vegas and Golden Gate, took the stage to welcome Hagar back to Downtown Las Vegas with a special appearance by Food Network star Guy Fieri.
"Red Heads" went wild as Hagar, Anthony, Bonham and Johnson filled the venue with their energetic sound. Attendees sang along to Hagar's "One Way Ticket to Midnight," and were blasted to the past with Van Halen's "Right Now" and "Why Can't This Be Love," along with Led Zeppelin's "When the Levee Breaks." A roar of applause broke out as the group burst into Hagar's "I Can't Drive 55." At one point during the show, Hagar kept the crowd pumped up by launching a cannon filled with streamers into the audience.
The concert precedes the debut of Sammy Hagar and The Circle's upcoming album, "At Your Service." A launch party for the anticipated record was hosted at Golden Gate on Friday, April 10, where Hagar and the band greeted fans and debuted the music video for their first single, "Poundcake."
"At Your Service" is set for worldwide release on May 18 and is a live double album recorded during the all-star group's first North American tour. The album captures Hagar, Anthony, Bonham and Johnson jamming on 19 legendary tracks that span more than 40 years of rock music history.
Like Haute Living Las Vegas? Join our Facebook page or follow us on Twitter. Want Haute Living Las Vegas delivered to your in box once a week? Sign up for our newsletter.
Derek Stevens, Nicole Parthum and Sammy Hagar at Downtown Las Vegas Events Center 4.11.15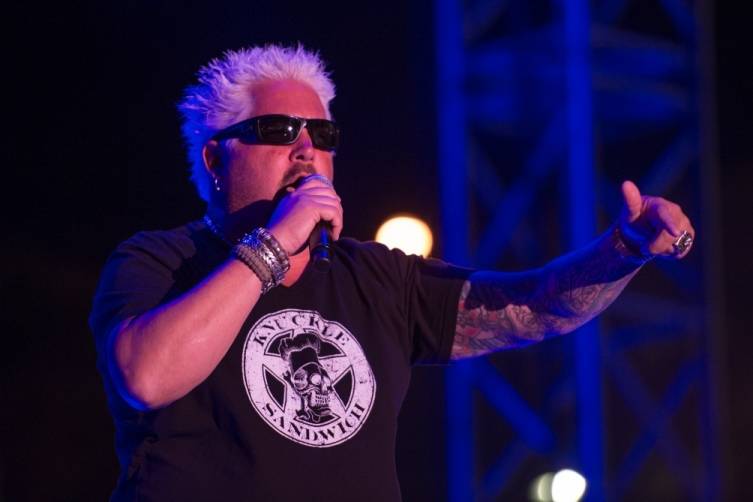 Guy Fieri at Sammy Hagar & The Circle's Concert at Downtown Las Vegas Events Center 4.11.15
Michael Anthony & Sammy Hagar Perform at Downtown Las Vegas Events Center 4.11.15
Sammy Hagar & The Circle at Downtown Las Vegas Events Center 4.11.5
Sammy Hagar and Chef Rick Moonen at Downtown Las Vegas Events Center 4.11.15
Sammy Hagar at Downtown Las Vegas Events Center 4.11.15