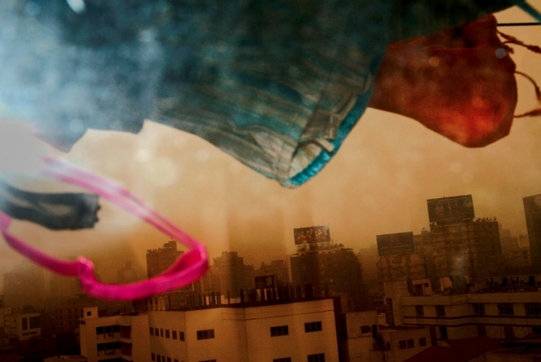 Photographers who collect images of their home nation do more than simply snap photos of their surroundings. They tell a story in a way no one else can through personal reflections and the capture of images only their lens can truly see for what they are. Laura El-Tantawy is one of those true artists.
Featured on Gulf Photo Plus, Laura El-Tantawy's photography exhibition called In the Shadow of the Pyramids is the culmination of nearly ten years of work. If you missed it, then you missed out on a beautiful but intense story about Egypt. The exhibit was first displayed at GPP 2015, one of the biggest photography exhibits in Dubai, in early March. It ran through April 4.
Photo Credit: Laura El-Tantawy; Gulf Photo Plus
El-Tantawy started snapping photos of Egypt in 2005 when she started to explore her Egyptian identity. As a photographer who splits her time between Cairo and London, she is able to offer a truly unique perspective of the Egyptian identity. In her blog on her website, El-Tantawy shared some of the thoughts that went through her head as she captured the images for the exhibition.
"Thirteen years ago my life changed dramatically," El-Tantawy wrote on her blog. "I remember the day. It was just after sunrise had ushered in a new morning. I stood under Cairo Airport's flickering fluorescent lights, my heart pounding of what was about to happen."
El-Tantawy let her early childhood memories be her guide as she explored her own identity as an Egyptian through personal images, some of which are as abstract as they are lifelike and beautiful. In the Shadow of the Pyramids is her own personal account of life as an Egyptian told in the first person.
Egypt has been gripped with violence in recent years, making identity hard for many Egyptians to grasp. The exhibition captured not only identity but also images that demonstrate the nation's beauty and show how the average Egyptian deals with the violence that became common in their homeland.
"This is not the story I set out to tell," El-Tantawy said on her blog. "In my time covering Egypt since 2005, I have never seen the country so polarized and sharply divided across such a clear line: 'Are you with us … or against us?' How do you tell a story when the plot keeps changing? How do you feel, have empathy and photograph when you don't understand what is happening anymore," she said in one post.
Photo Credit: Laura El-Tantawy; Gulf Photo Plus
El-Tantawy's work is a diversion from the work that is found in photo books by other photographers, as she captures Egypt's reformation in a way only someone with diverse roots can possibly do. She was born to Egyptian parents in Worcestershire, England, but grew up with a truly international identity as her time was split among Egypt, Saudi Arabia and the U.S.
In 2002, El-Tantawy began working in the U.S. for the Milwaukee Journal Sentinel and the Sarasota Herald-Tribune as a photographer for the news divisions. She then took her talents freelance in 2006 in order to move away from capturing images for the headlines and focus more on personal projects. You may have seen her work before, as she has been featured in major publications like National Geographic, The Sunday Times, Time magazine and Burn magazine.