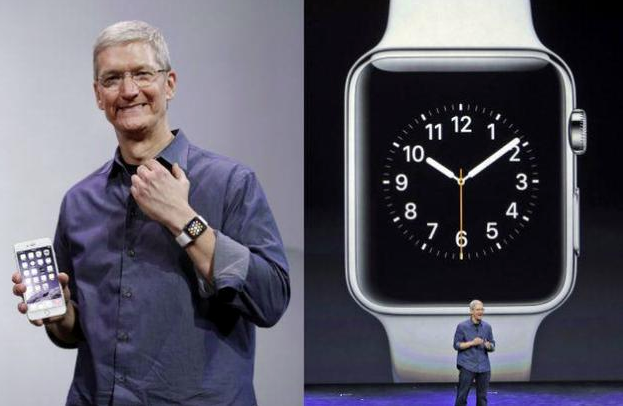 We have already had our assumptions that working for Apple in any capacity would be pretty great. Aside from the Geniuses having to wear those royal blue polo shirts, Apple employees on all levels get showered with wonderful benefits that are not often available to retail employees. But now, working at Apple sounds even better.
The new Apple Watch comes out this month. The item has been showered with praise; the NY Times has said that though the watch is hard to get the hang of, but that it's utterly alluring once the user does: "It was on Day 4 that I began appreciating the ways in which the elegant $650 computer on my wrist was more than just another screen," writes Farhad Manjoo. "By notifying me of digital events as soon as they happened, and letting me act on them instantly, without having to fumble for my phone, the Watch became something like a natural extension of my body."
And Apple CEO Tim Cook has announced that Apple employees will be able to wear the watch for HALF the price of regular customers. Now that's a serious employee discount. The Apple Watch Sports will start at $349, and the normal Apple Watch will cost $549. The Edition will be $10,000 and an 18K gold model will go up to $17,000.
The point of Apple giving this huge discount to employees is to have its employees serve as ambassadors for the product. Cook wants his staff to know that it is very much a part of this exciting product launch: "We want you to share in that experience right alongside them," says Cook.
The Apple Watch is the first new product line since way back in 2010 when Apple introduced the iPad to the world. For critics that have questioned whether or not Cook can match the innovation that Apple was known for under Steve Jobs's reign, The Apple Watch is a huge statement that those critics are dead wrong.
Haute 100 San Francisco updates consist of news items about members of our Haute 100 San Francisco; a list of San Francisco's most powerful players
Subscribe to discover the best kept secrets in your city