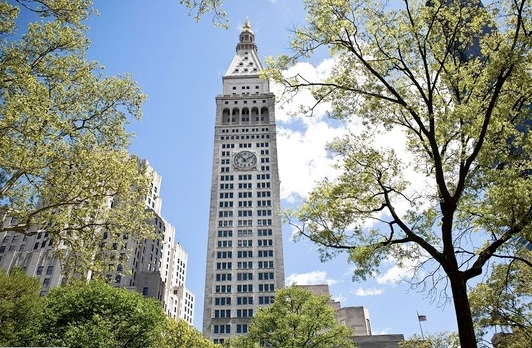 Hotelier Ian Schrager's partnership with Marriot Hotels is hitting the Big Apple: the 273-room New York Edition Hotel is set to debut in the landmark Clocktower building in Madison Square Park in Flatiron on May 14. The property is described as a hotel imagined as a private residence; the hotel is inspired by New York's turn of the 20th century clubs, Fifth Avenue's gilded mansions, and Stanford White's architectural masterpieces.
All 273 rooms will have 360-degree views of the city. The hotel will be accompanied by a 2,900 square foot restaurant, a lobby bar, and a revolutionary fitness center and spa on the 39th floor.
The Edition partnership that bred this hotel was established in 2007 and has had its ups and downs since then but there are now Edition hotels in London, Istanbul, and Miami. But the Edition in New York feels particularly triumphant considering this is the city where Schrager began his career with Morgans Hotel Group and launched the legendary Studio 54 club.
On Wednesday April 29, Chef Thomas Keller of the French Laundry and Per Se will be speaking at the Y on 92nd Street for a talk on Tasting America: Cultural Identity in Contemporary Cuisine as part of their Kitchen Arts & Letters series. Keller will be koined by Corey Lee of Benu. The show starts at 8:15 pm and tickets are $30. If you are interested in hearing how some culinary masters have honed their crafts, this is the event for you.

Jerry Seinfeld gave David Letterman a taste of his own medicine; last week Seinfeld showed up to The Late Show and he and Letterman switched seats with Seinfeld becoming the interviewer and Letterman the interviewee. The switch was done to highlight the fact that Letterman is leaving the show on May 30 with the inimitable Stephen Colbert taking his place. Seinfeld asked Letterman, "What the hell you gonna do after you leave?"
The interview brought to mind the episode of Louis CK's beloved episode of Louie when Seinfeld and Louie were in contention to take the job of host on The Late Show.