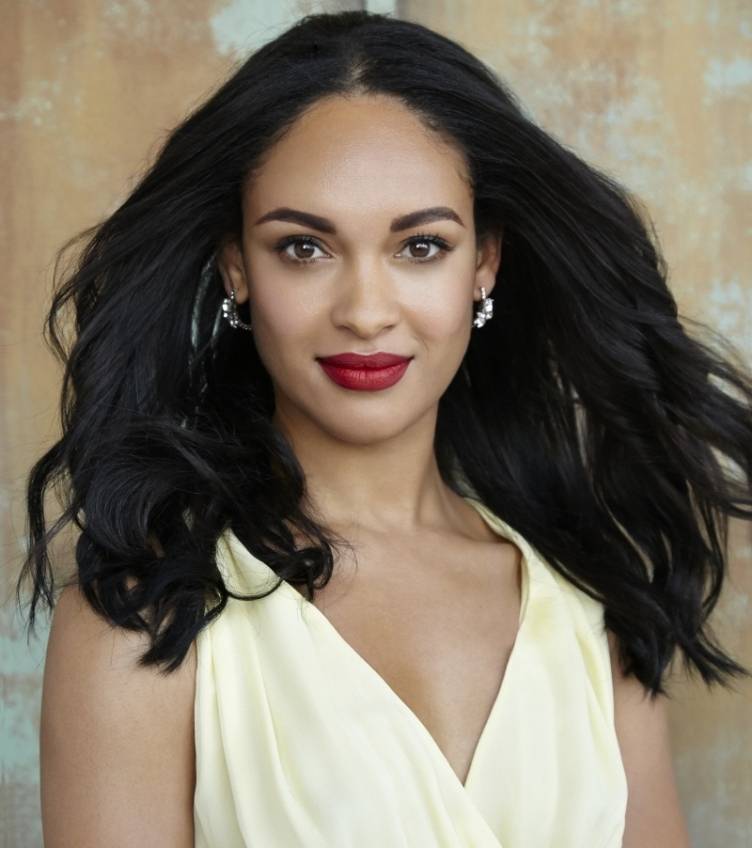 "Arrow" star Cynthia Addai Robinson absolutely loves Los Angeles. Though she's London-born, this beauty enjoys everything from star-gazing at Griffith Observatory to hanging out at the Santa Monica Pier to dining at Forage in Silver Lake. So how do you know her? You might recognize her as Amanda Waller, the ruthless leader of both the government agency A.R.G.U.S. and the Suicide Squad.on the CW's "Arrow," or from turns on "Spartacus" and "The Vampire Diaries." She can next be seen as Emily West in the much-anticipated History Channel eight hour mini-series "Texas Rising" alongside Bill Paxton, Ray Liotta and Brendan Frasier. She also landed the role of a lifetime recently, playing opposite Oscar winners Ben Affleck and J.K. Simmons and nominee Anna Kendrick in the Warner Brothers thriller The Accountant, which is slated for a 2016 release.
Born in London to a Ghanaian mother and American father, Cynthia moved to the United States at a young age and was raised in a suburb of Washington, DC. Today, she embraces her mixed heritage and feels that her background and time spent around the world has made her who is she. She fell in love with acting as a child, performing in all her school plays, local productions, and theater camps. As a teenager she dreamed of being on Broadway, a dream she still has today. She furthered her love of the Arts when she went on to pursue a BFA in Theatre at the prestigious Tisch School of the Arts at NYU. Cynthia loves using her ability as an actor to inhabit diverse characters and portray a variety of stories. She feels extremely lucky that she gets to wake up everyday and do something she loves. Here are her haute secrets to Los Angeles.
Where were you born:  London, England
How long in LA: 9 years
Neighborhood: Los Feliz
Occupation:  Actress
Favorite Restaurant:  Bestia.  It is hands-down the best meal I've eaten in LA!
Best Sushi:  Sugarfish by Nozawa.  I also love Hama Sushi in Little Tokyo
Best Italian:  Bestia, but also like All'Angolo Pizza & Pasta in Koreatown for a more casual option
Best dessert:  Forage in Silverlake.  They always have the most ridiculous selection of cakes, tarts, and cookies
Best place for a romantic date:  The Greek Theatre.  I love summer concert season and this venue is always magical to me
Best Sunday brunch:  Square One Dining.  Healthy, local, and has the best french toast in town
Best place for a power business meeting:  Soho House
If you have out of town guests, which hotel would you recommend?  Ace Hotel DTLA.  I love all their locations, but the LA outpost has such a great design and aesthetic  
Favorite place to buy jewelry/watches:  Steven Alan
Best Spa:  Face Haus.  It's similar to DryBar's model, but for facials; it's perfect when you don't have a lot of time
Favorite Cultural Event:  Summer concert season.  From the Hollywood Bowl, to free concerts at the Getty, Santa Monica Pier, the Hammer Museum…You can really see what Angelenos look like when they're not sitting in their cars.
Favorite Cultural Institution:  The Griffith Observatory.  I love hiking to the top, especially on a clear day
Best Pizza:  Casa Bianca.  It's not a New York slice, it's a little heartier and made with love
Best Lunch:  Tender Greens.  I miss this place whenever I'm out of town for too long!
Best Gym/Athletic Facility:  classpass app.  I just discovered this and it's perfect for my schedule; I love trying different studios and this is perfect for that
Best Massage:  Healing Hands, Larchmont.  Great message therapists who know their stuff.
Best Limousine/Driving Service:  Uber
Best Museum/Exhibit:  LACMA
Describe your city in three words:  Evolving, surprising, home
Favorite historic/legendary place to see or explore:  Downtown LA.  There's such a rich history of that area, and I love comparing old photos of it's heyday to how it has transformed today
All-around favorite spot in Los Angeles: El Matador beach.  If you go early, in the off season, or during the week, it really feels like your own private beach
Best Aspect of Los Angeles:  I love returning to this city as a place to call home, but I also love hopping in the car and being close to the ocean, the mountains, the forests; there are constant opportunities for discovery
Subscribe to discover the best kept secrets in your city