The Venetian and Palazzo welcomed the Year of the Goat on Thursday with a traditional lion dance and eye ceremony. Sheldon Adelson, chairman and CEO of Las Vegas Sands Corp., along with his wife, Dr. Miriam Adelson, were in attendance to paint the eyes of the dragon and ceremoniously bring it to life, kicking off Chinese New Year 2015.
Dancers from the Yau Kung Moon Lion and Dragon Dance Team from Los Angeles and San Francisco paraded through both properties, blessing the baccarat salons in the casinos. The colorful event featured a parade of dancers and drummers dressed in authentic costumes who made their way through The Waterfall Atrium of The Palazzo to bring good luck throughout 2015.
Other celebratory visuals include a "Year of the Goat" display inside The Waterfall Atrium & Gardens of The Palazzo. To commemorate the Year of the Goat, the resort's floral and horticulture department partnered with a team of artisans, and consulted with a feng shui master to produce the massive "Year of the Goat" art installation. Because the Year of the Goat also celebrates sheep and ram, the art display features beautifully sculpted figures of each.
Find 58 traditional I Ching coins, representing fortune and wealth, which sit among the mountain of the main art installation. The Chinese symbols on the coins read, "May your happiness be according to your wishes," and the reverse of the coin reads, "Live as long as the tortoise and the crane."
According to custom, it is suggested that guests walk clockwise around the feature display three times to bring blessings of heaven, earth, and mankind upon them.
This year's "Year of the Goat" art installation features:
• Three unique hand-sculpted, life-size rams
• Eight hand-sculpted sheep adorned with fleece of fresh carnations
• A six-foot hand-loomed brocade silk and jade and red and gold lanterns
• 58 I Ching coins
• Eight Bamboo Trees
• 28 Tangerine Trees
• 2,400 selected plants including Phalaenopsis orchids, Cymbidium orchids, Kalanchoe and Hyacinth.
The Year of the Goat art installation will run through March 9.
Like Haute Living Las Vegas? Join our Facebook page or follow us on Twitter. Want Haute Living Las Vegas delivered to your in box once a week? Sign up for our newsletter.
Performers kick off Chinese New Year in the Grand Colonnade at The Venetian
Mr. Sheldon Adelson, CEO of Las Vegas Sands Corp and Dr. Miriam Adelson participate in Chinese New Year ceremony at The Venetian
Lion dancers ready for the Chinese New Year kickoff at The Venetian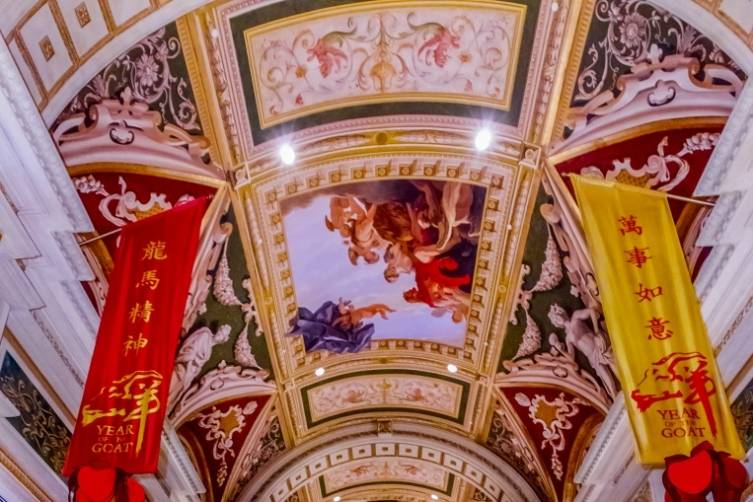 Lion dancers perform in The Grand Colonnade of The Venetian
Lion Dance performers kick off Chinese New Year 2015 with a dance through The Venetian casino
John Caparella, president and COO of The Venetian, The Palazzo, and Sands Expo participates in the Chinese New Year Eye Ceremony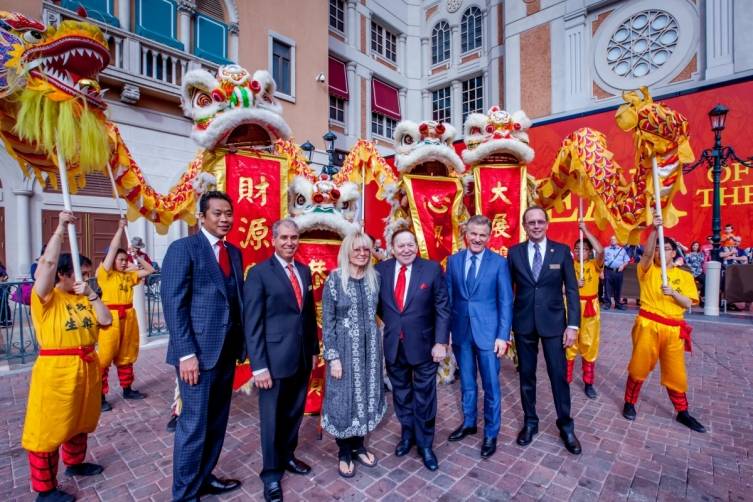 From Left to Right Larry Chiu, John Caparella, Dr. Miriam Adelson, Mr. Sheldon Adelson, Rob Goldstein, and Pete Boyd
Chinese New Year Lion and Dragon Dance winds through the Grand Colonnade at The Venetian
Chinese New Year Lion and Dragon Dance performers in the Waterfall Atrium at The Palazzo
Subscribe to discover the best kept secrets in your city