Photo Credit: Gisele Bundchen/Instagram
Phoenix was abound with celebrities and excitement in the weekend leading up to the New England Patriots' 28-24 win over the Seattle Seahawks at Super Bowl XLIX. 
There were football-focused shindigs galore, including DIRECTV's fifth annual DIRECTV Super Saturday Night, featuring a performance by Rihanna with special surprise guest Kanye West. The event, co-hosted by Mark Cuban's AXS TV and Pro Football Hall of Famer, Michael Strahan, has become known as the crown jewel of Super Bowl parties. The invitation-only event was held inside DIRECTV Super Fan Stadium at the Pendergast Family Farm in Glendale, Arizona's Sports and Entertainment District, across from University of Phoenix Stadium in Glendale, the site of Super Bowl XLIX. Attendees included the likes of 2 Chainz, Aaron Paul, Afrojack, Andrew Luck, Bobby Farrelly, Chace Crawford, Chrissy Teigen, Forest Whitaker, Gavin Newsom, Jerry Jones, John Legend, Kim Kardashian West, Lane Garrison, Mark Cuban, Mark Sanchez, Michael Strahan, Nick Jonas, Nina Dobrev, Steve Tisch, Tony Romo and Wiz Khalifa.
DIRECTV also threw its first-ever Super Fan Festival at the Pendergast Family Farm across from University of Phoenix Stadium in Glendale. Thursday night's festival event featured headliner Calvin Harris playing to an excited crowd in the rain, along with performances by Jason Derulo, Alesso, Magic!, and Becky G. Friday night's event headliners Imagine Dragons and Snoop Dogg closed out the DIRECTV Super Fan Festival which also featured performances by American Authors, Ingrid Michaelson and Young the Giant on the HGTV stage. VIP attendees included Fox Sports broadcaster Erin Andrews and retired boxer Evander Holyfield among others.
Supermodels seemed to be a natural fit to host a Super Bowl party. Victoria's Secret stunners Behati Prinsloo and Lily Aldridge were on hand to welcome guests to Leather & Laces at Super Bowl XLIX at the Bentley Projects Gallery. Guests included Chrissy Teigen, John Legend, Alyssa Milano and Craig Robinson, who were treated to live entertainment from Cobra Starship and Cirque du Soleil.
Speaking of supermodels, another VS stunner, Alessandra Ambrosio, was on hand to celebrate at TAO Takeover Parties at CAKE Nightclub. The fete was also attended by Phoenix Suns teammates Derrick Rose and Joakin Noah and Michael Strahan.
The most philanthropic event of the weekend was the Big Game, Big Give, which raised $1.1 for charity. A musical performance by Jordin Sparks and an evening topped off by fireworks illuminating Camelback Mountain dazzled even celebrity guests including cohosts Michael Bay and Mark Wahlberg, mega-producer/director Jerry Bruckheimer; singer/musician Gavin DeGraw; special guest Maria Menounos; Dancing with the Stars' Maksim Chmerkovskiy and MLB Washington Nationals' Bryce Harper, among others. The event set a record in its sixth year becoming the first non-NFL charity to raise $1 million at the Super Bowl.
Hollywood celebs and pro athletes combined star power at ESPN's The Party, enjoying Super Bowl themed specialty sips curated by CIROC vodka, during the big game weekend in Scottsdale. Jay Cutler, Kellan Lutz, Aaron Paul and Colin Kaepernick were among the guests who enjoyed performances by Charlie XCX and J. Cole at the event.
**Beats by Questlove
Super Bowl parties 1
Terry Bradshaw (L) and host Joel McHale attend the Friars Club Roast of Terry Bradshaw during the ESPN Super Bowl Roast at the Arizona Biltmore
Photo Credit: Andrew H. Walker/Getty Images for Friars Club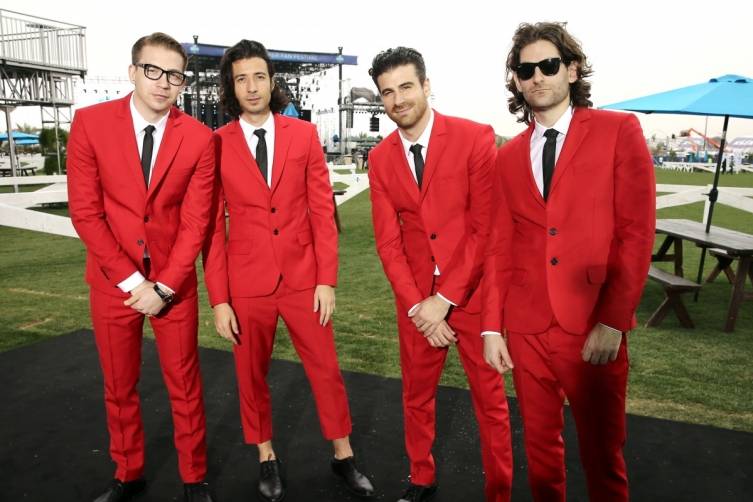 Super Bowl parties 2
Magic! attend Day 2 of the DirecTV Super Fan Festival
Photo Credit: Neilson Barnard/Getty Images
Super Bowl parties 3
Kellan Lutz attends Day 2 of the DirecTV Super Fan Festival
Photo Credit: Mike Coppola/Getty Images
Super Bowl parties 4
Alesso performs onstage at the HGTV Lodge during day 2 of the DirecTV Super Fan Festival
Photo Credit: Neilson Barnard/Getty Images
Super Bowl parties 5
Calvin Harris performs during Day 2 of the DirecTV Super Fan Festival
Photo Credit: Christopher Polk/Getty Images
Super Bowl parties 6
Aaron Paul and Derek Jeter attend DirecTV's Super Saturday night
Photo Credit: Kevin Mazur/Getty Images
Super Bowl parties 7
2Chainz attends the DirecTV Super Saturday night
Photo Credit: Ethan Miller/Getty Images
Super Bowl parties 8
Michael Strahan and Wiz Khalifa attend DirecTV Super Saturday night
Photo Credit: Ethan Miller/Getty Images
Super Bowl parties 9
Tony Romo, Candice Crawford, Chace Crawford, Nina Dobrev attend DirecTV Super Saturday Night
Photo Credit: Mike Coppola/Getty Images
Super Bowl parties 10
Rihanna performs onstage during DirecTV Super Saturday Night
Photo Credit: Kevin Mazur, Getty Images for DirecTV
Super Bowl parties 11
Nick Jonas attends DirecTV Super Saturday Night
Photo Credit: Ethan Miller/Getty Images
Super Bowl parties 12
Daymond John and Mark Cuban attend DirecTV's Super Saturday night
Photo Credit: Ethan Miller/Getty Images
Super Bowl parties 13
Erin Andrews attends DirecTV's Super Saturday night
Photo Credit: Ethan Miller/Getty Images
Super Bowl parties 14
Chrissy Teigen, John Legend & Kim Kardashian attend DirecTV Super Saturday Night
Photo Credit: Mike Coppola/Getty Images
Super Bowl parties 15
Alyssa Milano attends Leather & Laces Super Bowl XLIX party
Photo Credit: Jeff Watkins
Super Bowl parties 16
Lily Aldridge and Behati Prinsloo hosts Leather & Laces Super Bowl XLIX party
Photo Credit: Jeff Watkins
Super Bowl parties 17
Kanye West (L) and Rihanna perform onstage during DirecTV Super Saturday Night
Photo Credit: Kevin Mazur/Getty Images
Super Bowl parties 18
Alessandra Ambrosio poses at TAO's Takeover party at Cake Nightclub
Photo Credit: Ethan Miller/Getty Images
Super Bowl parties 19
AnnaLynne McCord attends the Super Bowl XLIX Big Game Big Give
Photo Credit: Getty Images for The Giving Back Fund
Super Bowl parties 20
Maria Menounos, Michael Bay & Mark Wahlberg attend the Super Bowl XLIX Big Game Big Give
Photo Credit: Getty Images for The Giving Back Fund
Super Bowl parties 21
Jordin Sparks onstage at the Super Bowl XLIX Big Game Big Give
Photo Credit: Getty Images for The Giving Back Fund
Super Bowl parties 22
Jerry Bruckheimer attends the Super Bowl XLIX Big Game Big Give
Photo Credit: Getty Images for The Giving Back Fund
Super Bowl parties 23
Jay Cutler attends ESPN's The Party event powered by CIROC vodka
Photo Credit: Getty Images courtesy of Ciroc