We all know good old George Washington couldn't cut down a cherry tree and lie about it. Well, so the story goes. Celebrate his birthday and the legacy of succeeding presidents with a tasty, homemade cherry pie.
Mastro's Steakhouse Cherry Crisp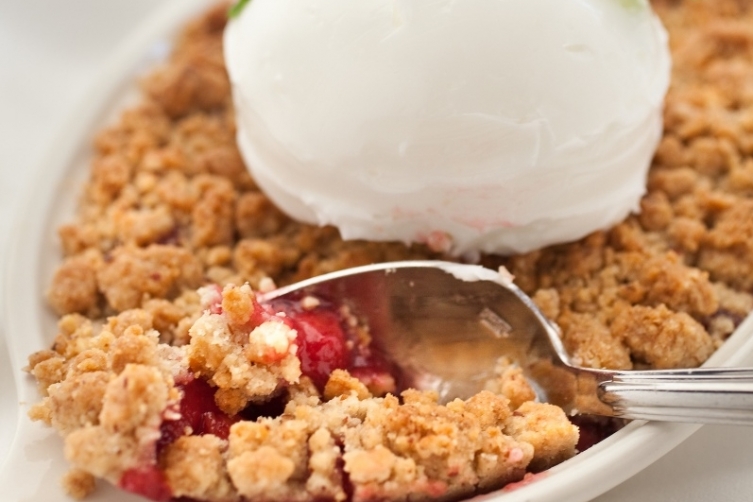 For 2 Servings
Filling:
1.5 lb. fresh cherries
8.5 oz. granulated sugar
Pinch of salt
1.25 oz. cornstarch
.1 oz. almond extract
Topping:
9 oz. four, sifted
8 oz. butter, salted
6 oz. brown sugar
6 oz. granulated sugar
1 cup pecans, rough chopped
Instructions:
Combine all filling dry ingredients in a mixing bowl, then toss with cherries and add almond extract
Place cherry mixture in a heavy pot and heat to a boil, stirring occasionally
For the topping, mix all dry ingredients in a food processor. In small batches, add butter, pulsing until crumbly with no large pieces of butter remaining, but not pulverized. You can freeze any extra topping.
Fill individual baking dishes (Mastro's uses oval soufflé dishes) with 12 oz. of cherry filling, then place in refrigerator to cool and settle. This prevents the crisp from boiling over when baked.
Once cool, spread topping evenly across the top of the filling
Place filled dishes in a 2" shallow pan, and fill the pan with water so that the dishes are halfway submerged
Bake for 10 minutes at 350 degrees F
Rotate, and bake for an additional 8 minutes or until topping is golden brown
Serve with a scoop of vanilla bean ice cream on top, garnish with mint sprig if desired.
Thiago SIlva's Cherry Pie, pastry chef at CATCH and Lexington Brass
Cherry Pie Filling:
1 cup – Sugar
2 cups – sour 
cherry
 juice
1 – vanilla bean
1 Tbls – Hibiscus flower
1/2 cup – Dried sour 
cherries
 (chopped)
1/2 tsp – salt
1 Tbls – Lemon juice
2 Tbls – Corn starch
2 cups – Bing 
Cherries
 (pitted, and cut in half)
1 cup – Red 
Cherries
 (Pitted and cut in half)
Place sugar, 
cherry
 juice, vanilla bean, hibiscus flower in a pot, bring to a boil, once boils remove from heat and let it steep for 15 minutes. After 15 minutes strain, add sour 
cherries
, salt, liqueur, place in medium high heat, once it begins to boil temper in the cornstarch, cook until nice and thick, about 3-5 minutes. Remove from heat add lemon juice. Add the slurry to the fresh 
cherries
and place in desired baking dishes. Top off with almond crisp, and serve with vanilla ice cream,
Almond Crisp:
1 cup – butter (cold and cubed)
3/4 cup – all purpose flour
1/4 cup – sugar in the raw
1/3 cup – almond flour
1/3 cup – sliced almonds
1/4 cup – sugar
1/2 tsp – salt
Place sugars, flour, almond flour, salt in mixer with paddle attachment, mix on medium low, slowly add butter, once mixture begins to come together add sliced almonds. Place on top of 
cherry
pie 
filling and bake at 325F until golden brown.
Sweet 

Cherry

 Crostadas from Shauna Sever, author of Real Sweet
Ingredients:
1 pie crust (homemade or store bought)
2 pounds sweet cherries, pitted
1-2 tablespoons granulated sugar
1/4 cup almond meal
1 large egg
1 tablespoon milk
Turbinado sugar, for sprinkling
Procedure:
Line a baking sheet with parchment paper.
Turn the 

pie

 dough out onto a lightly floured work surface and divide the dough into 8 equal pieces. Roll each piece into a rough circle, about 1/8 to 1/4 inch thick–don't worry about making perfect circles or smooth edges.
Toss the 

cherries

 in a large bowl with the sugar 2 tablespoons of almond meal. Beat together the egg and milk in a small bowl.
Assemble the crostadas one at a time by placing the dough circles on the baking sheet, brushing each lightly all over with the egg wash and sprinkling each evenly with the remaining almond meal. Divide the 

cherries

 equally among the dough circles, leaving a full 1-inch edge all around. Fold the pastry edges up and over the filling (leaving the filling uncovered in the center), pleating as you go to make the dough fit tight against the fruit. Place the baking sheet with the assembled crostadas in the freezer for 15 minutes or in the fridge for an hour.
When you're ready to bake, position a rack to the center of the oven and preheat it to 400 degrees.
Brush the edges of the crostadas lightly with the remaining egg wash and sprinkle all over (pastry and filling) with turbinado sugar. Bake for 25-30 minutes until the pastry is crisp and golden and the 

cherries

 are soft and bubbling. Cool on a wire rack before serving with vanilla ice cream or whipped cream.