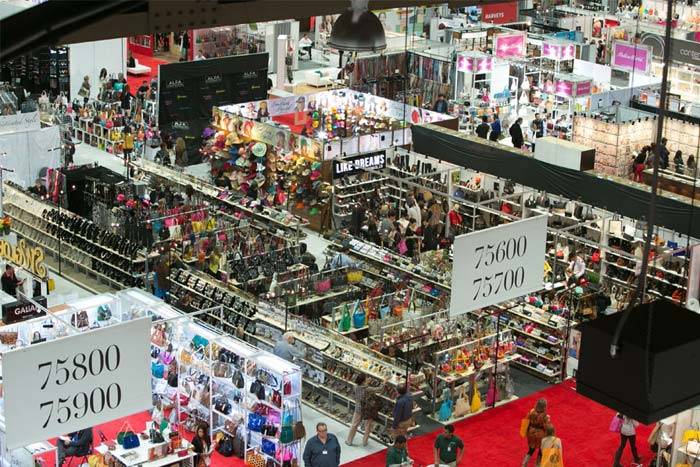 MAGIC is set to take over Las Vegas next week, unveiling the fashion trends of next fall at the Las Vegas Convention Center. MAGIC is set to present an eclectic gathering of fashion's elite in Las Vegas with a particular focus on going global this year. On Feb- 17-19, the industry powerhouse for driving commerce, creating connections and cultivating discovery, will showcase the latest in apparel, footwear and accessories from both established and emerging brands.
Here's a look at 10 of the most-anticipated events at MAGIC:
1. JOE ZEE at WWD SOCIAL HOUSE
Hang with fashion's hippest influencers at this home base. Sit in on show-floor conversations; including trend reports, tips on growing your brand with social media and more. Gain insight from some of fashion's hottest bloggers interviewing WWD editors. Pass time between sessions posting, tweeting or even snapping selfies with your favorite tastemaker.
Editor in Chief of Yahoo! Style, Joe Zee, will be on-site for:
WWD SOCIAL HOUSE — "He Said/He Said" — a conversation between Joe Zee, Editor in Chief, YAHOO! STYLE and Alex Badia, Fashion Editor, WWD/Fashion Director, M MAGAZINE on Thursday, Feb. 19, at noon in Central Hall, Concourse.
RTW Fashion Show — Check out Joe Zee's take on your favorite brands as Guest Fashion Director for the fashion show on Thursday, Feb. 19, at 2p.m. at the North Hall runway.
2. HOLLYWOOD'S HOTTEST COSTUME DESIGNERS
TV and film's hottest costume designers make characters come to life. Learn from some of the best in the business as they explain their design processes, as well as how costume design has influenced designer collections and consumer demand for fashion. Lyn Paolo (Scandal) and Mandi Line (Pretty Little Liars) will be on-site to chat all things fashion on Wednesday, Feb. 18, from 2 to 3 p.m. in the Sourcing Community Lounge.
3. DIY DESIGN STUDIO
Do you love accessories? Stop by the D.I.Y Design Studio daily at 10 a.m. and 3 p.m. to create custom hair ties  provided by WWDMAGIC Accessories exhibitor Jolie USA. Plus, check out how you can enter the accessories giveaway on Instagram for a chance to win a unique piece from an official WWDMAGIC exhibitor. Central Hall, Accessories area of the show floor, Booth 74131.
4. EMERGING DESIGNER SHOWCASE
See tomorrow's most talked-about apparel and accessories designers when WWDMAGIC along with Fashion Business Incorporated (FBI) and Global Purchasing Companies once again welcome the Emerging Designer Showcase to North Hall. Former Project Runway contender Sandhya Garg will showcase her latest collection.
5. FN PLATFORM GIVES BACK WITH SOULS4SOLES
FN PLATFORM  and Soles4Souls are partnering to provide Big Brothers Big Sisters of Southern Nevada with footwear, apparel and accessories for children from ages 6-18. More than 300 local children and teens will receive brand new necessities for school. FN PLATFORM coordinated with multiple vendors at MAGIC over the last few months to donate trendy shoes and clothing.
6. LAUNCH OF PLAYGROUND
This season, MAGIC will unveil its first-ever contemporary kids wear show. PLAYGROUND's aim is to target dual-gender brands, ranging from infants to tweens. Drawing inspiration from PROJECT's transformative contribution to the men's wear landscape, PLAYGROUND will speak to the modern side of the kids market, with a show curated by select children's industry heavyweights, brand owners and retailers. The juried selection of brands will live at MAGIC, sitting outside the Las Vegas Convention Center's Central Hall.
7. WORLD'S FIRST PLUS-SIZE SUPERMODEL EMME
While often ignored, the plus-size (14+) fashion market is a rapidly growing and lucrative market segment for retailers and brands. From teen to millennials and adults to Boomers, plus size fashion consumers have disposable income and are willing to spend it on brands that cater to their fashion needs. Plus-size supermodel Emme will share her story and discuss the opportunities and realities of this impressive women's apparel marketplace
8. MARIE CLAIRE SHOES FIRST
Attendees will have the chance to visit the Marie Claire booth and tell them why their store is the ultimate shoe shopping destination. Exhibitors will be entered to win an exclusive Marie Claire SHOES FIRST event at a location of their choice. Marie Claire editors will also be walking the floor and selecting footwear they are "loving" to be photographed and featured on the wall of their space, while blogging from the show.
9. CELEBRITY ATTENDANCE
Join FN PLATFROM for a great night with Taylor Dane. Join in the celebration of FN PLATFORM's five-year anniversary with a performance by American pop icon, best known for her No. 1 hit, "Tell It to My Heart."
Meet baseball legend Pete Rose at the Skechers booth. Tuesday, February 17th at 1:00PM-3:00PM in South Hall, Level 1, FN PLATFORM, Booth 81369.
10. DAILY EVENTS
Sit front row to see the top looks, trends, and must-haves in exciting daily runway shows every day at 2 p.m.
Give your feet a break with complimentary foot massages from Superfeet in FN PLATFORM, Booth #82356.
Get your zen on with free daily yoga in one of MAGIC's fastest growing areas on the show floor, The Yoga/Active Lounge! DJ Justin Date will be spinning live each day of the show. North Hall, Booth 61906.
Subscribe to discover the best kept secrets in your city