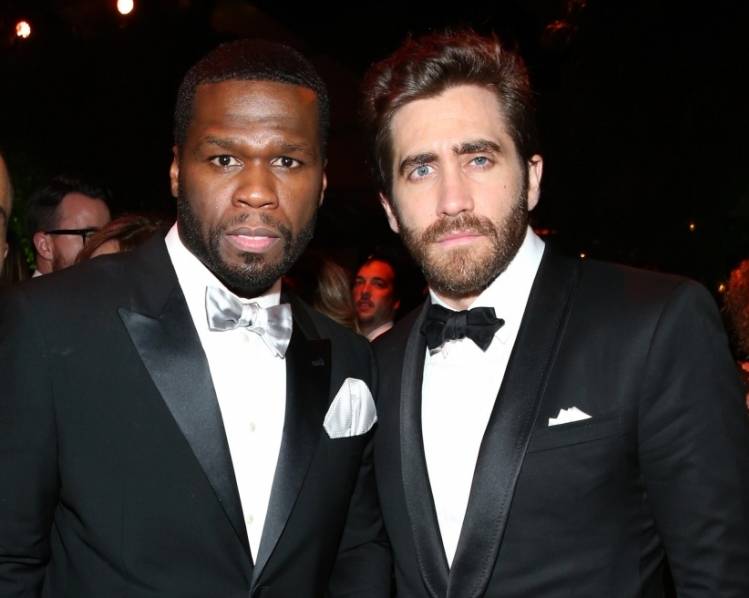 Photo Credit: Getty Images for FIJI Water
What did the stars get up to after the 2015 Golden Globes? They attended the two hottest post-Globes bashes, of course: HBO's annual fete and The Weinstein Company and Netflix's joint soiree, both held at The Beverly Hilton. Let Haute Living take you behind the velvet rope to catch all the VIP action inside the two biggest bashes of the Golden Globes.
HBO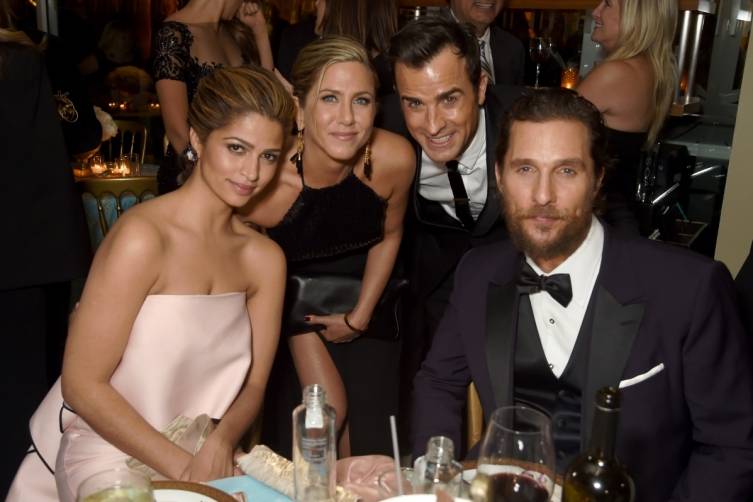 Photo Credit: Jeff Kravitz/FilmMagic
HBO's post-Golden Globes soiree was a modern-meets vintage affair, styled and inspired by Cedric Gibbons to channel an early 1930s movie set. Stars wandered into Circa 55 at The Beverly Hilton and gathered poolside to snap photos by a dramatic golden staircase, which descended from a 24′ high upholstered perimeter wall for that grand, old Hollywood-musical feel. Gardenias and cream garden roses cascaded from golden pedestal bowls, perfectly complementing the French blue and gold-hued decorations.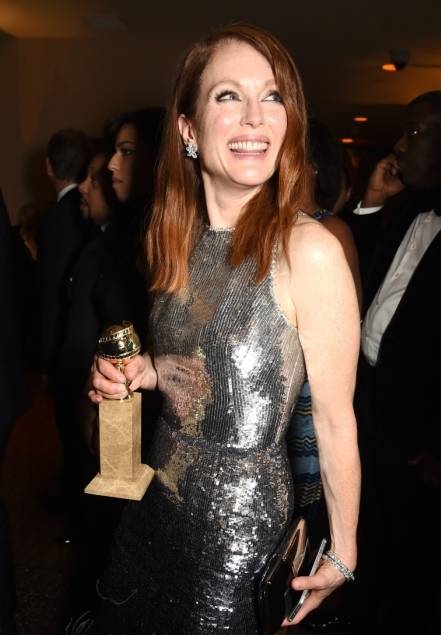 The 1,000+ guest list included some of the biggest stars in Hollywood, including Jennifer Aniston and fiance Justin Theroux, Matthew McConaughey and wife Camilla Alves, Alan Cumming, Allison Williams, Amanda Peet, Bill Murray, Carrie Preston, Clive Owen, Dakota Johnson, Debi Mazur, Frances McDormand, Jack Black, Jessica Lange, Julia Louis Dreyfus, Kathy Bates, Katie Holmes, Lupita Nyong'o, Lena Dunham, Mike Judge, Monica Lewinsky, Quvenzhane Wallis, Sarah Hyland, Sarah Paulson and Zosia Mamet.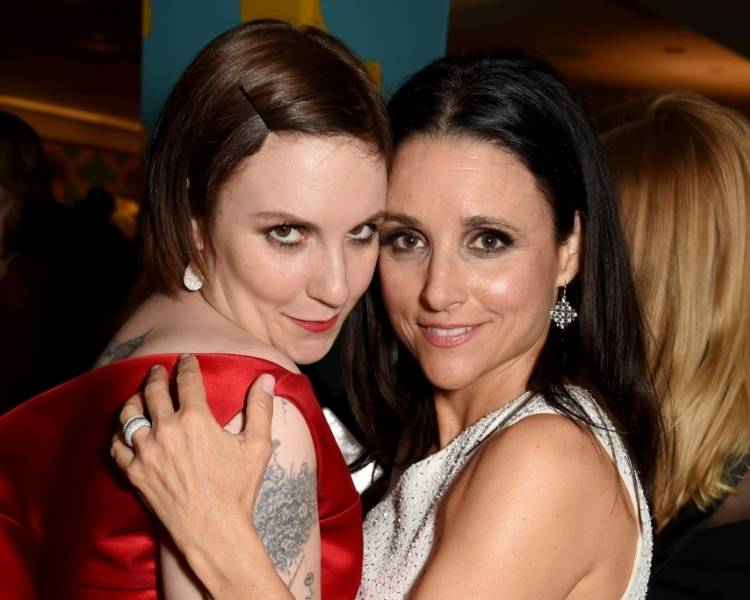 Photo Credit: Jeff Kravitz/FilmMagic
Winners Julianne Moore, Matt Bomer and Joanne Frogett were also in attendance, parading around the fete with smiles on their faces and Golden Globes in their hands.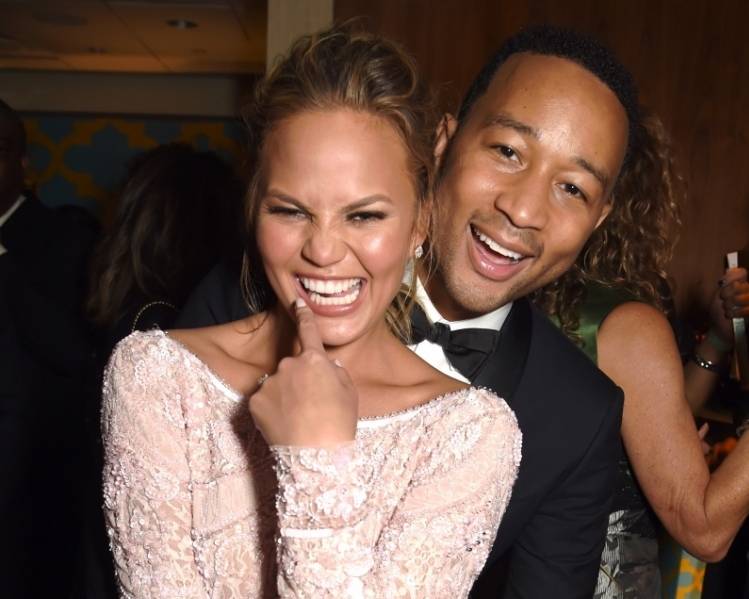 Photo Credit: Jeff Kravitz/FilmMagic
THE WEINSTEIN COMPANY + NETFLIX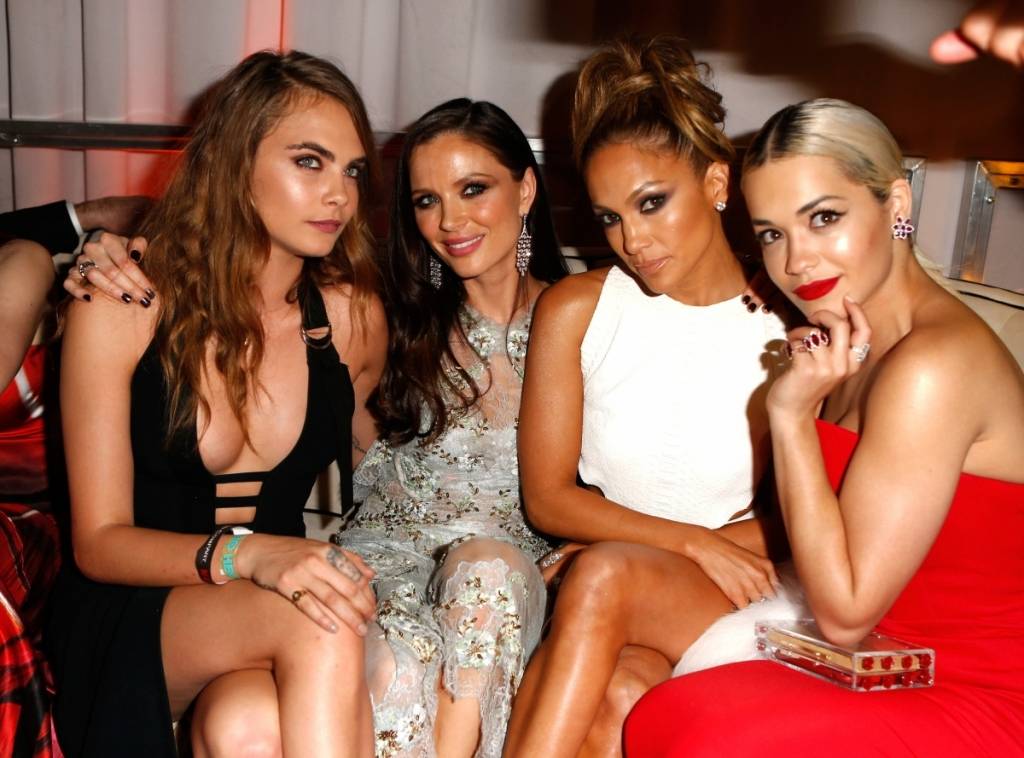 Photo Credit: Getty Images for FIJI Water
In typical fashion, The Weinstein Co. and Netflix's joint post-Globes 'do was a glamorous, elegant affair, held in a tent outisde The Beverly Hilton on Merv Griffin Way. Mood lighting set the tone for the Fiji water-sponsored bash, which was attended by some of the biggest stars in the orbit of Hollywood.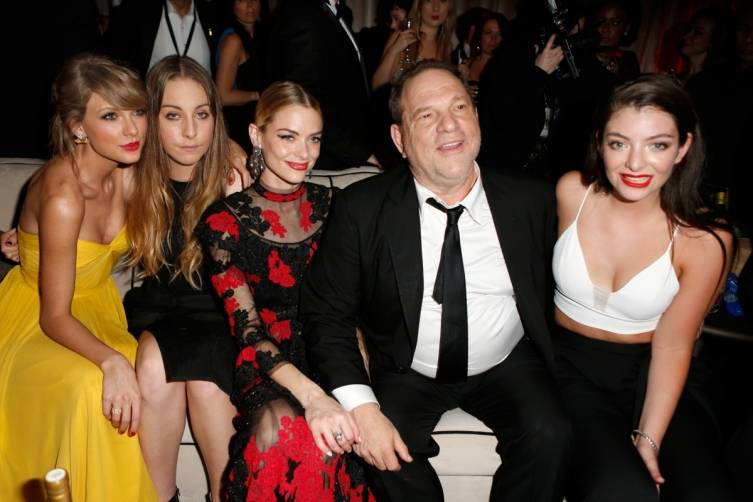 Photo Credit: Getty Images for FIJI Water
Jake Gyllenhaal palled around with 50 Cent, while Jennifer Lopez got in some girl time with Marchesa designer Georgina Chapman (who also happens to be Weinstein Co. honcho Harvey Weinstein's wife), model Cara Delevingne and Rita Ora. Musical gal pals Taylor Swift, Este Haim and Lorde also rarely left one another's sides.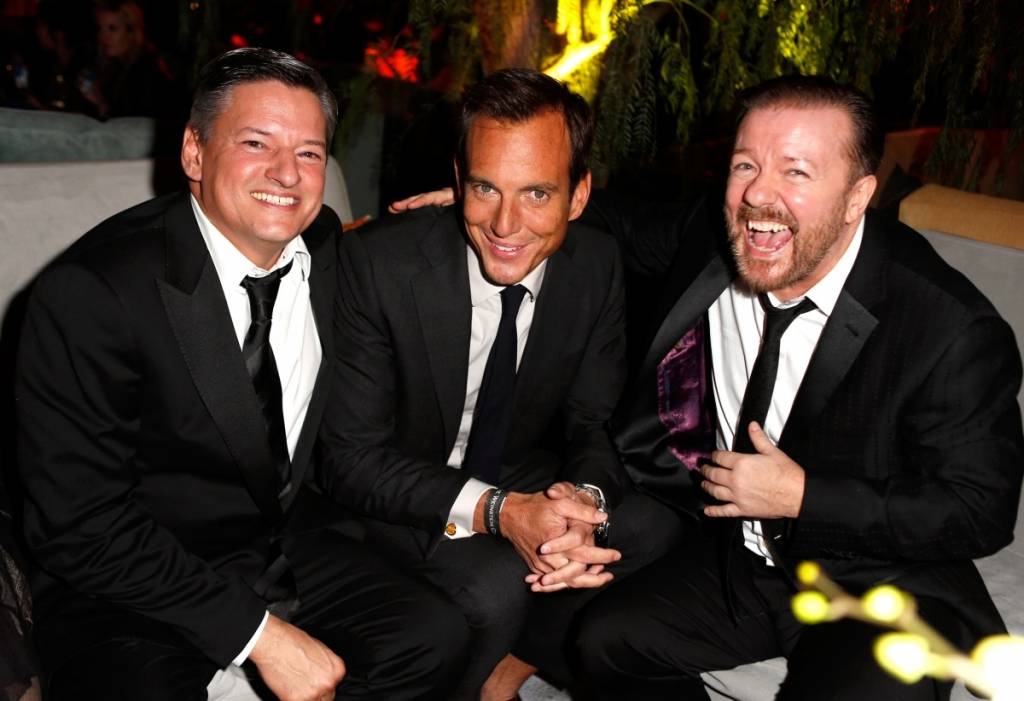 Photo Credit: Getty Images for FIJI Water
Additional attendees at the fete included winners Amy Adams, Maggie Gyllenhaal, Jeffrey Tambor and Billy Bob Thornton, as well as Uzo Aduba, Malin Akerman, Alessandra Ambrosio, Will Arnett, Kate Beckinsale, Adrien Brody, Naomi Campbell, Common, James Corden, Benedict Cumberbatch, Lana Del Rey, Jenna Dewan, Jamie Dornan, Hilary Duff, Mark Duplass, Scott Eastwood, Ricky Gervais, Adrian Grenier, Sally Hawkins, Salma Hayek, Katie Holmes, Derek Hough, Kate Hudson, Chanel Iman, Jeremy Irvine, Joshua Jackson, Dakota Johnson, Jeffrey Katzenberg, Gayle King, Jaime King, Keira Knightley, Diane Kruger, Helen Mirren, Rhona Mitra, , Bill Murray, Rosamund Pike, Laura Prepon, Bar Rafaeli, Emily Ratajkowski, Atticus Ross, Eli Roth, Kelly Rutherford, Ted Sarandos, Taylor Schilling, David Spade, Channing Tatum, Juno Temple, Christoph Waltz, Bob Weinstein and Harvey Weinstein, Dominic West, Ruth Wilson, Robin Wright and Jon Voight.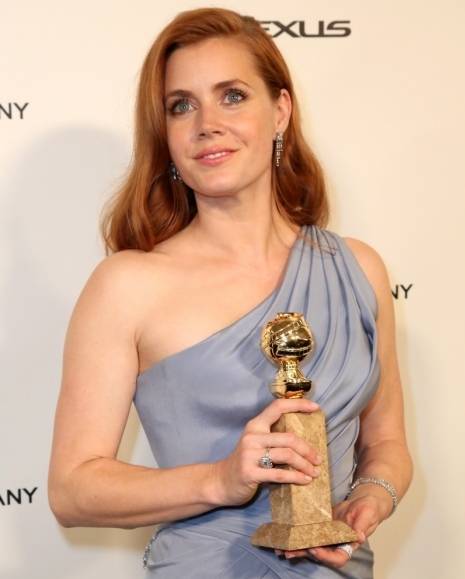 Photo Credit: Getty Images for FIJI Water
Cara Delevingne and RIta Ora at TWC/Netflix post-Golden Globes party
Photo Credit: Getty Images for FIJI Water
Dame Helen Mirren at TWC/Netflix post-Golden Globes party
Photo Credit: Getty Images for FIJI Water
Georgina Chapman and Naomi Campbell at TWC/Netflix post-Golden Globes party
Photo Credit: Getty Images for FIJI Water
Elon Musk at TWC/Netflix post-Golden Globes party
Photo Credit: Getty Images for FIJI Water
Rosamund Pike at TWC/Netflix post-Golden Globes party
Photo Credit: Getty Images for FIJI Water
Salma Hayek and Maggie Gyllenhaal at TWC/Netflix post-Golden Globes party
Photo Credit: Getty Images for FIJI Water
Will Arnett and Ricky Gervais at TWC/Netflix post-Golden Globes party
Photo Credit: Getty Images for FIJI Water
Billy Bob Thornton at TWC/Netflix post-Golden Globes party
Photo Credit: Getty Images for FIJI Water
Chanel Iman at TWC/Netflix post-Golden Globes party
Photo Credit: Getty Images for FIJI Water
Jeffrey Tambor at TWC/Netflix post-Golden Globes party
Photo Credit: Getty Images for FIJI Water
Jennifer Lopez at TWC/Netflix post-Golden Globes party
Photo Credit: Getty Images for FIJI Water
Jessica Roffey + Ryan Kavanaugh at TWC/Netflix post-Golden Globes party
Photo Credit: Getty Images for FIJI Water
Kate Beckinsale and Len Wiseman at TWC/Netflix post-Golden Globes party
Photo Credit: Getty Images for FIJI Water
Kate Hudson at TWC/Netflix post-Golden Globes party
Photo Credit: Getty Images for FIJI Water
Keira Knightley and James Righton at TWC/Netflix post-Golden Globes party
Photo Credit: Getty Images for FIJI Water
Sophie Hunter and Benedict Cumberbatch at TWC/Netflix post-Golden Globes party
Photo Credit: Getty Images for FIJI Water
Amanda Peet at HBO's post-Golden Globes party
Photo Credit: Jeff Kravitz/FilmMagic
Jeremy Renner and Gabrielle Union at HBO's post-Golden Globes party
Photo Credit: Jeff Kravitz/FilmMagic
Jessica Lange, Ryan Murphy and Sarah Paulson at HBO's post-Golden Globes party
Photo Credit: Jeff Kravitz/FilmMagic
Matt Bomer and Simon Halls at HBO's post-Golden Globes party
Photo Credit: Jeff Kravitz/FilmMagic
Taylor Swift, Lorde and Selena Gomez at HBO's post-Golden Globes party
Photo Credit: Jeff Kravitz/FilmMagic
Allison Williams and Andrew Rannells at HBO's post-Golden Globes party
Photo Credit: FilmMagic
Dakota Johnson at HBO's post-Golden Globes party
Photo Credit: FilmMagic
Hailee Steinfeld at HBO's post-Golden Globes party
Photo Credit: FilmMagic
Kathy Bates at HBO's post-Golden Globes party
Photo Credit: FilmMagic
Katie Holmes at HBO's post-Golden Globes party
Photo Credit: FilmMagic
Channing Tatum and Jenna Dewan
Channing Tatum and Jenna Dewan
Photo Credit: Getty Images for FIJI Water