There is no better place to pursue the fountain of youth (and the quest to be physically perfect) than in Los Angeles. New salons, treatments, and fads pop up regularly, but it's hard weeding through what works and what blatantly doesn't. Luckily, we've done the work for you. Here are five new beauty musts in the City of Angels.
1. THE NAIL SUITE ARRIVES AT THE FOUR SEASONS LOS ANGELES AT BEVERLY HILLS
The newly opened Nail Suite at the Four Seasons Hotel Los Angeles at Beverly Hills is a stunning place to receive your manis and pedis in style. Set on the spa floor of this haute hotel, the suite affords complete privacy (the door locks from behind so no one can wander in—perfect for celebrities and VIPs) in a gorgeous setting—French doors with an epic view of Beverly Hills and beyond allow a light breeze to waft in during your treatment. The Nail Suite features two manicure stations, and four pedicure stations, where guests will receive their preferred hand and foot treatments. The salon, which opened just in time for the crunch of awards season, playfully offers red carpet colors from SpaRitual's Awards Season Collection—created exclusively for Four Seasons Hotel Los Angeles—and includes a range of shades such as Star Quality, After Party, The Red Carpet and The Polish Goes To. Gels and children's mani/pedis are offered here as well.
The Four Seasons Los Angeles at Beverly Hills, 300 South Doheny Drive, Los Angeles, (310) 273-2222
2. NINE ZERO ONE REOPENS ON MELROSE PLACE
Starlet staple Nine Zero One has moved to a new 2,600 foot location on Melrose Place salon. The salon, beloved by the likes of Nina Dobrev, Emma Roberts and Julianne Hough, offers everything from Great Lengths extensions to a braid bar to eyelash extensions as well as 1,000 square-foot education academy on its first floor, where stylists will teach group and one-on-one classes. Riawna Capri and Nikki Lee's former digs on Westbourne Drive is still in existence, only now it's a one-stop beauty bars offering makeup applications, blowouts and braids.
Nine Zero One, 8467 Melrose Place, Los Angeles
3. LANCER DERMATOLOGY OBTAINS INNOVATIVE VENUS LEGACY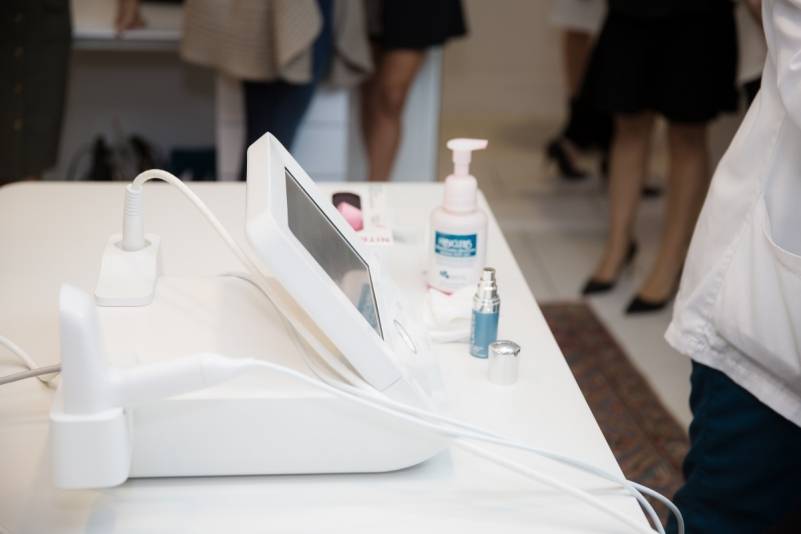 Dermatologist to the stars Dr. Harold Lancer is the proud owner of two innovative new machines designed to promote youth and weight loss. His Venus Legacy machine is a non-invasive, pain-free treatment that combines radio frequency heating and magnetic pulses to achieve circumference reduction, skin tightening, wrinkle reduction, and cellulite improvement. Don't believe it works? Just ask celebrity fan Sofia Vergara, who has publicly touted its greatness. The second of Lancer Dermatology's dream machines is the Venus Viva machine, which offers an alternative to injectables or invasive procedures. The machine diminishes deep wrinkles, acne scars, large pores, uneven texture, pigmentation irregularities and stretch marks; you'll have more youthful skin in just three to four treatments.
Lancer Dermatology, 440 North Rodeo Drive, Beverly Hills,  (310) 278-8444
4. CHRIS MCMILLAN & TRACEY CUNNINGHAM DREAM TEAM OPENS CIE SPARKS IN MALIBU
There's a new beauty den in the 'Bu, and it comes courtesy of a team with real styling chops (pardon our pun). Nestled amid the designer shops of The Malibu Country Mart is Cie Sparks, a hair salon from former Chris McMillan and Tracey Cunningham protégés Heather Cie and Michael Sparks. He has worked on everyone from Courteney Cox to Lena Dunham, she on the likes of Kate Beckinsale. In addition to color by Cie and cuts by Sparks, the salon includes a team of seasoned stylists who will be offering services including extensions, blow-outs, braids and unique Japanese one-of-a-kind nail art manicures by Maya, the nail artist for celebs Katy Perry, Miley Cyrus, Kelly Osbourne and Jessica Simpson.
Cie Sparks, Malibu Country Mart, 3835 Cross Creek Road #22, Malibu,  (310) 456-2300
5. THE KO'AN CENTER TEST-DRIVES THE I-LIPO
Los Angeles is famous for lunchtime lipo (a.k.a. non-invasive quickie procedures that you can literally do on your lunchbreak) and i-lipo is the latest and greatest. The machine, i-LipoXcell, which was recently featured on The Doctors, is a new FDA-approved treatment. The technology was developed to get rid of "stubborn areas" of fat, and it does—though note you will need between 6-10 treatments to see results. So how does it work? The machine incorporates low level laser technology (LLLT) to deliver targeted fat reduction and body shaping results in as little as 20 minutes, without pain and without dieting. It then stimulates fat cells to naturally break down their stored triglycerides, shrinking the fat cells to deliver immediate body contouring results. For those who want to try out the machine instead of lunching, it's available at the Ko'an Center in Santa Monica.
Ko'an Center, 1301 20th Street #150a, Santa Monica, (310) 315-3022 
Subscribe to discover the best kept secrets in your city