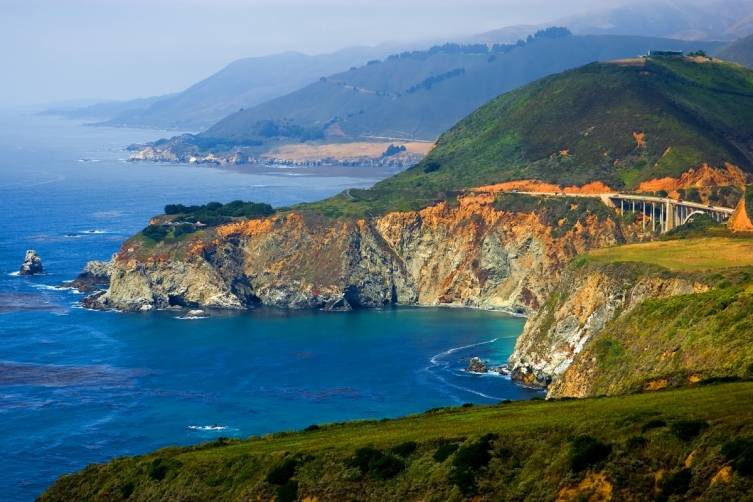 Photo Credit: Michael Troutman
A trip up the northern California coast is the ultimate must if you're seeking a relaxed and serene vacation. Here are the stops you must make from Monterey to Half Moon Bay for a weekend getaway in northern California in order to have the hautest of holidays.
CARMEL-BY-THE-SEA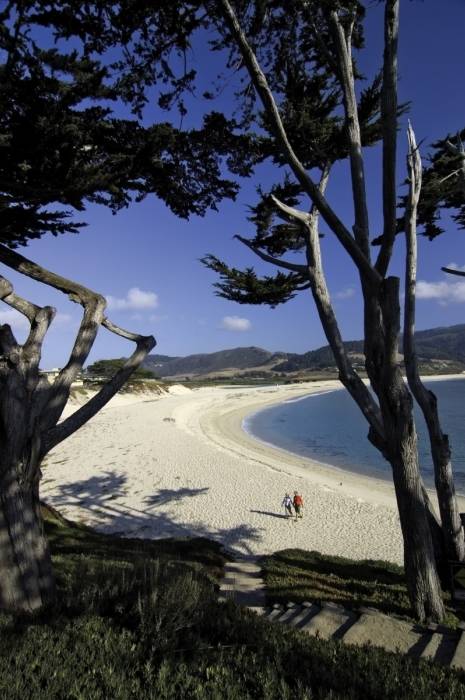 Photo Credit: Kerrick James
There are few places in America more picture-perfect than Carmel-by-the-Sea. This quaint (yet incredibly affluent) town in Monterey County is an area that commits itself to the arts—and it shows in its beauty, grace and general "Sleeping Beauty" vibe. Carmel-by-the-Sea is not a place to do, but simply to be. Enjoy some high-end shopping, afternoon tea or one of the many darling restaurants you'll find around this walkable town, which used to call director Clint Eastwood its former mayor.
STAY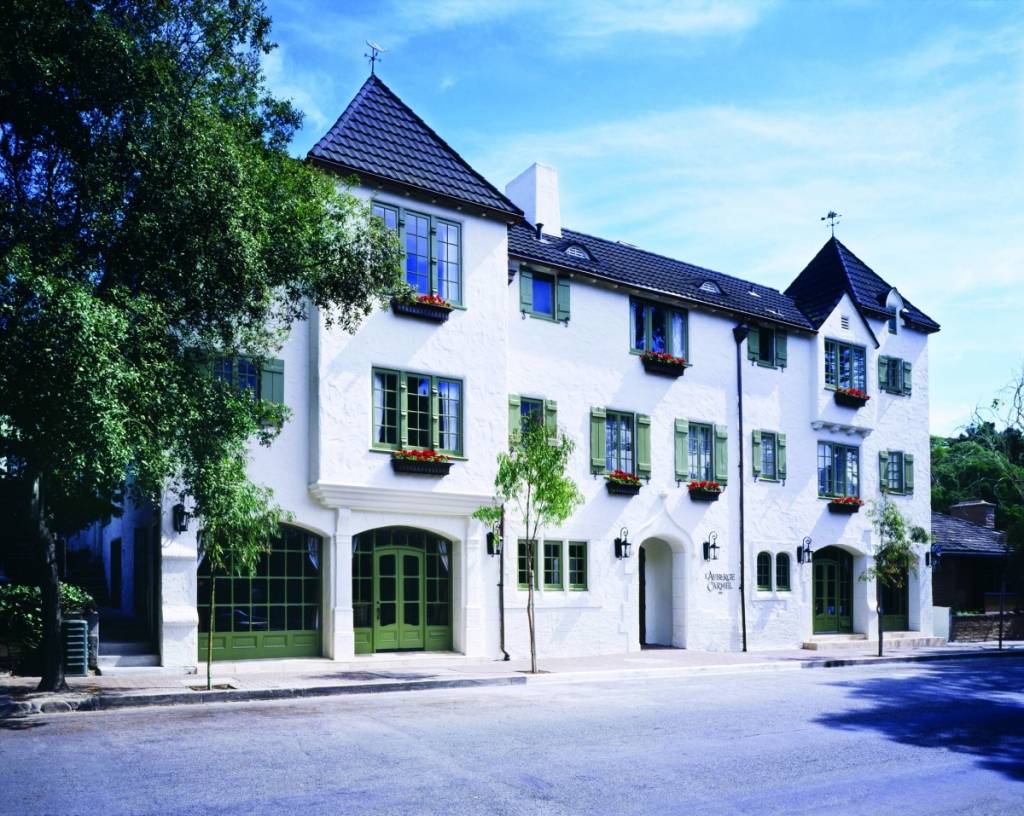 You're not going to find the atypical "resort" in Carmel—it would mess with the town's quaint vibe. Instead, you'll find "auberges"—the French version of an inn. The most luxe example in town is the stunning L'Auberge Carmel, a Relais & Châteaux property that looks like a building you might find in Provence. There are only 20 rooms here, and they're pretty much always booked, so if you want a reservation, you best act fast! There is VIP service here in spades, from the doorman that is watching carefully for your arrival, to a welcome drink, to the fact that the complimentary breakfast happens to come courtesy of its five-star restaurant, Aubergine. There are no plastic room keys here: you'll receive a heavy, old-fashioned affair that leads you to your room, located in the midst of a stunning "Secret Garden"-esque back patio. Luxuriate in this quaint, yet opulent retreat, which is best utilized as a romantic getaway: you'll love the attentive staff, the heated bathroom floors, and the sensation that you've truly managed to get away from it all.
L'Auberge Carmel, Monte Verde St & 7th, Carmel, 831-624-8578
DINE
Casanova
In keeping with Carmel's romantic vibe, we'd highly suggest dining at Casanova, an Italian eatery with an awe-inspiring wine cellar that looks like something out of The Shire. You definitely want to sneak down to view the impressively arranged cave, which was hand dug 14 feet under the restaurant and which was developed oh-so-carefully by co-owner Walter Georis, to carry an array of international and local wines topping out 30,000 bottles. For a special occasion (and we mean really special) order up a bottle of 2007 Domaine de la Romanée-Conti at the price tag of $16,000 as you dine on delicious Mediterranean fare such as pappardelle with crab, zucchini, spicy salsa roja verde summer truffles, mushrooms and pecorino romano and lamb loin with fava, yogurt and onion.
Casanova, 5th Avenue between Mission and San Carlos, Carmel, 831-625-0501
PEBBLE BEACH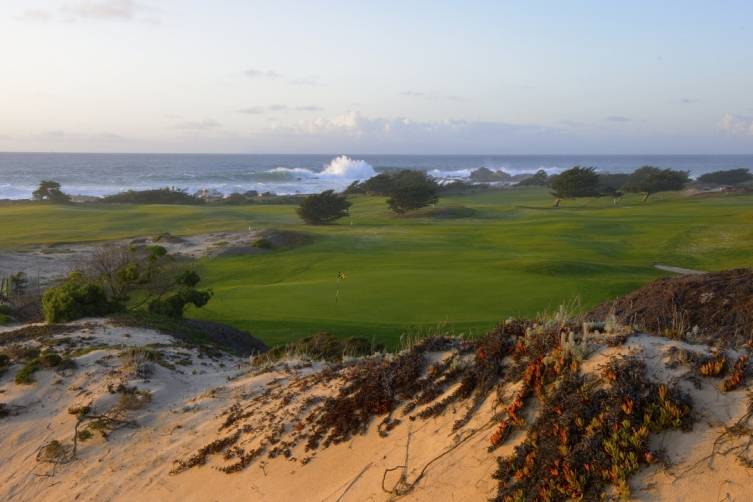 Who doesn't know Pebble Beach? It's one of the best places to golf in America, after all. This coastal community is adjacent to Carmel-by-the-Sea and Monterey, so you need only hop in your car (a Bentley GT V8 S Convertible in our case) and take a 15-minute drive to the ultimate golfing destination.
DINE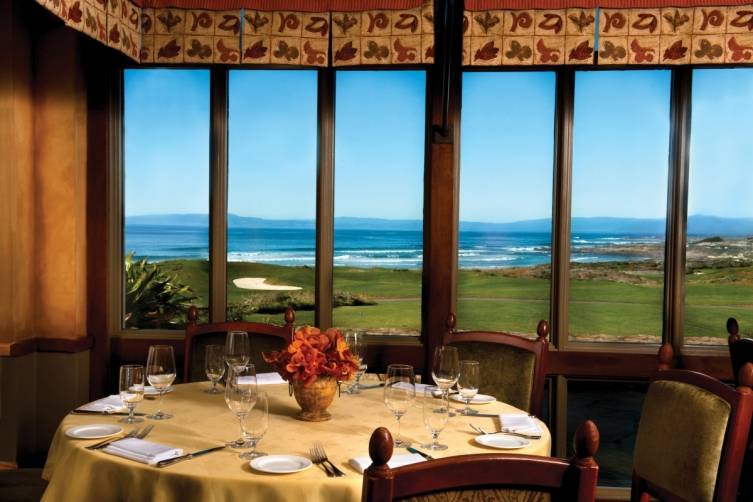 Photo Credit: Scott Campbell
After listening to a bagpiper play at Pebble Beach, head to the luxe Italian eatery Pèppoli at Pebble Beach. Authentic Tuscan-style dishes are paired with the widest selection of Antinori wines outside of Tuscany here in a truly magical setting: if you arrive in time for sunset, you'll see a stunning view of the pink and purple sky over the Pacific. If you arrive by dark (which, let's face it, will happen in the winter) you'll still enjoy the elegant, airy dining room and menu of traditional Italian cuisine with a modern bent. Chef Angela Tamura prepares a feast for the senses, with delicious dishes such as gnocchi di tartufo—potato dumplings with black truffle cream sauce, garlic, shallot, baby spinach—and filetto di Manzo—grilled filet mignon, roasted cannellini beans, house bacon and Mariquita Farm greens.There is also a special menu—inspired by Tamura's travels—called "Under the Tuscan Moon"—which you would be remiss to miss.
Pèppoli, 2700 17 Mile Drive, Pebble Beach, 866-584-1526
PLAY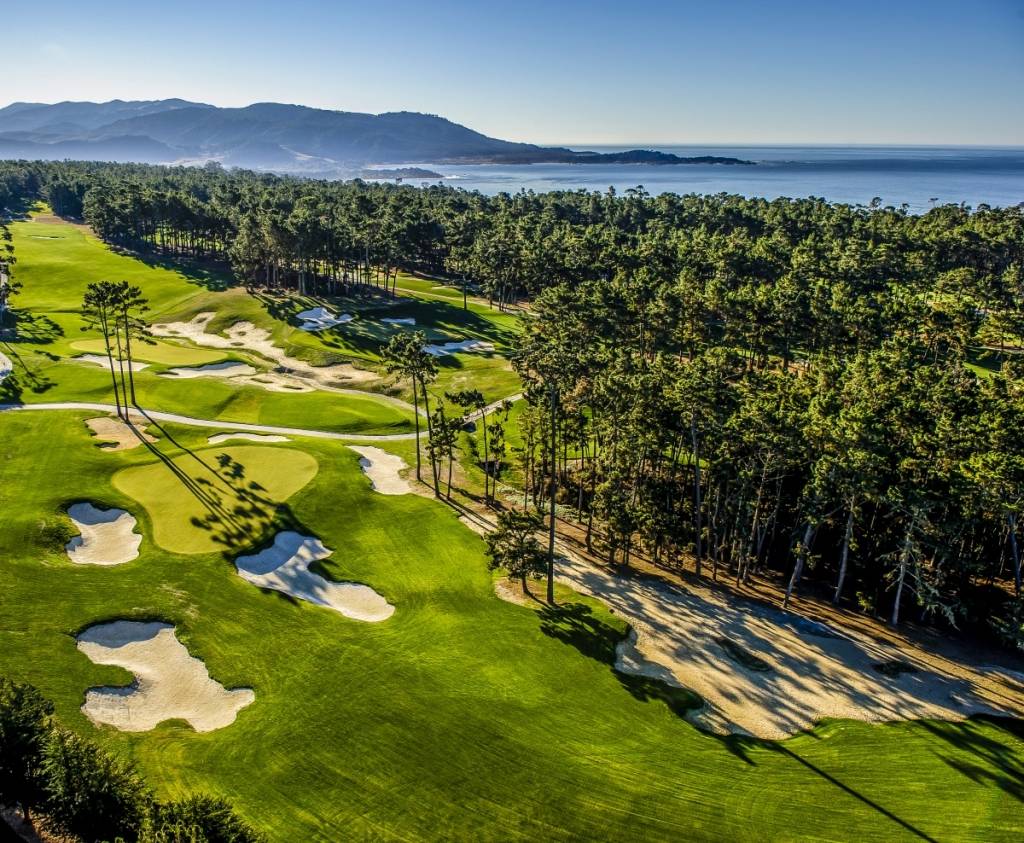 Everyone who has the moolah to do so wants to play Pebble Beach, but there are a few other courses in the Pebble Beach area worth mentioning as well. You'll definitely want to play Poppy Hills, which became the first course to be owned and operated by a golf association in the United States when it opened June 1, 1986. The Robert Trent Jones Jr. design has since co-hosted  the PGA Tour's AT&T Pebble Beach National Pro-Am from 1991 through 2009, as well as the Spalding Pebble Beach Invitational (1989, 1990, 1992, 1993) and 1991 NCAA Men's Championships. Matt Gogel set the old Poppy Hills course record with a 62 during the second round of the 2001 AT&T. Poppy Hills underwent an extensive renovation beginning in March of 2013 centered around water conservation, primarily by improving irrigation and drainage. Jones returned to Poppy Hills with his Robert Trent Jones II design firm, this time creating a firm, fast and fun course that unfolds seamlessly through the stunning Del Monte Forest. It's a gorgeous place to play. You'll also want to check out the magnificent ocean views of Pacific Grove. The 18-hole layout has a front nine that offers glimpses of Monterey Bay on fairways framed by Cypress trees, and an ocean-side back nine cut through windswept dunes reminiscent of a traditional Scottish links and is a simply beautiful place to play. 

Poppy Hills, 3200 Lopez Rd, Pebble Beach, 831-625-2034
Pacific Grove Golf Links, 77 Asilomar Blvd, Pacific Grove, 831- 648-5775
BIG SUR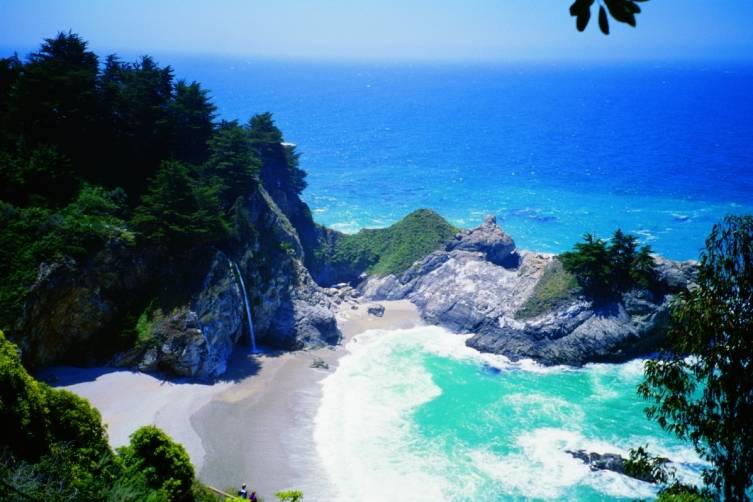 It would be a mistake not to mention a trip up the coast without taking a detour to experience the beauty of Big Sur. Check out the epic views of the McWay Waterfall Trail at Pfeiffer State Park before heading to shop, sip mulled wine and revel in the beauty of the area at Nepenthe. 
 HALF MOON BAY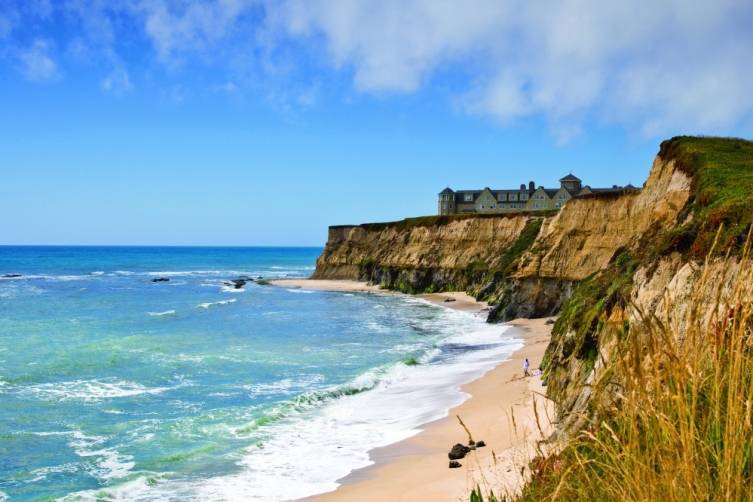 Half Moon Bay is just 28 miles south of San Francisco, which makes this an easy jaunt from Los Angeles if you choose to fly into SFO. Located between forested hills and some of the most beautiful coastlines that California has to offer, Half Moon Bay is a charming, beautiful area that has one of the best local attractions we've seen to date: the Ritz-Carlton Half Moon Bay.
STAY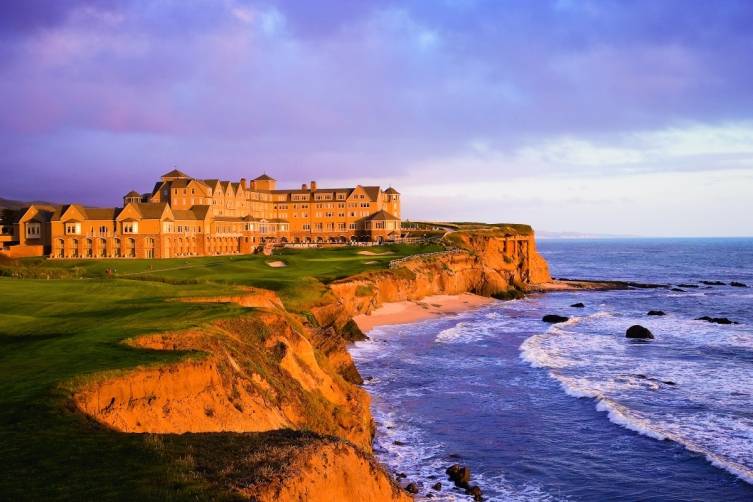 Your first glimpse of the Ritz-Carlton Half Moon Bay will be epic, especially on a misty day. This stunning property resembles, through fog, the Scottish moors. However, you won't find anything remotely old-fashioned about this gorgeous, modern property: you'll find every amenity available at your disposal. In your suite (beg for an ocean-view room, where you'll be able to see action at the 18th hole as well as the awe-inspiring sunsets), you'll find sumptuous feather beds with 300-thread count Egyptian cotton sheets, 100% goose-down and non-allergenic foam pillows and marble bathrooms. VIP guests (those who pay, that is) will have access to the Ritz-Carlton Club, which offers private lounge access with a personal concierge staff and complimentary culinary presentations throughout the day, a technology butler, a fitness center with Cybex gym, three gas firepits overlooking the Pacific Ocean, an indoor heated swimming pool, a coastside jogging and biking path and six lighted tennis courts. Wow.
The Ritz-Carlton Half Moon Bay, 1 Miramontes Point Rd, Half Moon Bay, 650-712-7000
PLAY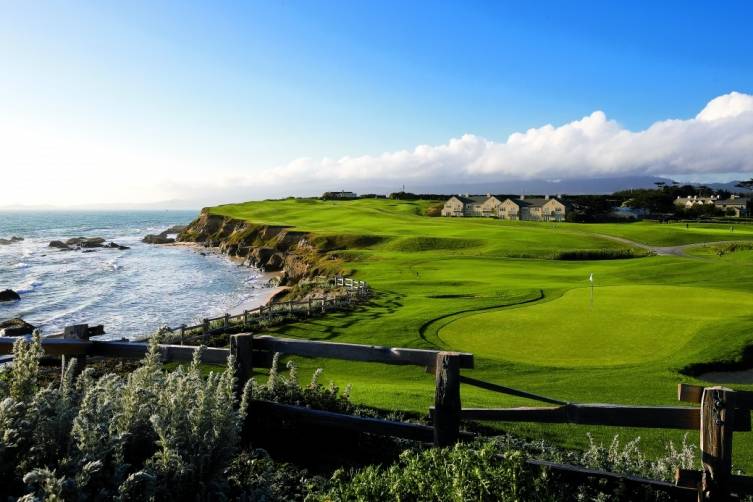 There are two championship level courses available at the Ritz-Carlton Half Moon Bay: the Ocean Course and the Old Course. Though both are beautiful, we slightly prefer the blue views available from every hole on the Ocean Course, a par 72 creation by golf architect Arthur Hills designed in the traditional Scottish style complemented by the natural terrain of the rugged Northern California coast. With prevailing ocean winds, tight fairways and knolls, the course offers a challenging and enjoyable test for golfers.
DINE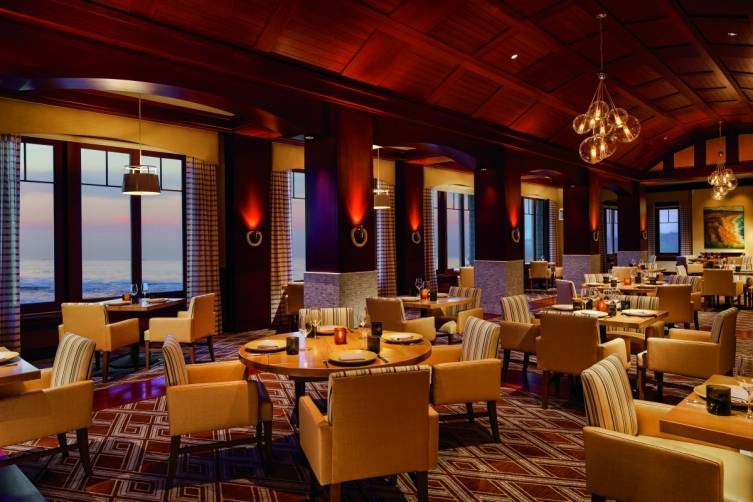 Like everything at the resort, the views from Navio are magnificent—and that goes double for its fare. The menu is seasonal, as fresh as can be, and seafood inspired—appropriate, given its location. You'll find Dungeness crab from San Francisco, house made with pumpkin ravioli, squid ink pasta, rainbow swiss chard, crab cream sauce and sage foam—broiled black cod from Half Moon Bay with kabocha squash, braised daikon, baby carrots, ginger soy fish broth and a smoked miso aioli, and wild king salmon from Pt. Arena with sides of quinoa, red kuri pumpkin, cashew crumble, medjool date puree and tandoori spiced yogurt sauce. Make sure to check out the eatery for its amazing Sunday brunch as well: you won't want to miss it.
RELAX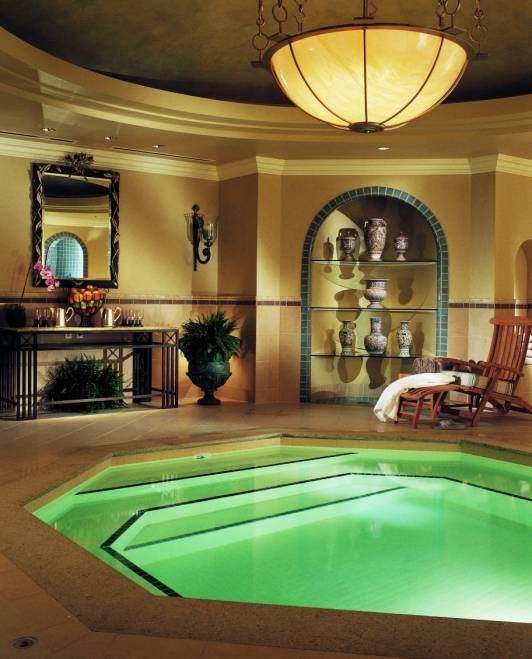 Relaxation is truly the name of the game at the Ritz-Carlton's tony, 16,000-square-foot spa. We love the extensive menu, which features an array of new crushed pearl products as well as facial, body and massage therapies, including signature treatments such as the Pumpkin Facial, Ocean Mist Stone Ritual and Matanzas Creek Luxurious Lavender Body Massage. Go for local treatments like the Half Moon Bay Pumpkin Facial—a signature treatment that utilizes a nourishing pumpkin enzyme masque from a 100% natural plant-based line high in beta carotene and vitamins A and C. Enjoy the ultimate skin care experience that leaves skin smooth, plump and hydrated—or the fab Renew Body Ritual, which envelops you in mud and is followed by a soothing scalp massage. Afterwards, relax in the co-ed Roman mineral bath, sip tea and read magazines by the fireplace, or enjoy use of the sauna and steam room.
TRAVEL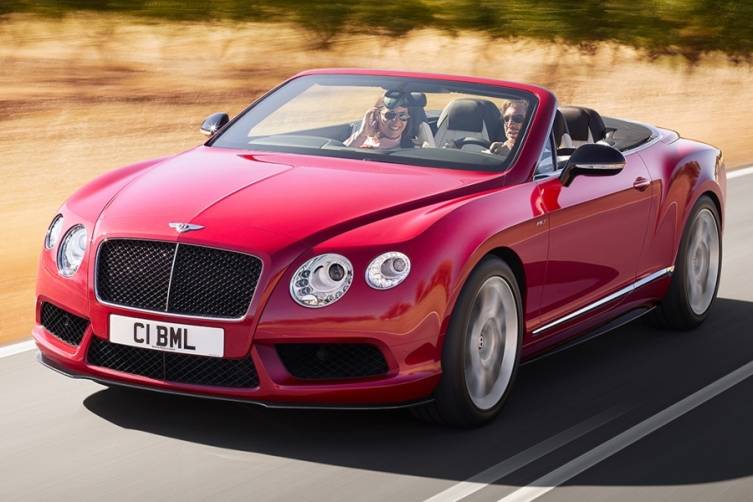 Trust us, there is no better way to take a trip up the northern California coast than by Bentley convertible: specifically, the GT V8 S Convertible. In this sleek machine, you can feel the ocean breeze in your hair and the sun on your face even in cooler temperatures, as there are not only heated seats, but a heated headrest vent that blows hot air on your neck as well for optimal warmth. This is a visually stunning vehicle: its look is complemented by newly designed 20" open-spoke wheels and red painted brake callipers. Beluga gloss door mirrors to match the lower body details and dark tint lamps to the front and rear are new options on the GT V8 S Convertible that add additional edge to the exterior aesthetic. Eco-conscious Californians will be pleased to know that despite its speed—beneath the bonnet of the Continental GT V8 S Convertible beats a monstrous heart: a 4.0 litre, twin-turbocharged V8 engine generating 680 Newton metres (502 lb.ft) of torque—it is remarkably efficient with CO2 emissions at a mere 258 g/km. Those who delight in more the how a car handles or looks, but revel in its functions, will also be pleased: there is an 8" touch screen in the centre console that controls an integrated information and entertainment system. A 30 GB hard drive provides quick access to mapping data and the option of landscape imagery*, alongside live traffic data and online access for point-of-interest searches. The Continental GT V8 S Convertible can pair with almost any Bluetooth® smartphone, tablet or media player, playing music through the in-car audio system and accessing the contact database in a smartphone. The car also uses the Naim™ for Bentley Premium Audio System, which was designed with the aim of delivering the best in-car audio in the world. Each of the 11 Balanced Mode Radiator (BMR) speakers combine the functions of a separate tweeter and mid-range speaker in one unit. Sited all around the cabin, they make it possible to direct the sound with great accuracy, while providing greater clarity across the whole audible spectrum. The result is incredible sound, anywhere in the car.
Subscribe to discover the best kept secrets in your city