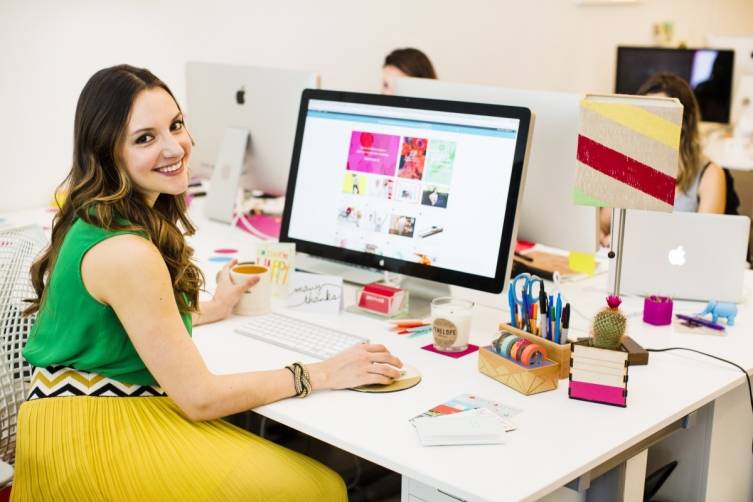 Ever wonder what the most powerful leaders, business execs and celebrities keep on their desks? Well, we're about to tell you. Our "What's on My Desk" feature will take a look inside the offices and at the desks of the world's most influential power players.
This week we've featured the desk of Brit Morin, a woman who is often described as the "Martha Stewart of Silicon Valley." Her company, Brit + Co is an online media and e-commerce platform that provides tools to teach, inspire, and enable creativity among women and girls. As such, Brit's desk is usually home to the latest project—from prototypes of the custom laser-cut holiday decor line to the manuscript of her first book: there's always something creative going on! The Brit + Co offices, located near Union Square in San Francisco, embody the spirit of Brit + Co: fresh, fun and creative, and infused with tech elements. When she's not at her desk coming up with creative ideas to share with her fellow makers, Brit can be seen on the TODAY Show as a regular DIY and lifestyle contributor. She just wrapped the company's second annual Re:Make conference in September, where she announced her upcoming book, Homemakers. Here is a peek at the lifestyle guru's desk.
The first thing you might notice about my desk is that it's surrounded by other desks! My desk is smack 

dab in the middle of our office. Our team thrives on collaboration and it's awesome to be in the thick of the 

action.

All of our desks are largely dominated by our iMacs you see here (in addition to a MacBook Air that comes 

with me to meetings). The Brit + Co office is driven by design and aesthetics, but also by tech. Not just at

our desks, but also in places like our test kitchen, filled with connected kitchen devices, and the Brit + Co 

MakeShop, which is equipped with awesome tech tools like 3D printers and a laser cutter. 

Brit + Co's online shop is home to amazing products from makers around the world (with an emphasis on 

local, SF-based artisans). Products like the "I Love You California" mug (always filled with coffee, my 

weakness), the Penelope candle and the notebooks you see here are just a handful of the amazing finds 

we feature. You'll notice my space is kept pretty minimal, but it's impossible to resist surrounding myself 

with the cool stuff made by those in the maker community. Thankfully our brick and mortar shop is just 

next door, about 10 steps from my desk – where we also host workshops, classes and events – so it's 

easy to pop over to shop for new favorites. 

You'll notice a proof of cover for my book, Homemakers, peeking out from under the notebooks. We're 

currently in the process of finalizing the manuscript and preparing for the book's March release, so it's 

demanding a lot of my attention these days – my desk is often home to stray pages or proofs to be redpenned.

Unconventional office supplies and DIY decor may not be staples for every CEO's desk, but they're always a part of my work space. The office is a testing ground for all types of decor ideas readers can find on the site, like creative storage solutions and design-friendly elements you'll find throughout our office. Much of the decor in the office is a product of previous DIY projects we've featured on the site – like the lamp you see here.
This Washi tape holder and the quirky pen container behind it help make sure the tools I need are always at hand – staying creative throughout the course of the work day is easier when your favorite materials are right at your fingertips!
On the other side of my computer are notes from readers. The "Co" in Brit + Co stands for community—our community, and the maker community at large, is so supportive and engaged. Part of our vision for the company is to support peoples' creative side, who maybe have lost touch with those roots, and I feel very inspired to be play a part in the bigger movement that's helping so many feel more creatively fulfilled. We just celebrated our third year as a company in November, and in those three years I've learned so much from our readers – it's touching whenever one of them takes the time to send a note. I like to hold on to those.
Subscribe to discover the best kept secrets in your city