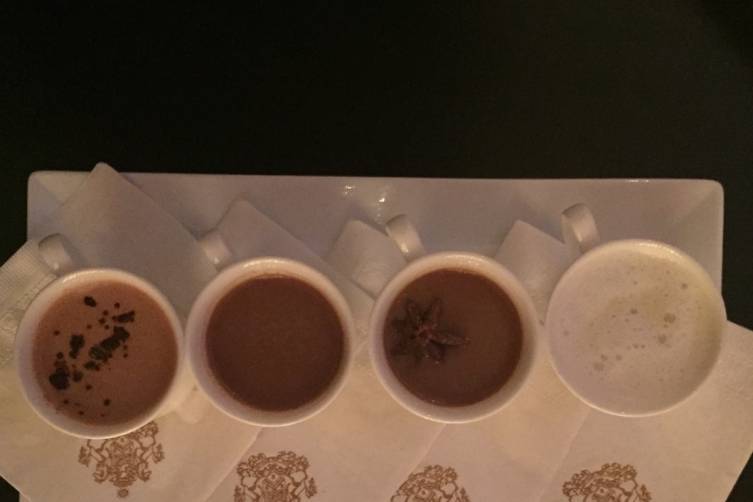 We already told you where to get some of the most indulgent hot cocoa in NYC, but there's a whole other realm of warm chocolate beverages in this city: spiked.
Two E at The Pierre has a pop-up Haute Chocolate menu through January 1st, which offers four mini mugs of their unique flavors– The Mayan, Stolen Moment, Mocha High Dive, A Minty Affair– for $18 or a single mug for $16.
And while the sweet spiked drinks are good, the true allure to this seasonal experience is the holiday ambiance at The Pierre. Request the table in the center of the room, which offers the best views of the festive Christmas tree as well as pastry chef Mike Mignano's extravagant gingerbread house. Harry Connick Jr. and Bing Crosby tracks will whisk you away into a magical holiday land while you sip your warm drinks.
If trekking out into the cold seems a little daunting, Two E has shared their hot chocolate recipes to help you recreate the spiked hot chocolate magic at home!
A MINTY AFFAIR
Ingredients:
1/2 oz Baileys
1 oz Peppermint Schnapps
White Hot Chocolate
Whipped Cream
Build drink in mug. Top with whipped cream and garnish with candy cane.
THE MAYAN
Ingredients:
1 oz Habanero infused Mezcal
1/2 oz Grand Marnier
2 tsp Cinnamon syrup
Hot chocolate
Mix the first three ingredients in mug and top off with hot chocolate. Garnish with cocoa dust.
STOLEN MOMENT
Ingredients:
1 oz Blackbush whiskey
3/4 oz Averna
1 oz Guiness cordial(homemade)
2 oz Cold Chocolate
Shake with ice and serve with a chocolate stick
MOCHA HIGH DIVE
Ingredients:
1-1/2 oz Xante
1/2 oz Espresso
2 oz Cold Chocolate
1/4 oz Crème de Cacao
3 tsp Allspice berries(homemade)
Shake and serve on the rocks. Garnish with star anise.