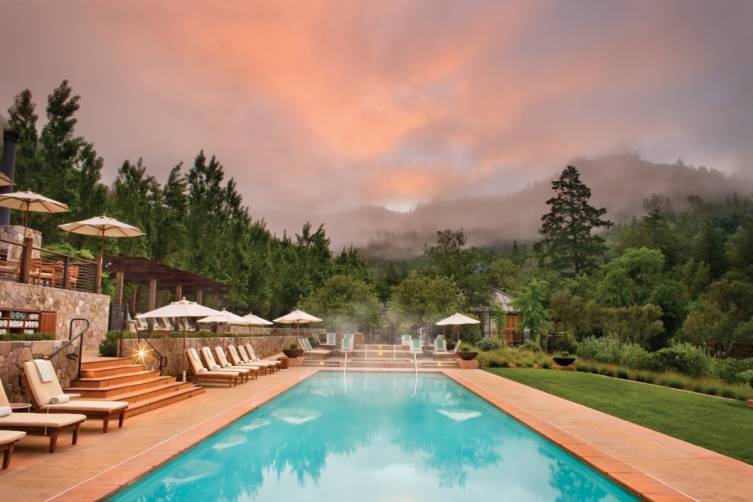 Between chic events like the Napa Film Festival and Flavor! Napa, it's clear that Napa Valley has become a cultural destination that celebrates the best in food, wine, and film. While those affairs are phenomenal in their own rights, we couldn't help but want to get back to the basics, and enjoy Napa for what it's most famous for: wine, of course. So gather a small group of girlfriends like Drew Barrymore, Reese Witherspoon and Cameron Diaz did this spring and enjoy the ultimate girls weekend getaway in wine country.
STAY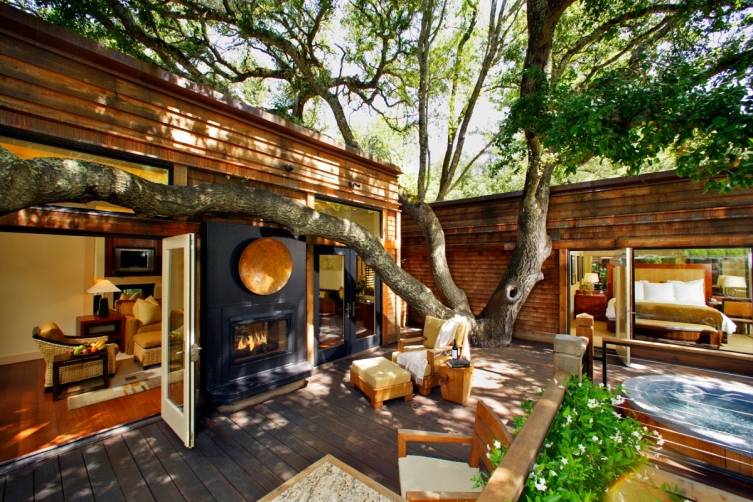 Angelenos will forget all about the Hollywood scene when they arrive at the majestic, Instagram-photo worthy Calistoga Ranch. The Auberge Resorts property is tucked into a private canyon on a 157-acre estate in the woods. From ancient oaks to a misty lake to a rock-hewn stream, you are literally surrounded by nature. Though you'll be with your gal pals, privacy and luxury loving folk with love that there are only 50 suites on premises, and everything is so spaced out that you'll have to try really hard to run into strangers (or head to public places like the gym, spa or restaurant, of course).
Each lodge is awesome. Enjoy Calistoga's own wine (the chardonnay is fantastic) while reclining in your very own outdoor jacuzzi, or sit by the indoor fireplace indulging in cheese, chocolate and cabernet sauvignon as you take in the cozy furnishings, natural textiles, and original artwork.
There are four types of lodges here: deluxe, one-bedrooms, two-bedrooms and the one and only Estate lodge. VIPs, this is your pick. The 2,400 square foot Estate—Calistoga's piece de resistance—features two bedrooms, each with its own private bathroom, indoor and outdoor living spaces, fireplaces, a fully equipped gourmet kitchen, a hot tub, state-of-the-art entertainment system, a private driveway, special nightly amenities, and exclusive use of a Mercedes-Benz throughout your stay.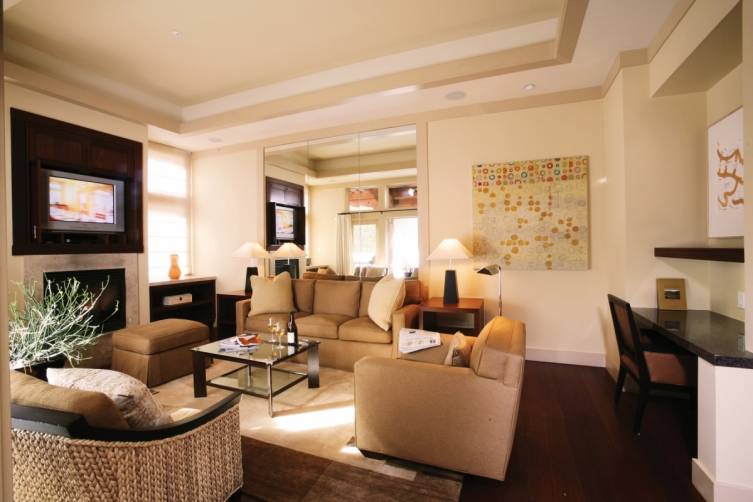 PLAY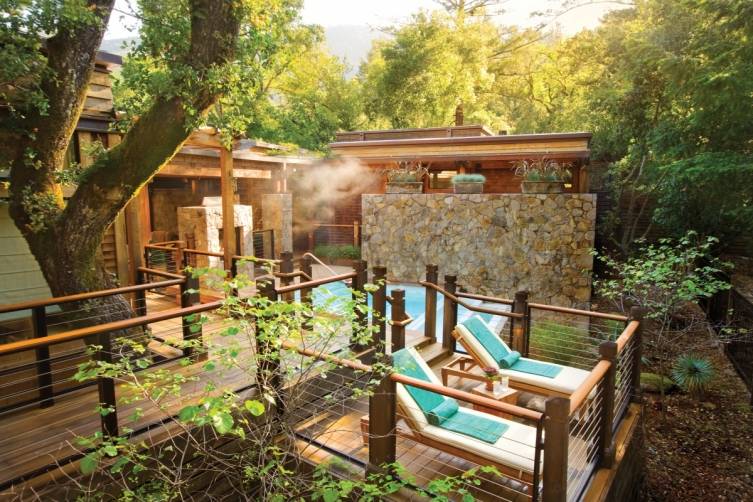 While on premises at Calistoga Ranch, you can enjoy as many—or as few—activities as you please. Our favorite, of course, is its amazing indoor/outdoor spa. Listen to birds chatter above while you dip your toes in a heated plunge pool, sip hot tea and gaze at the woods beyond. The spa, which, like its suites, features outdoor garden showers and private soaking tubs, offers restorative, organic treatments—which is a perfect fit considering that you're literally getting a facial or massage in the middle of nature. There are a series of locally inspired treatments. We say, 'When in Rome (or rather, when in Napa!).' Enjoy Calistoga-specific treatments like the Calistoga Cure—an exfoliating therapeutic body scrub followed by a  private outdoor mud or mineral salt bath and an energy balancing treatment—or the Bee Well massage, which utilizes locally sourced honey creme. Gals who are really going for the Full Monty should indulge in the Pacific Ultimate Anti-Aging Facial. Formulated using sea-based ingredients from the Pacific Rim and Pacific Ocean, this facial will make you look radiant and at least five years younger thanks to its plethora of marine antioxidants, peptides and essential fatty acids. The signature sculpting facial massage, designed by Marie Veronique, will give you cheekbones you never even knew you had.
You can enjoy the best of Napa as well without ever even leaving the resort (though we do think that would defeat the purpose). Indulge in wellness classes, Plein Air painting classes, Locavore cooking classes, a private photography exploration, adults arts and crafts, wine-blending classes, Bocce, one of many hikes surrounding the resort or borrow a bicycle and explore the area.
If you deign to leave the resort, you must, must, must take a cooking class at the Culinary Institute of America at Greystone as Drew, Reese and co. did. You'll have a blast in a gorgeous setting; it's the perfect cap to a great day: making your cake and eating it, too!
DINE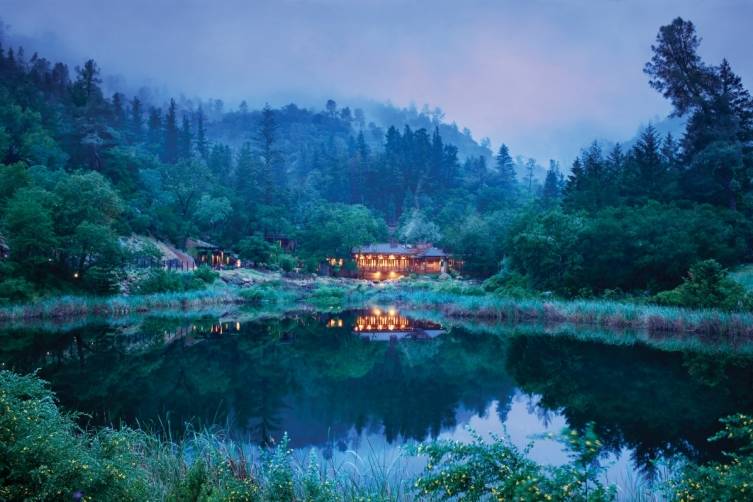 Everyone is aware of The French Laundry and The Restaurant at Meadwood—the only three Michelin star eateries on the west coast. But if you're aiming to have a great (though a bit less low key experience, as one would want to do during a girls getaway), indulge at The Lakehouse. This gorgeous eatery, which overlooks Lake Lommel, is a stunning and refreshing setting for a culinary feast or casual bite. Come for breakfast or dinner and enjoy the resort's "land to table" approach, which produces a simple, yet strikingly original, collection of dishes calling on food's organic qualities and the principle that every menu should include items that are full of taste and abundant in flavor.  For dinner, enjoy a four-course tasting menu with items like house made gnocchi, chilled melon soup, Sonoma duck breast and a delectable dessert. The wine list, naturally, is quite impressive with many local wines prominently displayed.
WINE
Now, we've gotten to the part that Napa is best known for: wine! If you're in town for 48 hours, try your best to do two wineries per day (and more if you're ambitious). The big daddy, in our humble opinion, is Silver Oak. Enjoy a private tasting at this stunning Oakville property, a picturesque retreat dotted by a courtyard, fountain, and an iconic water tower. Step inside the winery and you'll find a timber-framed wine tasting room where visitors will find a large stone fireplace, the Glass House Library displaying wine vintages dating back to the 1970s, a Chai with oak barrels and a History Gallery with memorabilia from the original winery building. Make sure to taste the 2008 cabernet here; it's fabulous.
If you want something a little closer to Calistoga Ranch, check out Twomey, which, like Silver Oak, is also owned by the Duncan family. Located just one mile south of Calistoga on Hwy. 29, this winery is nestled within landscaped gardens, providing expansive views of the lush vineyards and the Calistoga foothills beyond. Walk through the gorgeous vineyard on a sunny day before heading into the tasting room, which echoes the rolling landscape with a sleek, curving tasting bar, and opens on to a sunny courtyard. Our pick: the Napa Valley single vineyard merlot.
Finally, a trip wouldn't be complete without a little bubbly. Head to Schramsberg Vineyards  for a private tour and tasting, where you'll channel every American president before you by sipping Schramsberg wines. You'll have a truly cool experience, traipsing through an underground cavern where stalagmites actually grow on the cave walls as you take in the millions—yes, millions—of bottles before you before tasting several varietals by candlelight underground. There's truly no cooler way to enjoy time with your bestie.